Instructor Accused of Islamophobia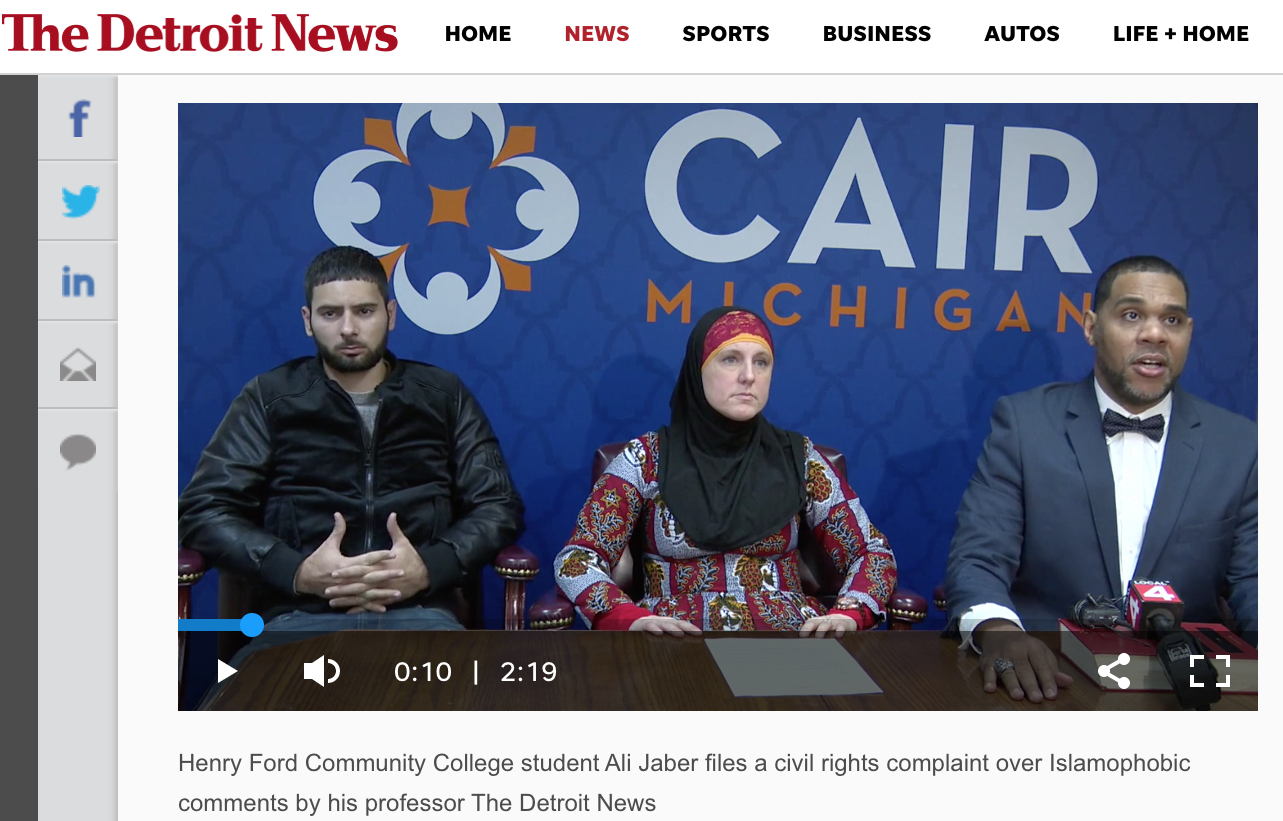 Screenshot of video by Mike Martindale for The Detroit News Nov. 12, 2019
Henry Ford College has drawn the attention of the local media with a student complaint about Islamophobia.
The student, Ali Jaber, 26, of Dearborn Heights, claims his Introduction to Business professor launched an "Islamophobic rant" after Jaber asked for assistance with a Facebook page promoting Lebanon. Jaber claims that his professor Michael Thomas called his patriotism into question and implied Jaber had been radicalized because he is Muslim.
"He was always one of my favorites," Jaber told The Detroit News, "But when I asked him for some advice on non-profit work for the less fortunate or partnering on the site, he suddenly changed. He said, 'I bet you can't fly or leave the U.S. and are on a watch list.'"
"I was born in this country and love it, but I also love Lebanon," Jaber continued. "There was nothing political on the website."
"His parting shot was that he worked with law enforcement and would keep an eye on me… that something was not right about me," Jaber said. "I felt threatened." The Mirror News reached out to Jaber on multiple social media outlets and he did not respond.
The Michigan branch of the Council on Islamic Relations has filed a racial discrimination complaint against the school and professor Michael Thomas with the Department of Civil Rights.
Henry Ford College Marketing and Communications director, Rhonda DeLong, said in a public statement that the institution takes "all allegations seriously."
CAIR Executive Director Dawud Walid and staff attorney Amy V. Doukoure told The Detroit News that Jaber filed a complaint with the school after the Oct. 31 incident but "nothing has been done about it."
"They offered him (Jaber) a transfer to another business class," Doukoure said. "The instructor is still working on campus with other students."
Jaber, a 3.7 grade point average student in 18 months at the school, told The Detroit News that his studies have suffered and he can't concentrate or feel comfortable at the school. He alleges that a doctor has told him he has developed post-traumatic stress disorder.
Thomas holds a Master of Business Administration (MBA) with a Global Financial emphasis from Lawrence Technological University, along with a bachelor in business degree with high honors from the University of Detroit Mercy.
Thomas took an early retirement from UM-Dearborn, where he was recognized as an "Everyday Hero" in 2006 for directing the Partners Plus program at UM-Dearborn and Henry Ford College. In 2019, Thomas joined Rahma Relief Foundation as a Senior Advisor.
According to its website, the Rahma Relief Foundation is a non-profit with a "dedication to humanity by assisting the most vulnerable communities by responding to crisis, implementing programs to achieve social equity, create development strategies, and facilitate self-sufficient sustainability."
Thomas has been instructing at community colleges since 1996.
Thomas declined requests for an interview but did release the following statement:
"I and others in this community take offense when my name is attached to the word Islamophobia, especially since I am a Senior Team member of a major Arabic organization that supports refugees and displaced individuals in Syria, Lebanon, Yemen, Palestine, Turkey, Africa, and Jordan, with staff in all of those areas of operation. Let's be adults here, anyone can allege and say anything. That is why processes exist. I welcome that process."