Have a Merry Sci-Fi Christmas at MOCAD's "Robolights Detroit"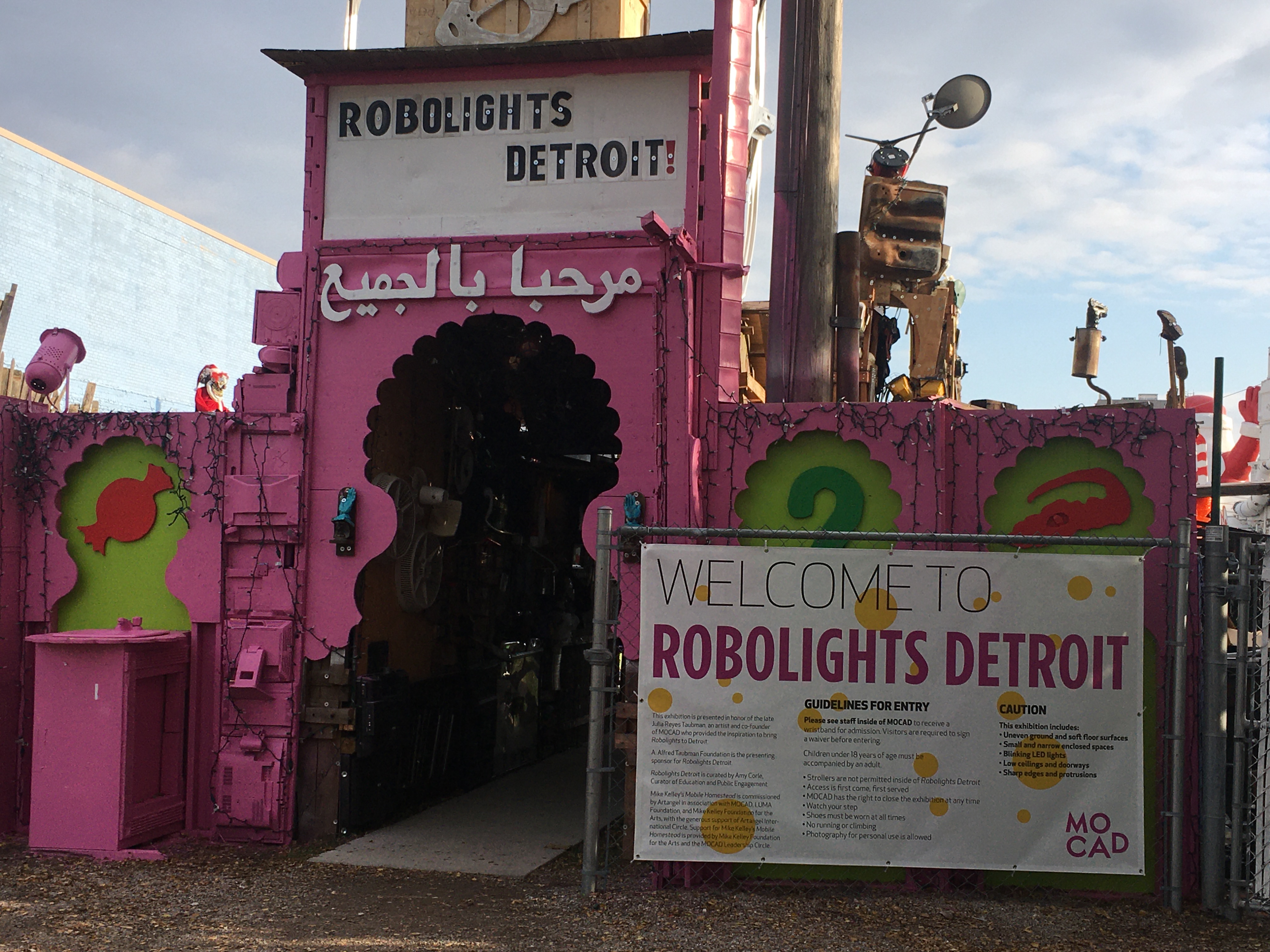 Entrance to Robolights Detroit
Metro Detroit continues to prove itself to be a destination for unique, vibrant and unconventional art installations.
Joining the likes of other thought-provoking yard art installations such as Tyree Guyton's Heidelberg Project and Dmytro Szylak's Hamtramck Disneyland is Robolights Detroit by Kenny Irwin Jr.
The temporary exhibition opened on Oct. 25 on the lawn of Mike Kelley's Mobile Homestead at the Museum of Contemporary Art Detroit (MOCAD).
Robolights Detroit is difficult to describe. Part art exhibition, part amusement park, it doesn't tie itself down to any one genre.
"Basically, the premise behind Robolights is a 'why not?' world in a 'why?' world," Irwin told Detroit Metro Times in September.
The most prominent theme, however, seems to be that of a science-fiction, technology-themed Christmas: a wooden tunnel visitors can walk through is strung with holiday lights and children's toys; a Santa Claus is perched atop a pink platform wearing a clown mask; "reindeer" made out of wood and wearing rabbit masks lead a broken down car instead of a sleigh; and Christmas trees are comprised of computer monitors that have been spray-painted purple or yellow.
"I always had a fascination with lights, and the whimsy of the holidays," Irwin told Metro Times, later adding that he was "fascinated with robots, and aliens, and spaceships, and space exploration, and what life might lay out there in the stars. It all sort of stratifies through my art and the Robolights experience that you see and the whimsy of the holidays combined with it."
The exhibition doesn't end simply with the outdoor installation; visitors are welcome inside the Homestead to view several of Irwin's sci-fi themed pen and ink drawings adorning the walls.
Irwin attended the Cranbrook Schools in Bloomfield Hills, where, according to Metro Times, he was "asked not to return" after turning his dorm room into a Robolights-esque space. During his time there, he was able to visit Guyton's Heidelberg Project. He finished his education at the California College of the Arts in Oakland, earning a degree in Fine Arts.
The original Robolights exhibition began in Palm Springs, California, on the grounds of Irwin's childhood home. The idea, conceived in 1986, took a total of 33 years to come to fruition and included eight million lights. According to MOCAD, the eight-acre Palm Springs installation was hosting roughly 72,000 visitors between Thanksgiving and New Years Day by 2018. The installation, however, grew too big for its current location, and Irwin has plans to relocate it to Desert Hot Springs, where he will transform it into "Roboworld"—an entire theme park devoted to art.
MOCAD's curator of education and public engagement Amy Coyle told Metro Times that this is the first time Robolights has been presented in a large-scale outside of Palm Springs.
According to the Detroit Free Press, Irwin had agreed to create a "post-industrial version" of the installation in Detroit, as a tribute to the late Julie Reyes Taubman. A co-founder of MOCAD, Taubman also was the photographer for Irwin's book, "Kenny Irwin: The Robolights Project, Palm Springs 1986-2017," available for purchase at MOCAD's gift shop.
Irwin began working on the Detroit installation in August of this year, putting it together largely through miscellaneous donated objects, with only a few items being shipped from Palm Springs.
Robolights Detroit shines in its quaintness and silliness. Sometimes creepy, sometimes poignant, but always eye-catching, Robolights Detroit is definitely a destination during this holiday season.
Robolights Detroit will run through May 3, 2020, at the Museum of Contemporary Art Detroit, 4454 Woodward Ave., Detroit, 48201.