Fka Twigs' "Magdalene"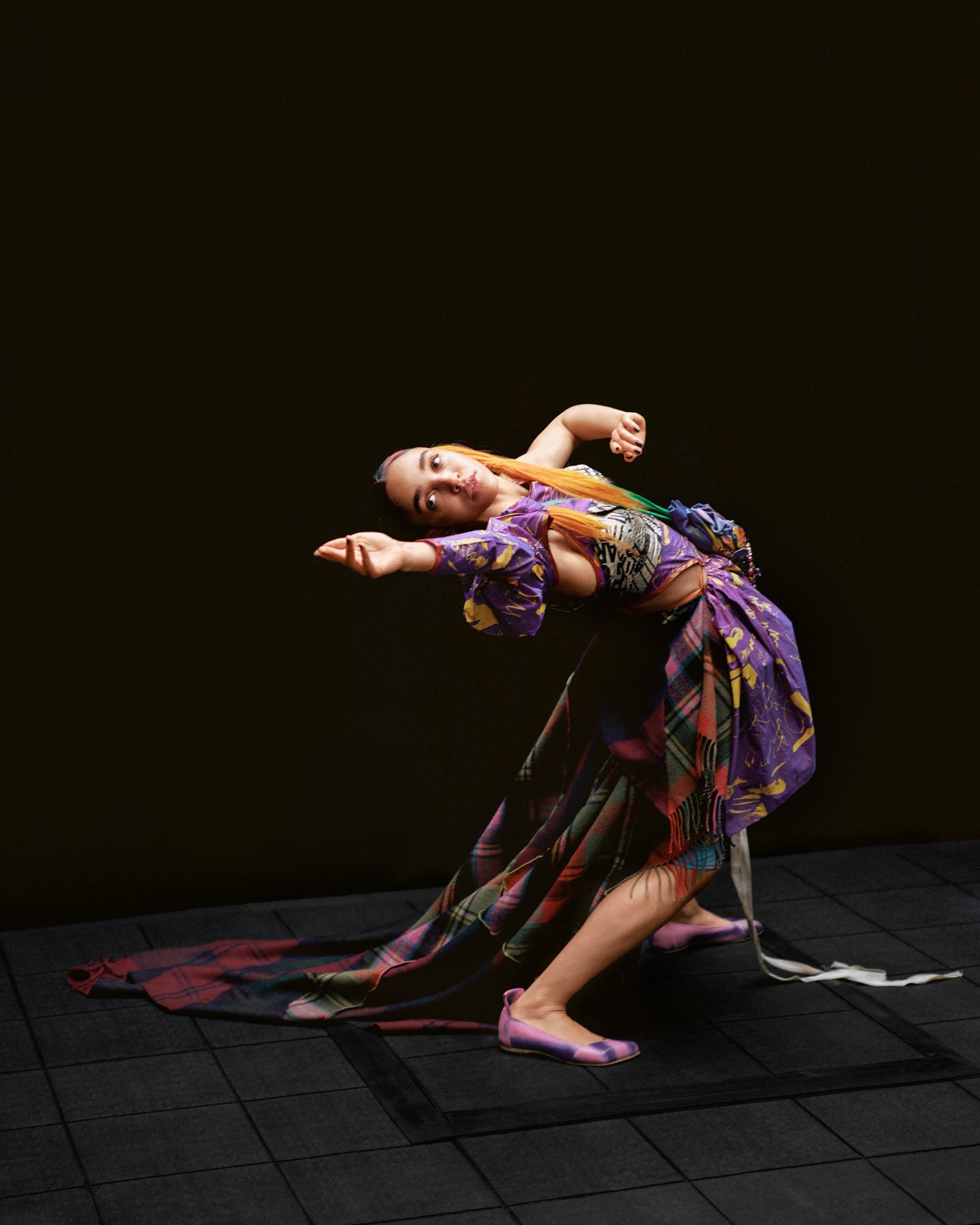 FKA twigs | photo by Ronan Mckenzie for Pitchfork
On Nov. 8, Tahliah Debrett Barnett, under the pseudonym FKA twigs, released her second full-length album MAGDALENE through Young Turks, her first release since her 2015 EP M3LL155X ,and her first full-length release since 2014's LP1.
At age 17, Barnett got her start as a back-up dancer in music videos for musicians like Kylie Minogue and Jessie J, a past she has addressed in her 2014 track "Video Girl." In an interview with Pitchfork, Barnett addressed her mild disappointment in being recognized mainly for her back-up dancing instead of for her music: "I would go out, and somebody would be like, 'Oh, I recognize you!' I'd hope it was because they'd heard my music, but they'd say, 'Are you that girl from the Jessie J video?'"
When Barnett debuted her first project EP1 in 2012, she ceased her work as a back-up dancer. Initially, she took a break from dancing, but eventually felt comfortable re-incorporating it into her own work. "I always felt quite calm on stage, because I know that, when I do my own shows, people have actually come to see me," Barnett told Pitchfork. MAGDALENE feels less spacious than her first LP, with Barnett taking risks vocally and melodically and nearly-every second is dripping with substance to be unpacked. A co-producer on the album, Barnett takes the trap-inspired rhythms she has always utilized and amplifies them on this album.
MAGDALENE is also far more personal than Barnett's previous releases. LP1 tackled abstractly the concepts of lust, love and heartbreak, with the only personal topic being her past as a back-up dancer in "Video Girl." MAGDALENE, however, seems to extensively address the devolution of her relationship with actor Robert Pattinson, during which Barnett was tossed into the public eye.
The album begins with the ethereal, gut-wrenching opener "thousand eyes," in which Barnett sets the tone for the rest of the album by subtly addressing the public attention that came with her relationship with Pattinson ("If I walk out the door / it starts our last goodbye / If you don't pull me back / it wakes a thousand eyes"). To Spotify, Barnett stated that "I thought, writing this, that if I was anything less than perfect I was going to be completely torn apart publicly." Barnett's voice is at her most graceful and beautiful here, with her vocals intricately layered throughout with the sparse background melody.
MAGDALENE then transitions to "home with you," equal parts chaotic and beautiful, transitioning from distorted, almost-unnerving vocals and frenzied trap beats in the verses to a piano-ballad chorus with clear vocals. This masterfully mimics the real-life inspiration behind the song, with Barnett dealing with her fibroid tumors ("Breathe in, breathe out, pain / No, no Novocaine / still maintain my grace") while her relationship is being unknowingly neglected ("I didn't know that you were lonely / if you'd have just told me, I'd be home with you").
When the song "holy terrain" featuring rap artist Future was released as a single prior to the album release in September, it initially felt underwhelming. Although Barnett's vocals shine, Future's ad-libs in the background of the track are distracting and downright annoying, and his auto-tuned mumble-rap verse toward the end feels out-of-place and leaves a lot to be desired. Within the context of the album, however, the song flows better and is easier to appreciate.
Probably the best track on the album, "fallen alien," which Barnett describes on Spotify as "a medieval march through the destruction of a relationship." Through the frantic beats and constant, sudden style changes on the track, Barnett takes the listener through a chaotic journey through vexation and sorrow. This chaos is heightened by what sounds like an otherworldly choir in the background shrieking "I feel the lightning blast," and the frequent and unexpected tempo shifts.
Lyrically, the track is steeped with seething anger and betrayal felt during a disintegrating relationship ("Don't tell me what you want 'cause I know you lie"). The ire in Barnett's voice on "fallen alien" is especially palpable when she practically snarls the lines "when you fall asleep, I'll kick you down / By the way you fell, I know you / Now you're on your knees." To Apple Music, Barnett explains that these lines arose out of being fed-up with a lover: "You're just so sick of somebody's bulls**t, you're just taking it all day, and then you're in bed next to them, and you're just like, 'I can't take this anymore.'"
The penultimate track "daybed" addresses Barnett's depression and isolation through her inability to complete basic tasks and lack of motivation ("Possessive is my daybed" and "Dirty are my dishes"). While Barnett tackles the issue of depression beautifully and eloquently, the format of the four-and-a-half minute song ("x is my y") quickly becomes tedious. This song would work much better as a shortened interlude placed in the middle of the album.
Finally, the album ends with the delicately beautiful piano ballad "cellophane," harkens back to the opening track by again addressing the attention received from her relationship with Pattinson ("I don't want to have to share our love / I try, but I get overwhelmed"). Throughout the track, Barnett's voice eventually breaks during the repetition of the lines "Why don't I do it for you? / Why won't you do it for me / when all I do is for you?" Her slightly off-key intonation during this track enhances the emotional gravity of the track, making her dejection and loneliness striking.
"Throughout my life I've practiced my way to being the best I could be, it didn't work this time." Barnett said of "cellophane" to Spotify. "I had to tear down every process I'd ever relied on. Go deeper. Rebuild. Start again."
FKA twigs' music and style has always been avant-garde, but MAGDALENE takes it to another level entirely. While Barnett's vocal work has always been what shines in her music—you can hear the abject agony of heartbreak in her voice on every song on MAGDALENE—the melodic evolution is what really elevates this album beyond her previous work.
Share it now!