Youmacon 2019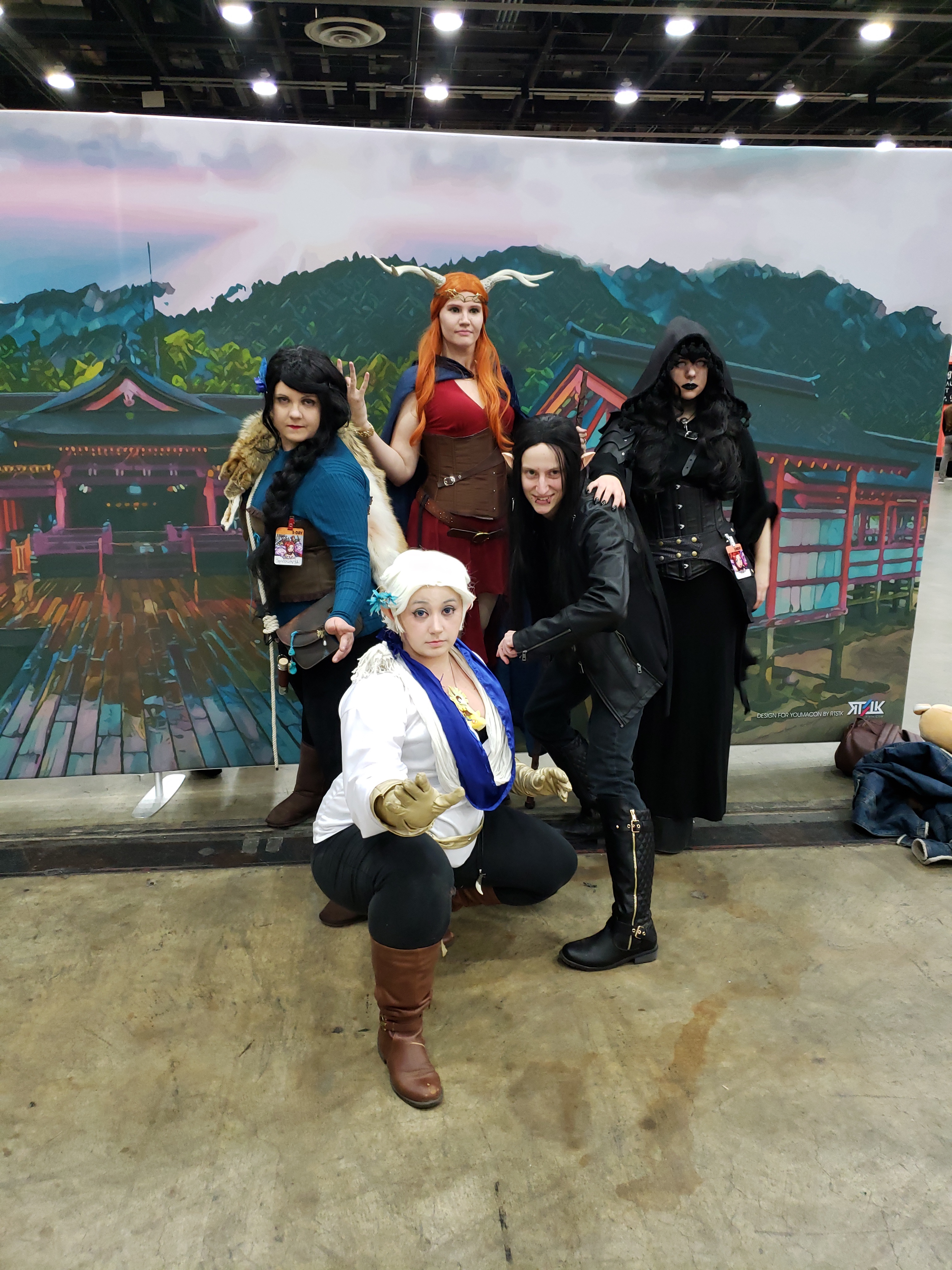 Photo credit: Shelby T., Sabina McDonnell, Andy Cleveland as Vex'ahlia, Pike, Keyleth, Vax'ildan, and Raven Queen | Photo by Katherine Warden
Characters from anime, videogames, manga, and comic books came to life Oct 31-Nov. 3 at this year's Youmacon, a 4-day anime and videogame convention that runs once a year in downtown Detroit. Held in the TCF Center, Renaissance Center, and the Crowne Plaza, colors popped as cosplay and K-pop music filled the space. Complete strangers could be seen breaking out into a choreographed dance at any time like they were longtime friends.
Youmacon is acceptance. It is rejoicing in celebration of all that is different. At the con, you can be anyone or anything your imagination can dream up. Whether you are wearing a pair of chinos and dad plaid or you are dressed as a fox from head to toe, you are welcome at the con.
The convention was first held Nov. 11-13, 2005. Since then, it has been on the first weekend of November every year. It runs 24 hours a day nonstop from the time the event kicks off on Thursday until the Closing Ceremonies on Sunday.
Youmacon has grown to be one of Michigan's largest conventions. When it first started in 2005 it was located at the Hilton Detroit in Troy, MI. After three years in Troy, it was moved just down the street from Henry Ford College to the Hyatt Regency Dearborn. It wasn't until 2010 that it was moved to Detroit in the Renaissance Center, and the following year growing large enough to expand into the TCF Center, formerly the Cobo Center. Each year attendance grows by the thousands, getting close to 22,000 this year. While this doesn't make it as large as world-famous conventions such as San Diego's Comic Con, which has been pushing close to 200,000 attendees, it is growing close to one of America's biggest anime conventions, such as Otakon, held in Washington D.C., which drew 29,292 attendees last year. Youmacon has even gotten bigger than Michigan Comic Con, its sister convention held in August.
Youmacon attracts people from all across the United States and Canada to come and showcase their love for their favorite shows, movies, books or video games. Not only does Youmacon provide a creative outlet for many individuals but it also gives back by donating its proceeds from its annual Charity Ball and auctioned merchandise from every vendor. This year, proceeds benefitted Children's Hospital of Michigan.
Many attend Youmacon to dress up in cosplays. Cosplaying is the art of taking one's favorite character and bring them to life through costumes. Conventions like Youmacon and Comic Con, are major events for cosplayers to show off their hard dedication to their favorite characters and anime by making things by hand or buying a costume that represents them. Some people have made this art their career, traveling and visiting different conventions all over the world, such as famous cosplayer Yaya Han. For others, it's a hobby, a way to explore the depths of their favorite character and to have light-hearted fun. And for some, it's a way to make lasting friendships and meet people with the same interests. Carlee Crisan attended this year's Youmacon after taking a four-year break. Crisan said she had a perfect time. She went as Bowsette, a mixture of Bowser and Princess Peach, characters from Nintendo's Mario Bros. video game. "I chose her because I had been battling anxiety and Bowsette is a strong character." Crisan said, "To me, it represents strength."
Henry Ford College student Katherine Warden, for the past two years, has been cosplaying on a budget, successfully staying around $150 for her two cosplays. Her first cosplay was a dress based around the character Figment of Imagination from Disney's Epcot. It was completely handmade and her first time sewing. In total, it took around 8 weeks of pleating, cutting, sewing and stuffing horns and wings to complete. All of this was done for under $100 in raw materials. Her next challenge was creating a Rohan Kishibe cosplay from JoJo's Bizzare Adventures: Diamond is Unbreakable, all done for around $50 dollars, using more readily made things, like the pants and shirt and just altering them as needed. Warden's cosplays are considered medium and low-range cosplays. High range cosplays have more extensive details and often involve more work than simply sewing. Some involve running LEDs through the cosplay to look like they're "powered up" or creating devices that give them wings. Some go through the process of making prosthetics for either something small like ears or full face and body prosthetics.
Then there are those who wear head to tail "fursuits," which make the wearer look as though they are an animal with a cartoon feel. Often bright and colorful, these suits are painstakingly sewn together, with custom made headpieces, paws, tails, and in some cases wings or other accessories. These suits normally cost anywhere between $400 to $12,000. They are custom ordered from specialists who can take between 1-6 weeks to make, depending on the materials and any custom requests made. Although for some, a fursuit may just seem like a costume; for others, it's more than that.
Jake Sketch attended Youmacon for the first time in his fursuit and felt like the suit made him more comfortable going out: "Suiting helps me feel less anxious. In suit, you have a sense of anonymity. Nobody really knows who you are except a cosplayer/furry, which most of the crowd also accepts and some share the same interest." Fursuits don't have to be just fur. Some people, like those at Jaye Creations, make crocheted metal scaled pieces of fursuits that range between $80-$250. A must-see at Youmacon is the Artist Alley and Dealers Hall. Both located in the same hall of the TCF Center, they offer a large selection of merchandise. The Dealers Hall showcases rare or exclusive vendors from Japan as well as North American vendors.
Artist Alley holds different independent artists who typically sell their own prints, pins, stickers, or books. Artists Joe Burak (@cupohjoe) and Angie Gomez (@beanycoffee) shared a booth selling their comic, "Anarkitty," about a kitty who believes he's a superhero, and individual artworks as well.
Mary Clark (@tinycloudceramics) sold something a bit different than the others around her. Finding a passion and pursuing a degree in ceramics, she became a potter. Now she makes and sells her own unique tea cups, bowls, and vases at all sorts of conventions.
There are two types of gaming rooms at Youmacon: the video game room located in the TCF Center and the tabletop room located in the Renaissance Center. Gaming has always been a part of the same culture that those who enjoy anime, manga, and comic books inhabit. Youmacon gives people a chance to explore both video games from popular American franchises to Japanese gaming culture as well as offer an opportunity to try out a variety of tabletop games with friends or strangers. This gives everyone the opportunity to play something that they may not have access to play at home.
The video game room brings in a broad mix of console and Japanese arcade games as well as a selection of VR headset game booths. The entrance to the game room hosted a variety of start-up games that showcased their games and let you test them out. Neil "Aerial" Jones (@aerial_knight), a Detroit local whos been developing games for 10 years, presented his game Never Yield that he'd been working on for 6 months. It's a fast-paced narrative runner that takes place in a futuristic Tokyo-style Detroit with a short story about a corporation that has taken something important from the main character. He hopes to release the game sometime next year. Throughout the weekend, there were multiple tournaments. Games ranged from Mario Kart to Puyo Puyo Tetris Swap to Guilty Gear Xrd REV2. Each tournament offered cash prizes.
The tabletop room was started 13 years ago with only a few familiar games and some staffers trying to promote new games. After the first couple of years, Youmacon began hosting the Tabletop Lending Library, which travels to different events and conventions, with the goal to "play good games and have fun." To date, the library has over 700 games, all categorized and itemized. The library is organized by a barcoding system that allows staff to see what people are checking out the most so they can better attune what they bring to the events next time. The staff can help you figure out a game to play and how to play it. The Tabletop Lending Library provided scheduled times when certain games would be demonstrated.
The tabletop games don't just bring in typical board or card games. The library also has full running Dungeon and Dragons games, inviting those who are new to learn how to play with a group of supporters. And they aren't just run by the staff. Dungeon Masters and Game Masters are allowed to host games for their friends and new players.
The library also has figurine painting classes where you can purchase a figurine from a specific game like D&D or Warhammer 40k and paint it on the spot. Accompanying them are vendors and new developers showcasing their new tabletop games. The vendors sell games that are either offered in the library to test out or are brand new inclusions.
One popular event that's always an interesting experience is the Maid Café located in the Crowne Plaza. The Maid Café is an all-age inclusive event that mimics the popular maid cafés in Japan. The café runs on Friday and Saturday on limited hours. Both men and women can apply to be a maid but have to apply in advance in order to practice performances and organize a table setup on the days leading up to the event. The maid café is an extra $15 per person and gets you into the café where you will receive a choice of drink, dessert, and play a short game with your group and maid.
Next year, Youmacon will run Oct. 29 to Nov. 1. It is expected to be bigger and better. Early bird registration is open now at: www.youmacon.com.