Mary Poppins floats on stage at HFC
Gallery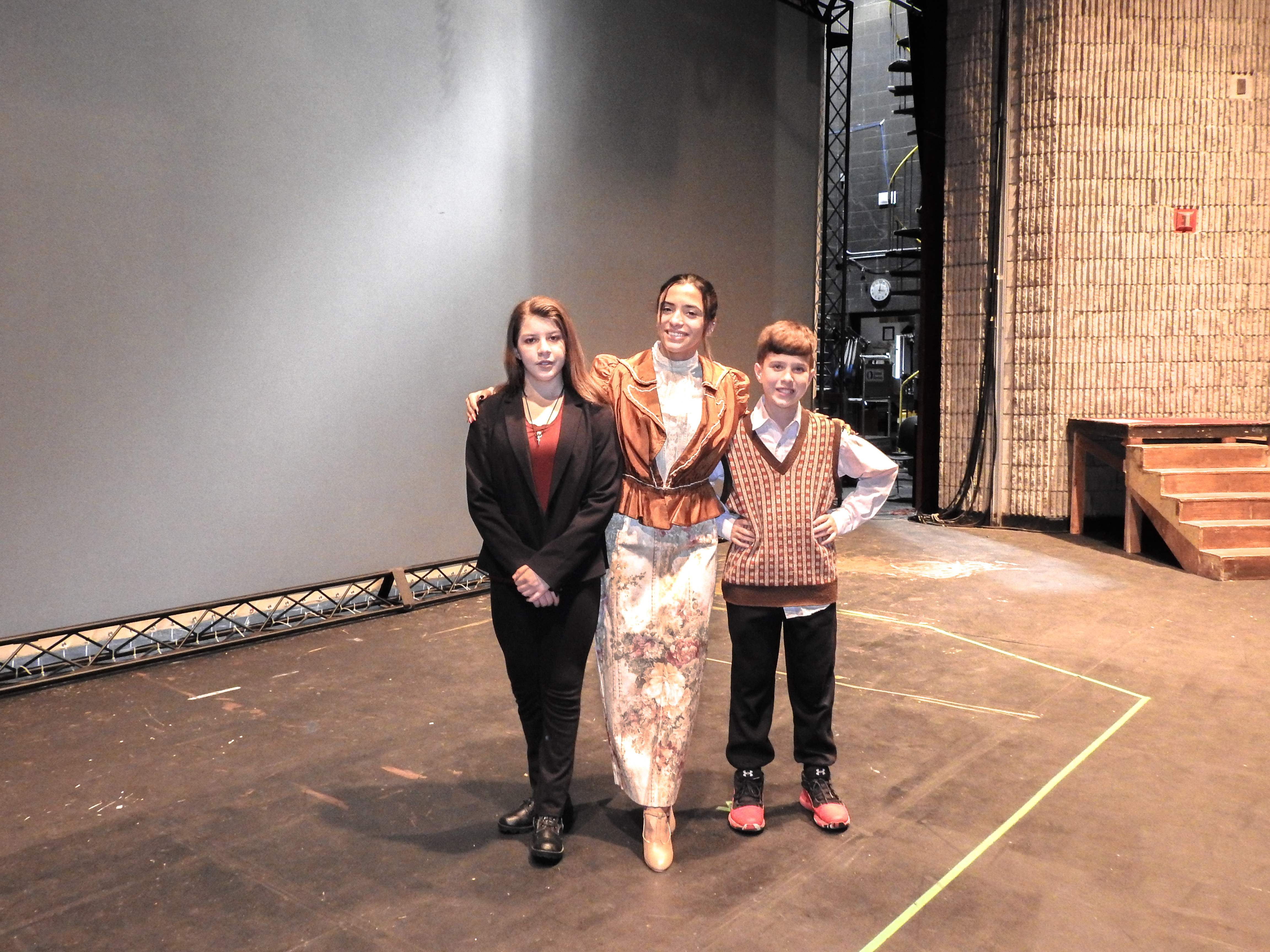 Katherine Seeley (Jane Banks), Fallon Makki (Mrs. Banks) and Calum Carscadden (Michael Banks)
Directed by theater instructor Mary Bremer-Beer and starring students from the fine and performing arts department, Henry Ford College is bringing to life the childhood classic, Mary Poppins.
This production is based on the 1964 Disney film version of the novel by British author, P. L. Travers. The story is about Mary Poppins, a magical nanny who can fly to places with her umbrella. She appears at the door of an unsettled household of a London banker, his very busy suffragette wife, and their mischievous children. Mary, and her chimney sweeper friend, Bert, take the two Banks children through enchanting and memorable adventures. In the process, the entire Banks family learns some important lessons, including how to have fun.
Bremer-Beer has been in the theater business for about thirty years and as she said, "I plan to do this until I am not on this Earth." Talking about her inspiration in the theater field, Bremer-Beer recalls how she wanted to be a movie star when she was young. "But that was before TV. That was before everything," she said, "But I was really drawn to the stage and enjoy stage work." Bremer-Beer started her career as an actress. While she still acts, she directs up to ten plays a year for Henry Ford College and Detroit area professional theaters.
With experience in a variety of genres, Bremer-Beer said that she "never thought at any time in my life that I would be directing musicals, but I enjoy them, and it is fun." Although she is not a musician, Bremer-Beer said that she gets jobs directing musicals because "I knew how to do comedy. I knew how to bring the comedy to life." Bremer-Beer has a good ear for music and with the help of music director David Alexander, they are preparing the cast for what will surely be a marvelous production of Mary Poppins.
The ensemble is very pleased to work with Bremer-Beer. Valentina, mother to Katherine Seeley, who will be playing Jane Banks, said, "Katherine pretty much grew up with Mary. We drive all the way from White Lake."
Returning student, Kennedy Cooper, who will be playing Mary Poppins, has actually been a nanny in real life. Cooper said, "The lessons she teaches the children I have actually taught some of the kids."
Freshman student, Fallon Makki, described her character, Mrs. Banks, as follows: "She is very stern, and she wants Banks and the children all to be happy and she is wonderful." Several of the actors and actresses have appreciated working on their accent with choreographer Valerie Mould, who is British. Bremer-Beer stated, "Valerie's dialect work with the cast will make their performances feel that much more authentic."
Some actors, such as Eve Leigh, who will play the bird lady, are already familiar with speaking several different accents. Leigh demonstrated her talent for accents, which included a southern drawl, cockney, and Russian.
Several actors tried on costumes and practiced their dance routines and songs. The joy they have with performing and the deep respect they have for Bremer-Beer was very apparent. Some of the actors and actresses are already planning to audition for the next play, which shows how passionate they are about performing. As Bremer-Beer said, "It's innate in the students, even the little ones. They know this is what they want."
"Mary Poppins" will be at the Adray Auditorium in the MacKenzie Fine Arts building F. The show is all ages and will run 8 p.m. on Fridays and Saturdays, and 2 p.m. on Sundays, Nov. 15 through Nov. 24. Tickets are available online at www.hfcc.edu/campus-life/theatre. Children 4 and under are free.