Landscapes Through Michigan Eyes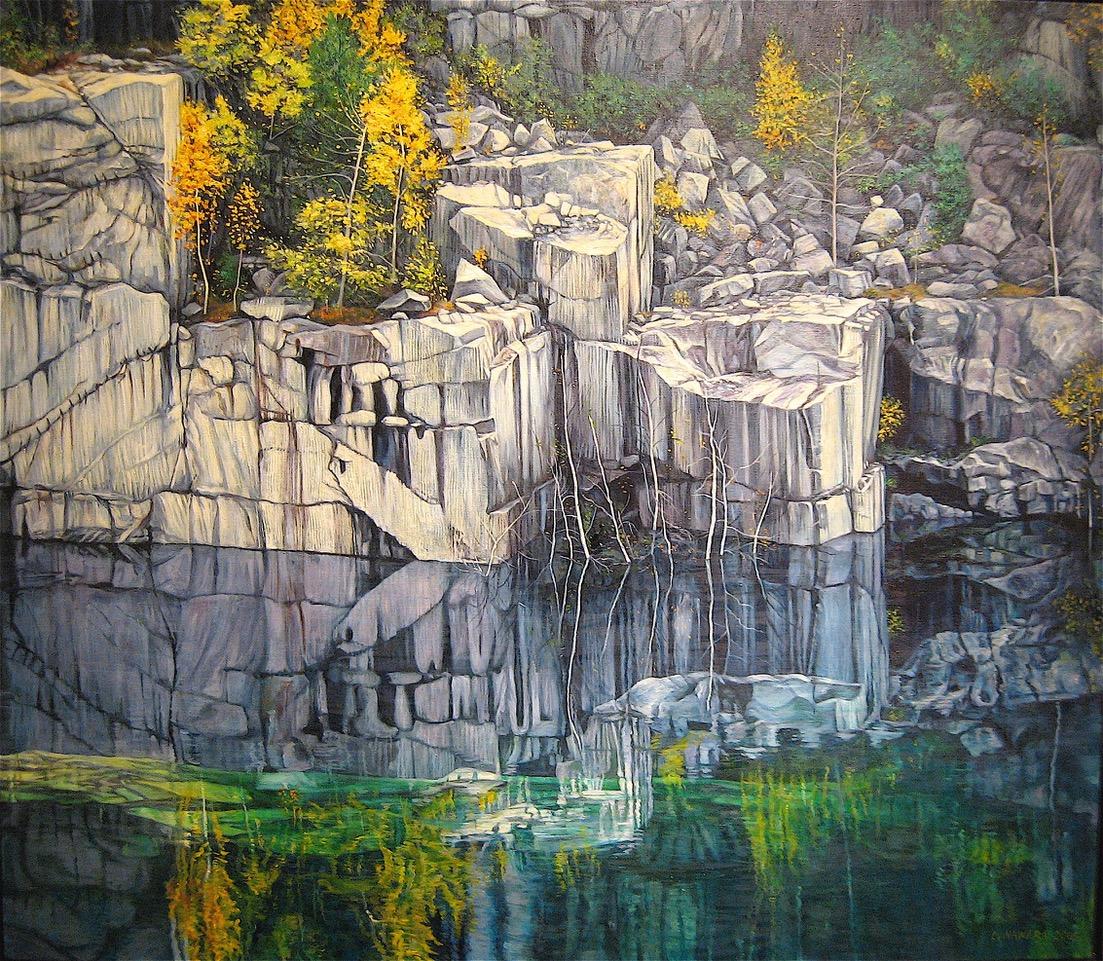 Painting by Lucille Nawara
Henry Ford College's Sisson Art Gallery is featuring "Landscapes Through Michigan Eyes" by eleven professional Michigan-based artists. Twenty-six pieces vary from drawings to paintings to photographs. Former student and artist Donald Cronkhite co-curated the exhibit with Sisson Gallery director Steve Glazer. "I liked the idea, because it's something I have not done as a focus in the gallery in a long time," Glazer said.
Donald Cronkhite's painting, "Nankin Lake," won him a solo show in Grosse Pointe. He states that his biggest inspirations are the 17th-century Dutch painters and 19th-century French artists. Lately, expressionism has been his inspiration. Speaking about his art, Cronkhite states, "I love subjects that are romantic. It is something I discovered after the fifteen years of just dealing with storm cloud paintings." Earlier this year Cronkhite donated one of his artworks to Henry Ford College to be displayed in the MacKenzie fine arts building.
Glazer said that this exhibition "ranges from very normal landscapes such as Edward Duff to the more challenging concepts such as Meighen Jackson's landscapes." Glazer said, "You have to sort of look at them and think about them."
What Glazer said is especially true of the late Bill Jackson's works. Meighen Jackson said about her husband's titles on his photographs, "With Bill's titles, they will usually give you a hint of where he is going." On his website, Bill Jackson stated, "My photography is sparse. Some images are dramatic encounters. Others invite exploration and contemplation. But they say no more than necessary. I got there by going everywhere else first."
Visitors can also enjoy the work of Matt Lewis, Rick Vian, Emily Vastbinder, Tommy Wilson and Emily Jane Wood. For Wood, her paintings are usually always small and demonstrate the constraints of the eye.
In her artist statement, Wood explains why she paints with oil on site, "With the internet and photo-manipulation, we will start to appreciate art in which evidence of the human hand strongly emerges." Wood says, "With the advent of new materials, we will start to re-evaluate qualities of the older ones."
Each year the Sisson Gallery displays four exhibitions by professional artists and two exhibitions by students. According to Glazer, "If everything goes as planned, the gallery is going to have a makeover over the summer." Glazer adds, "We were asked to be part of the Detroit Institute of Art outreach of which we will display eleven actual paintings from the DIA's 19th century American collection."
"Landscapes Through Michigan Eyes" will be showing through Nov. 27. The Sisson Art Gallery is free and open to the public.