WHFR Craft Bazaar and Record Show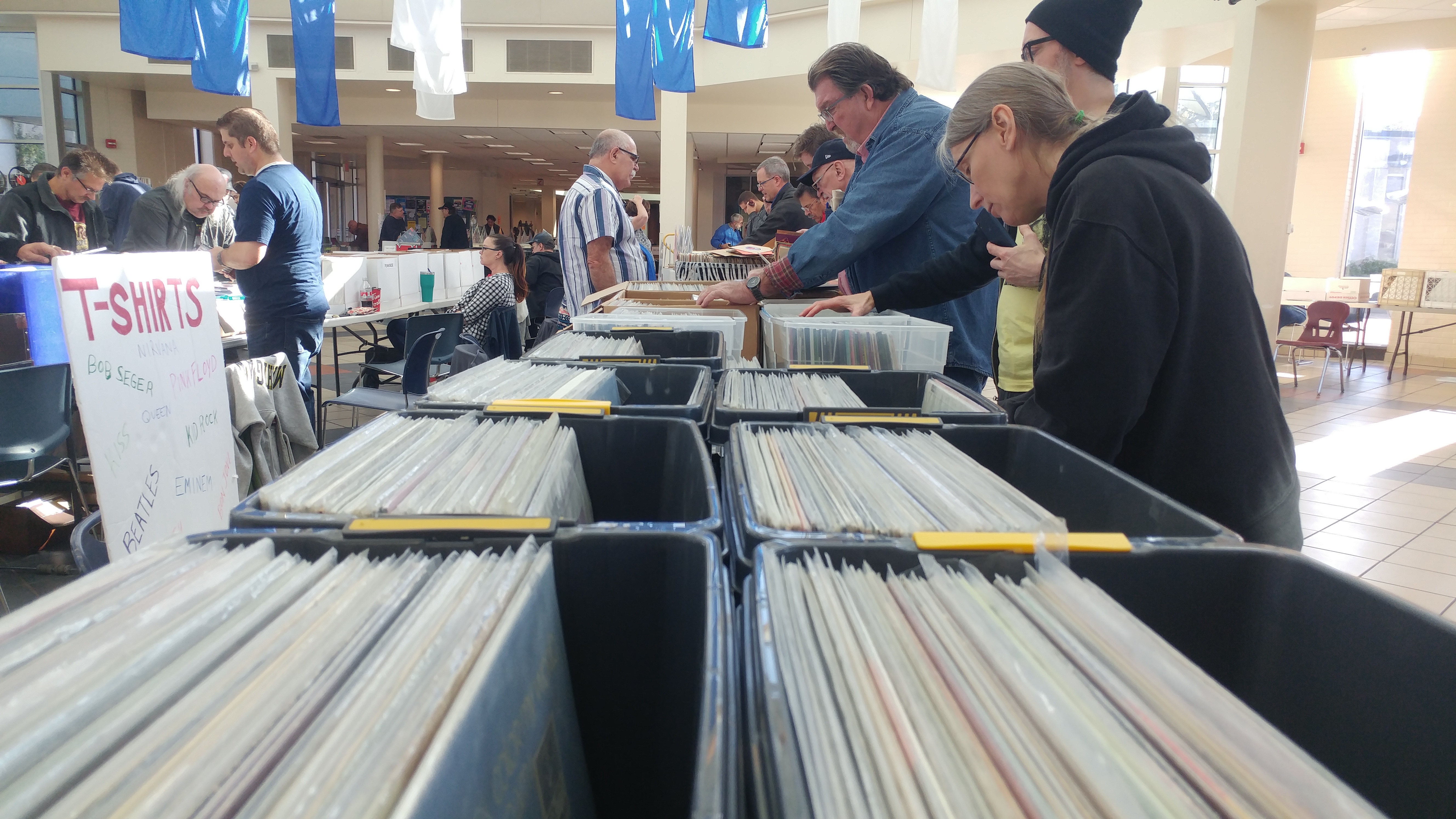 Attendees look through record boxes at WHFR Record Show | Photo by Muna Saleh
WHFR, Henry Ford College's radio station, held its 12th annual Record Show and very first "Rock & Roll" Craft Bazaar this past Saturday.
The Record Show was founded 12 years ago by WHFR's Mike D, a dedicated volunteer, because of the lack of record and music shows in the area. It's an exciting opportunity to find and collect rare and interesting music or music-related items. The show featured not only vinyl records, CDs, and tapes from every era but also a variety of movies, posters, T-shirts, and buttons related to music. Vendors at this year's show included many new and returning sellers, both local regulars and some coming as far as Philadelphia. As well as regional shops, there were vendors selling their own personal collections or merchandise.
Lara Hrycaj, WHFR's operations manager and Record Show's co-coordinator tells us, "I've always collected final records since I was a little girl." It seemed perfect for her to have a hand in this event. She loves how the people who came to the show were passionate about music and always very friendly.
New and returning customers also seem to love the WHFR Record Show. Michael Hurtt, local vendor and shopper recalls a few years ago when he "left work in the middle of a shift to come to it. I was working at a factory in Highland Park sorting parts and no one ever noticed I was gone for two hours!" Tim Wrather says it's his first time here and really enjoyed it, "It's cool, there's lots of good stuff and records here." Unfortunately, he couldn't find the single record he really wanted.
The show over the years has had a high demand for a second event, however, since it is run on a volunteer only basis it's difficult to host a second record show within the same year. WHFR does have a "garage" sale that offers their own collection and merchandise for sale once or twice a year. Bill Keith, a volunteer of WHFR, took inspiration from this event has hosted his own Record Show at Salem High School for the past 11 years.
The Record Show has seen significant growth over the years, requiring more space in order to host as many vendors as possible. Since 2009 this event has been held annually in the atrium of the Student and Culinary Arts Center on the main campus of Henry Ford College and has expanded to fill the entire atrium. "It gets bigger and better every year," says Mike D, "The record show, in our 12 years has grown to become the highest single day fundraiser for our non-profit radio station." A great accomplishment all thanks to the efforts of WHFR's diligent volunteers. Susan McGraw, general manager of the station, adds, "I'm incredibly grateful to our vendors, customers, and especially our volunteers for their amazing support of this event."
WHFR held its first "Rock & Roll" Craft Show in conjunction with the Record Show. Admission was FREE to all. A variety of music-related or inspired art was sold, including a quite interesting found objects guitar booth.
Share it now!