Manifesting Detroit's Destiny with Afrofuturist Ingrid Lafleur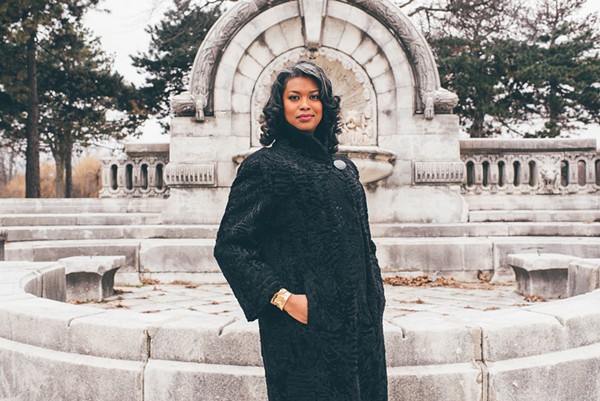 Ingrid Lafleur | Photo by Justin Milhouse, courtesy of Detroit Metro Times
In Detroit, one of the most prominent proponents of Afrofuturism is curator, former mayoral candidate and founder of Afrotopia, Ingrid LaFleur.
Afrofuturism has been gaining more popularity throughout the years with several films, books and other fictional works being released that focus on the subject. An AfroFuture Fest even took place last August in Detroit.
Though the term "Afrofuturism" was first coined in 1994 by Mark Derry to describe speculative fiction within the African diaspora, Afrofuturist ideas have been prevalent since long before that.
From Sun Ra's 1973 jazz album "Space is the Place" (and its subsequent sci-fi film in 1974) to Octavia E. Butler's speculative fiction published in the 1970s and 1980s, Afrofuturism has been around for a while.
A more recent example of Afrofuturism includes the film "Black Panther," which depicts a technologically advanced utopia in Wakanda, while still maintaining traditional African imagery and customs. Musician and actress Janelle Monáe has also been a prevalent figure in promoting Afrofuturism. Through her music, Monáe has interwoven Black identity with science-fiction and fantasy by creating an Afrofuturist world centered around an android alter-ego.
As a long-time advocate of the philosophy, LaFleur ran her 2017 mayoral campaign based on the principles of Afrofuturism, and regularly gives speeches on the subject across the country and beyond. Most recently, LaFleur spoke at the African Artists' Foundation in Lagos, Nigeria about "curating Afrofuturism in Detroit."
To LaFleur, Afrofuturism is "a process for radically decolonizing the mind and liberating the Black body."
"This means transforming the patriarchy, white supremacy and oppressive power dynamics into loving collaboration and co-creation," she added.
The incorporation of Afrofuturism into her life, artwork and curation is important, says LaFleur, because it combines both ancestral traditions and future realities to focus on liberation.
"Afrofuturism honors and responds to the ancestor's wisdom that continues to guide us and shape our present and future realities," she said, adding that it "centers the Black body with the full understanding that liberation can only be attained when everyone from every background is decolonized and liberated."
LaFleur explains that she has been surrounded by art her entire life, and much of her interest started with her parents.
"My parents were art collectors, so I essentially grew up attending galleries and museums in Detroit, regionally and abroad," she said. "It was mainly my father's passion that became my passion."
LaFleur then went on to major in Art History at Spelman College in Atlanta, Georgia, and has spent over 15 years in the contemporary art world as a curator.
The most recent art exhibition LaFleur has curated is "Manifest Destiny," an exhibition held earlier this year at Library Street Collective which took an intricate look at Afrofuturism and its ability to "alter destinies within Detroit and beyond." The exhibition featured film and sculptures from Maikoiyo Alley-Barnes, painting by Satch Hoyt, collage by Manzel Bowman, sculpture by Jasmine Murrell, and a virtual reality project by Hyphen Labs.
"Detroit gave me a front seat at what it means to control one's destiny," LaFleur said. "All the tools necessary to build prosperous futures—a decolonized mind, grounding in cultures from Africa and the diaspora, investigating and employing ancestral techniques to address the needs of our community—are being employed by Detroiters every day."
LaFleur explains she tried to articulate that experience within "Manifest Destiny."
"Living in Detroit taught me that to imagine a thriving future filled with love and harmony we must be guided by ancestors and the technological experiments of the past, the process to manifestation must be heart-led," she said.
When curating the exhibition, LaFleur detailed her "ten-year journey" of "learning the complexities of Detroit."
"My journey in my hometown has made the return a soul-satisfying and very challenging transition," she said. "The challenge has been to face the realities of our struggle for justice while also work towards a solution, and manage to be simultaneously in celebration of our collective successes."
One of the most notable aspects of the exhibition was likely the billboard in Detroit that read "There are Black People in the Future," an installation by Alisha B. Wormsley located above Queens Bar in downtown Detroit. The billboard, which was considered controversial enough to be removed during its installation in Pittsburgh—though it was eventually reinstated following some backlash—has received mostly positive responses in Detroit, according to LaFleur.
Alongside the display at Library Street Collective, LaFleur also organized various workshops such as "#betterthanwakanda" hosted by Onyx Ashanti which gave attendees an overview of wearable computers and 3D printed sensors; "Decentralizing Power" hosted by LaFleur herself in which she asked attendees to reimagine economic systems through an Afrofuturist lens, and taught about blockchain technology, cryptocurrency and cooperative economics; and a word building presentation by writer Tony Patrick.
In addition, the exhibition featured a boutique selling Afrofuturist paraphernalia called "DINKINESH," curated by LaFleur and designed by artist Utē Petit. The word "dinkinesh," meaning "you are marvelous" in Amheric, is derived from the name given to the oldest human remains discovered thus far, excavated in Ethiopia. The proceeds of DINKINESH went to the Heidelberg Arts Leadership Academy and their program to send youth to Ghana.
LaFleur practices "pleasure activism," a term fleshed out and explored extensively by author and activist adrienne maree brown in her book, "Pleasure Activism: The Politics of Feeling Good," published earlier this year.
In her book, brown, who purposely spells her name all in lowercase, defines "pleasure activism" as "the work we do to reclaim our whole, happy, and satisfiable selves from the impacts, delusions, and limitations of oppression and/or supremacy."
LaFleur explains that she tries to incorporate the concept of pleasure activism into her life regularly. "When my father passed away, I developed a pleasure principle to bring more joy into my life," LaFleur said. "I believe that every moment of every day should be pleasurable and should resonate pleasure deep into the future. If that moment, environment, or interaction does not resonate pleasure into the future, then one must assess the moment, because it is not truly a pleasurable act."
LaFleur describes the importance of interweaving pleasure activism and Afrofuturism throughout her work as both a curator and artist.
"Because society has been conditioned that Black and Brown bodies should not have access to pleasure, desire, joy or play, as a Black woman, I make it a priority to bring more pleasure into my life and thus generate positive energy that is then projected unto those around me, the earth and the universe," she said, adding that it is "one of the many steps in manifesting a destiny."
LaFleur's future plans include a project that will bring all the elements of her work together, and to provide a space for others to explore and research the implementation of Afrofuturism. She also plans to launch a podcast this month called "Decolonizing Your Destiny," which will explore liberating tools for increasing one's own power and self-determination.
Share it now!