LEGOs on a Larger Scale: An Interview with LEGO Master Builder Ryan McNaught
Gallery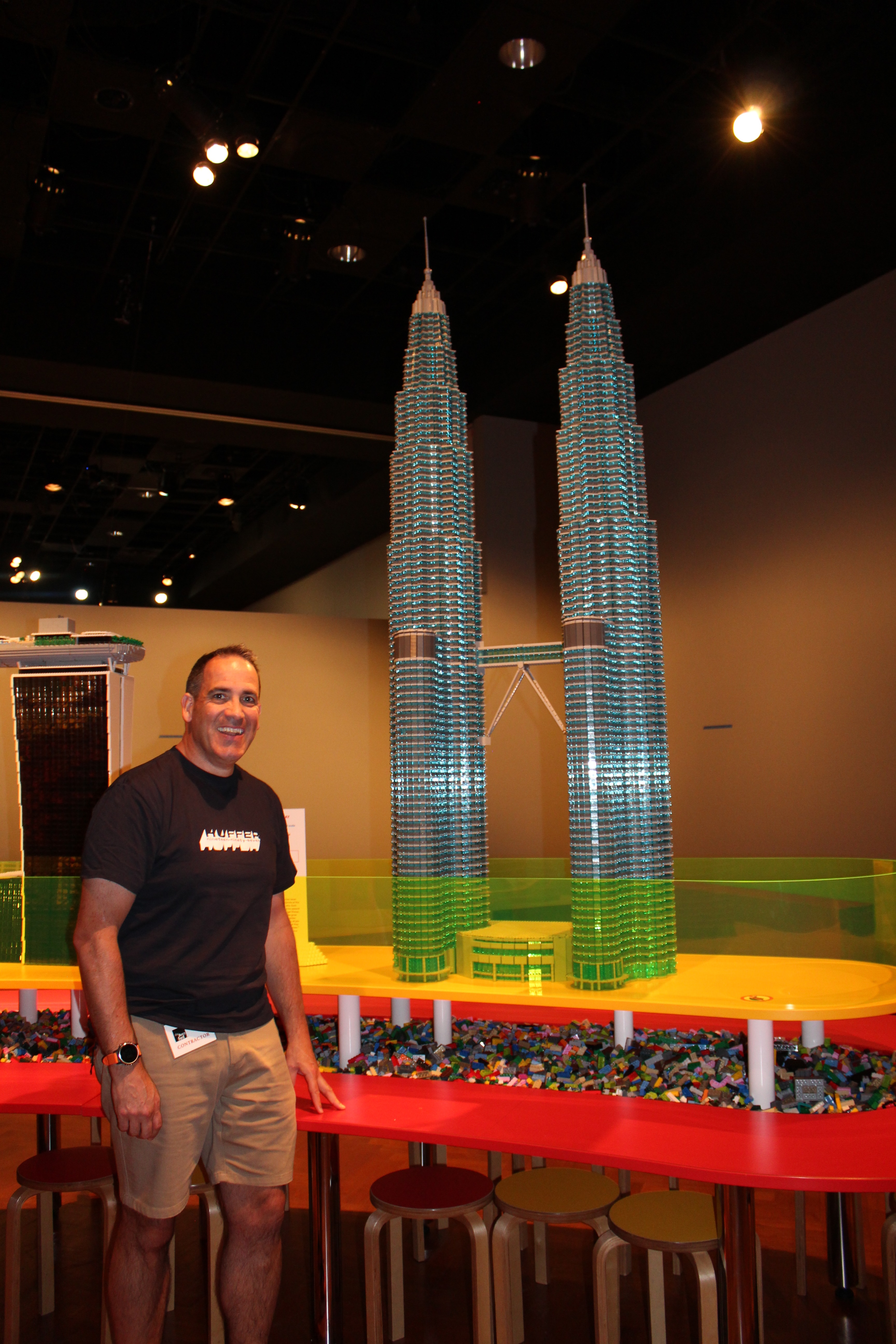 Ryan McNaught next to Pertronas Towers replica | Credit Yasmeen Berry
Henry Ford Museum of American Innovation gives an inside look this month into the world of LEGO building. In the "Towers of Tomorrow" traveling exhibition, twenty of the tallest and most innovative skyscrapers from North America, Asia, and Australia are featured, each made entirely out of LEGO building bricks. From the Burj Khalifa in Dubai to the Wilshire Grand Center in California, the exhibition allows visitors to marvel at architecture from around the world in an experience like no other.
Celebrating its 60th anniversary last year, LEGO has become one of the world's largest toy manufacturers. Though originally gaining popularity in Denmark with its plastic brick building blocks, the company is now known for theme parks, stores, video games, board games, films, television, books, magazines, and clothing worldwide.
Ryan McNaught is the head builder for the Towers of Tomorrow Exhibition. He holds the job title of LEGO Certified Professional, one of only 14 in the world. As a recognized partner of the LEGO company, he is an entrepreneur that specializes in executing large-scale models and structures made entirely out of LEGO bricks. His team of 11 skilled LEGO brick artists and craftspeople that helped construct this exhibit are based in Melbourne, Australia, and are called the "Brickman Group." With the largest inventory of LEGO bricks in Australia, the team constructs massive structures including life-size cars and motorcycles.
To showcase their models, the Brickman team partners with museums and art galleries around the globe. Alongside their Towers of Tomorrow Exhibit, the team has also displayed their models in exhibitions such as Wonders of the World, The Brickman Experience, Brickman Cities, and Brickman Awesome. In addition to their exhibition work, the Brickman group also partners with corporations to create LEGO versions of company products. Some notable examples include a life-size LEGO Honda Civic Type-R, a Toyota Camry, and a Harley-Davidson motorcycle.
McNaught describes the process of creating the buildings for the exhibition. "There is a lot of work that goes into it," McNaught said, "From researching the buildings, understanding the buildings, learning about them, all of the things that make the buildings unique." McNaught added, "There is a lot of research that happens before we even pick up a LEGO brick." In total, McNaught said that the Towers of Tomorrow exhibit took about 2000 hours, or six months, to complete. This is because the team essentially built these models twice: once as a computer-rendered plan and a second time in physical construction.
Prior to reaching the Henry Ford Museum of American Innovation, this exhibition was displayed in other states including Missouri, Tennessee, North Carolina, and Minnesota. As a traveling exhibit, the structural integrity of the models is carefully considered. While the current LEGO design, the patented stud-and-tube coupling system, is enough to keep the models sturdy and connected when stationary, these LEGO professionals take extra precautions to ensure stability in transit. In the building process for the towers, glue was used to permanently bind the bricks together. This helps the models keep their structure, but also makes the construction process more challenging.
McNaught observes, "When you have glue on a brick, you can't undo it off. So, when you make a mistake it can be quite a laborious process to undo and fix it."
To ship the towers from one location to another, the structures are broken off into manageable sections that are about three feet in height. They are then placed in custom crates that allow them to travel safely to the next city.
Each of these towers were built to a 1:200 scale. McNaught said that the purpose of this was for visitors to be able to compare the relative heights of each of the skyscrapers. Though limited to the designs of standard LEGO bricks, the Brickman team was still successful in capturing the architectural designs of these buildings in an impressive attention to detail. One example that highlights the stunning architecture is McNaught's replica of the Tokyo Skytree. When asked about this structure, McNaught said, "What is so interesting about that is that it starts as a triangle but ends as a circle." This is important to note because LEGO Bricks are of a flat and rectangular form factor and do not easily conform to circular or triangular shapes. In the 20-minute documentary that is played alongside the exhibition, the Tokyo Skytree's building process is showcased and the challenges in creating a structure of this design is depicted.
McNaught considers himself to be more of a craftsman than an artist. He believes that as a LEGO Certified Professional, it is important for models to be able to showcase how there are no limits to creativity, even with LEGO bricks as the medium. When asked how he wanted visitors to feel when they looked at the Towers of Tomorrow exhibit, McNaught said, "Hopefully inspired. There is nothing better than what we try and do, which is to get kids to go home and get their LEGO collection and build cool stuff too." The exhibition even encourages visitors to make their own "towers of tomorrow" with 200,000 loose LEGO bricks scattered below the tower models.
A key method of this exhibit was the use of "selective compression." Through this method, the goal is not to create exact replicas, but to instead ensure that the key details are recreated. This is done so that the overall essence of the building is captured without having to have custom LEGO pieces made. Through problem-solving, creativity, and effort, the Brickman team proves that there is no limit to what LEGOs can recreate. "The LEGO Movie," was released by Warner Bros. in 2014, and "The Lego Movie 2: The Second Part" was in theaters earlier this year. In asking McNaught for his perspective on these films, he said: "For me, anything that brings the medium to children's attention [is important]. The message that they give is that there is no right or wrong way to create with LEGOs. You just need to be creative, there are no rules." McNaught continued, "I think the movies communicate that really well." While McNaught was not personally involved in the making of these movies, he appreciates the time and effort that was put in by the LEGO expert movie-making team.
As a LEGO Certified Professionals, McNaught gives insight on how one might build upon the skills that the LEGO company looks for: "First, you need to be really good at math. Everything that we do is mathematics based, there is a lot of geometry, algebra, trigonometry." McNaught added, "Also, they should probably study a degree called Industrial Design. It's kind of a combination of architecture and graphic design."
"Towers of Tomorrow" runs from Oct. 12 to Jan. 5 at The Henry Ford Museum of American Innovation. General admission for this exhibition is free for members and $24 for non-members, $22 for seniors and $18 for youth ages 5-11. Students receive a membership discount.
Podcast: Interview with Ryan McNaught
Share it now!