"Unlikely" screening and DEI Little Libraries ribbon cutting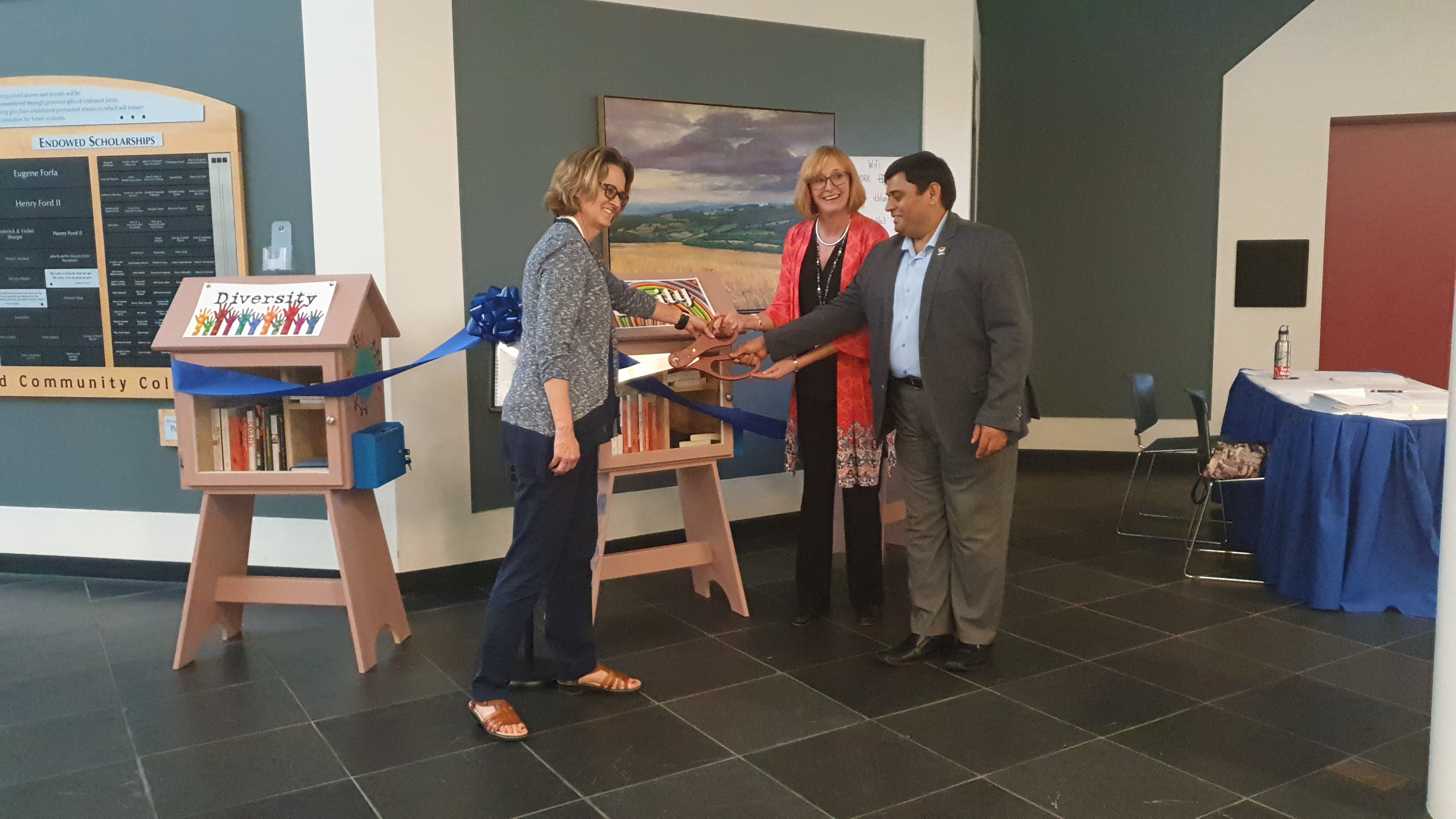 Katherine Snyder, Ashok Kumar and Janice Gilliland | Photo by Fatima Nkata
On Sept. 23, the Henry Ford College Center for Teaching Excellence and Innovation (CTEI) hosted a screening of the film "Unlikely" at the Forfa Auditorium at Henry Ford College.
"Unlikely," a feature documentary by independent filmmakers Jaye and Adam Fenderson of Three Frame Media, delves into challenges affecting low-income students in higher education.
Set in Akron, Atlanta, Boston, and Los Angeles, aptly describing the contours of the changing higher-education landscape, "Unlikely" follows the journey of five individuals failed by the higher education system as they fight for a second chance to attain higher education. Reflective of the struggles of the 21st-century student, the five individuals' journeys include being parents, full-time employees, immigrants, and first in their families to go to college.
The screening was preceded by a ribbon cutting ceremony for the Diversity, Equity, and Inclusion Little Libraries. The Little Libraries are free book borrowing mobile units accessible to members of the HFC community which will be placed around campus. The HFC Diversity, Equity, and Inclusion Little Libraries carry books that speak on various topics on diversity and inclusion, including but not limited to culture, indigeneity, pedagogy, racism, ableism, novels expressing the lived experiences of people of color, LGBTQIA issues as well as social justice.
The film also outlines some of the solutions being employed to mitigate these challenges.
The event was hosted in partnership with Wayne State University and the University of Detroit Mercy through ReBUILDetroit.
ReBUILDetroit is a National Institute for Health (NIH) funded initiative fueling the academic renaissance of Detroit by implementing innovative programs to increase student persistence and college completion rates for underrepresented students in STEM fields. ReBUILDetroit focuses on encouraging undergraduate students from underrepresented or economically disadvantaged backgrounds to pursue careers in biomedical research. Henry Ford College's role in this partnership is creating pathways from community college to four-year and graduate programs that prepare students for biomedical research careers. Three HFC students recently transferred to University of Detroit Mercy through ReBUILDetroit.
Following an initial grant of $21 million awarded in 2014, ReBUILDetroit recently received a renewal grant of more than $19 million from NIH for the next five years.
Janice Gilliland, dean of the HFC School of Science and Technology stated that though HFC had joined the partnership in the last year of the five years of the initial grant, HFC was built into several areas of the grant. She highlighted that through the renewed grant, HFC will continue the work already started, including faculty development projects and projects like the Diversity, Equity, and Inclusion Little Libraries.
"HFC students will also have the opportunities to have paid summer research internships and then transfer to Wayne State University or the University of Detroit Mercy with strong tuition assistance," Gilliland said.
Dr. Ashok Kumar, associate dean for special projects for the Wayne State University Graduate School and co-Principal Investigator for ReBUILDetroit expressed excitement over ReBUILDetroit's partnership with HFC. He also encouraged students, faculty, and staff to utilize the Diversity, Equity, and Inclusion Little Libraries.
Share it now!