Internet Boy Band Sensation Brockhampton's "Ginger" Has the Right Mix of Sugar and Spice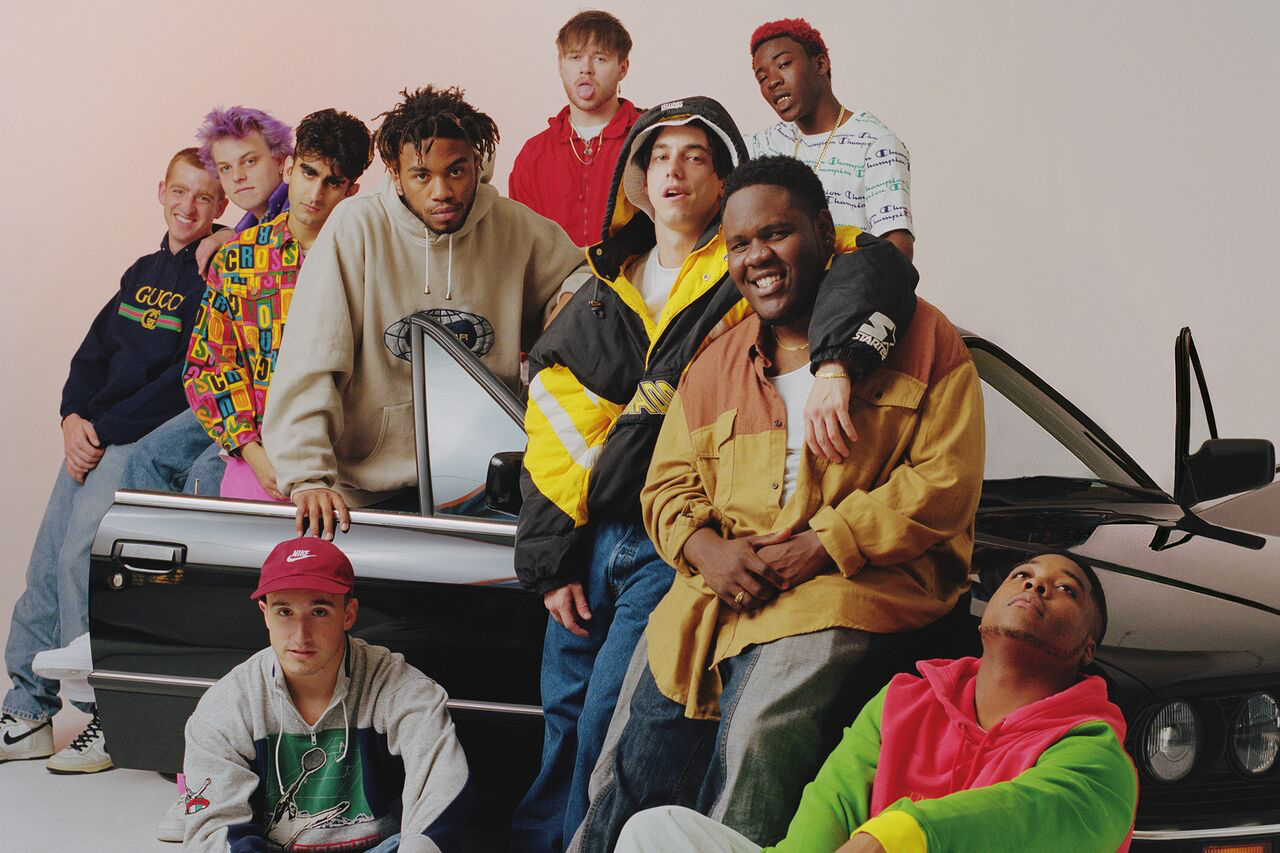 Brockhampton | Photo by Damien Maloney for Crack Magazine
Brockhampton's back, but on a very different note.
Self proclaimed "best boy band since One Direction," Brockhampton has been on the rise since their start in San Marcos, Texas, in 2015. After meeting in an online Kanye West fan forum, the group of singers, rappers, producers, and directors moved to Los Angeles, California, to live in what they dubbed "The Brockhampton Factory." From intimate, collaborative dorms emerged the Saturation trilogy, a series of three albums all released in 2017.
Brockhampton has made a name for itself, creating "up-ended hip hop" that range in variability, as would be expected with a band with 15 members. On March 30, 2018, they signed a $15 million deal with RCA Records, promising six albums in three years. Several months later, Ameer Vann, the group's "best rapper," was accused of multiple accounts of sexual misconduct, resulting in his removal.
Within a year, "iridescence" was released, creating an even bigger fanbase for the already erupting boy band. Leader Kevin Abstract was displeased with the response it generated. In an interview with Genius, Abstract said, "We put out a fourth album after the stuff, which got us a lot of hype," and added that it "didn't get the reaction we wanted, so it made us take a step back and made me realize the group should take a break and live life for six months."
From this hiatus came fifth studio album "Ginger." Here, the boys attempt to make a "summer album. Feel good," said Abstract in the same interview. Rather, Brockhampton releases a gentle yet heavy track that reflects family, friendship, and faith. It received mixed reviews; some fans detailed its inferiority to past albums, calling it "boring." The weight, and its obvious relation to Vann, certainly wasn't the album's best feature. Sam Small, a longtime fan who's seen the band live on four separate occasions, is sick of hearing about the drama, claiming they need to "get over it."
Although Vann is referenced throughout the album, his absence is brazenly addressed in the seventh song, "Dearly Departed." The track focuses on loss and the trauma that follows, exploring and speaking on the impact Vann's actions had on the group. "What's the point of havin' a best friend if you end up losin' him," Abstract questions in the first verse. Fellow member Dom McLennon shares Abstract's resentment, asking "How many sides of a story can there be when you saw it with your own eyes?"
Other fans have embraced Ginger's sophisticated approach. What appears to be a conglomerate of grief and sorrow is actually an organized, daring discussion on usually implicit themes, containing one message: Brockhampton is here to stay. Brandon Yu, a music analyst for Variety, claims that "Ginger" is their "tightest and potentially most memorable album yet."
Yu writes, "The undercurrent of anxiety -- a hallmark of the group's identity -- is still present but holds new weight here, more mature and weary, and less a mark of their youth."
Although "Ginger" is characteristically disparate, the engaging, ear-catching aspects are still strongly evident. "Sugar" and the titular title track stand out as the emotional show-stoppers, offering combinations of smooth instrumentals and calming vocals to emphasize love and understanding. "Boy Bye" returns to a goofy, circus-type beat while staying tight in production and lyricism; following suit with their earlier music, bandmates bounce off each other in a savory, imprudent fashion.
Ginger's gravity is difficult to grasp after a single listen. Its maturity extends far beyond lyrics, touching on experiences that affected the group as a whole, making for long-lasting sound. Russell "Joba" Boring and Merlyn Wood, two members usually recognized for their radical voices, have toned down to fit the album's theme, further demonstrating Brockhampton's newfound composure. Teamwork was a central contributor to Ginger's success, as evident in the album's cover, which depicts Joba and creative assistant Weaston Freas hugging after what Abstract described as a "long night."
Brockhampton's "Heaven Belongs to You" tour begins in British Columbia in late October. The Detroit date is set for Nov. 30, at the Masonic Temple Theatre. As promised in Ginger's closing song, "Victor Roberts," the "boy band" is "here for the distance."
Share it now!