HFC Informs While World Strikes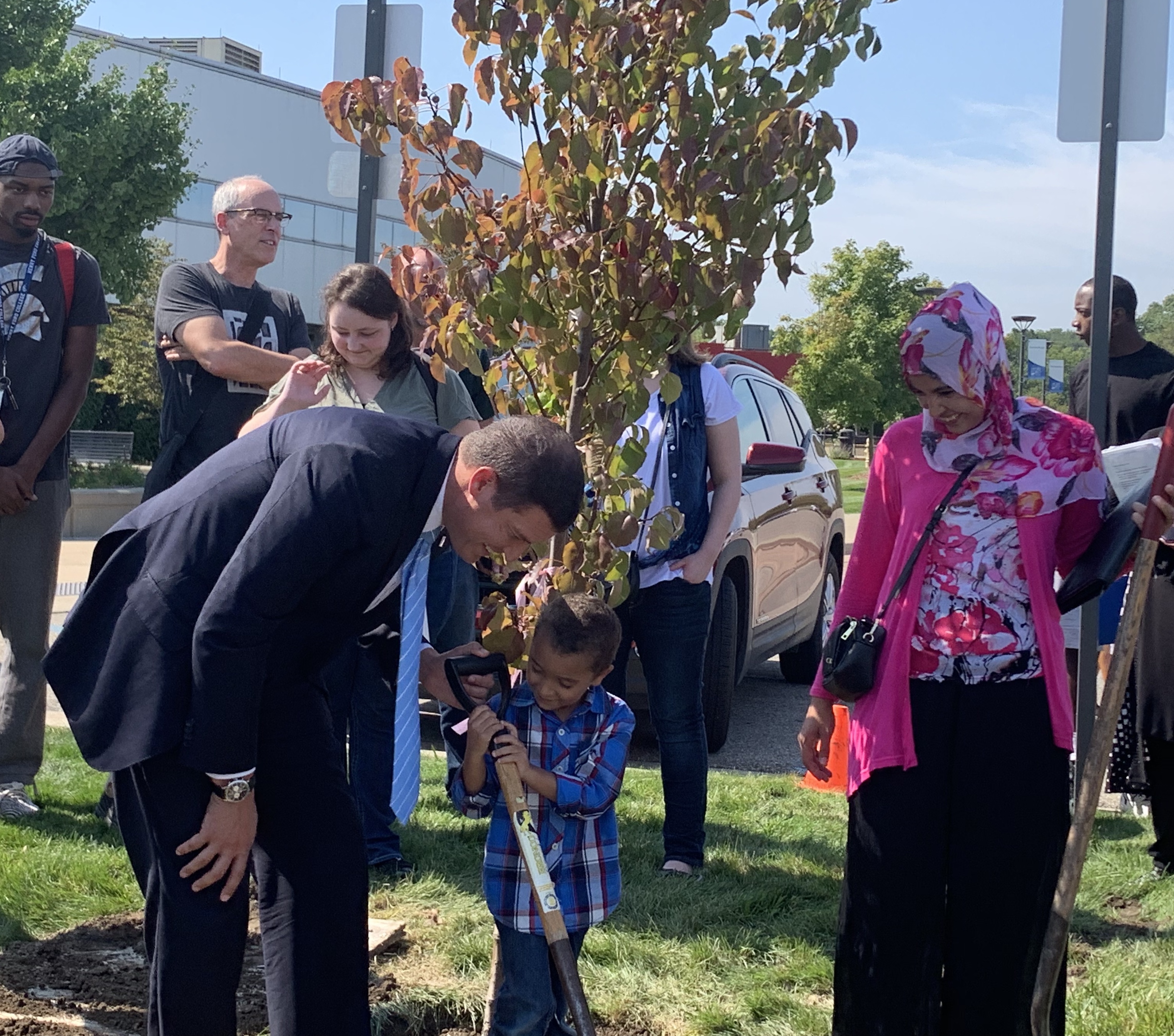 HFC President Russell Kavalhuna with student and child at tree planting. | Photo by Olivia Grantham
Last Friday, over 4,500 strikes took place in 163 countries, from Fiji to Kenya, demanding transformative action in combating the climate crisis. It was intended to grab the public eye before the United Nations 2019 Climate Summit, where UN Secretary-General António Gueterresia is calling on leaders with "concrete, realistic plans about how we are going to stop the increase in emissions in 2020, and dramatically reduce emissions to reach net-zero emissions by mid-century."
Greta Thunberg's environmental interest peaked long before her international rise as an activist challenging leaders at the UN to act now. At eight, she learned of crop failure, drought, and climate warming, provoking one question: "If this is so serious, why don't we talk about it, and try to solve it, all the time?"
In an interview with BBC radio show host Nick Robinson, Thunberg discussed her "gift" of Aspergers syndrome, which helped her see climate change in "black and white. "Seven years later, she came to a compelling conviction: "If grown-ups don't give a shit about my future, I won't either." The 15-year-old environmental activist raised attention by sitting outside of Swedish Parliament's main building with a sign that read "School strike for the climate." In Sweden, school is compulsory, making Thunberg's actions illegal; "I'm too young to vote. But Swedish law requires that I go to school. So I do this to make my voice heard and attract media attention to the crisis," she said.
News outlets and social sites made Thunberg a prominent figure in Sweden, and, soon, the rest of the world. Her message sparked global interest, inspiring others to follow in her footsteps. Climate strikes quickly became a popular occurrence. Students anxiously ditched class to raise awareness about the truth of our future. These small, scattered protests would eventually pave the way for international movements, like the September 20 Climate Strike.
Henry Ford College participated in the strike, but took a different approach. An institution with a fluid student base, HFC lacks a distinguished environmental spirit; students and staff attempt to take action, but, with limited funding and a disconnected student body, make meager progress. Although climate change might be discussed in some science classes, there is an absence of proper ecological education.
"This is arguably the most important thing going on," said Gary McIlroy, an HFC English instructor. In July, McIlroy and other staff members met to discuss the possibility of a climate forum, in accordance with the anticipated global strike. "Students couldn't take it on their own to strike, so we thought we'd give it a little boost by having a forum [and] invite students to come and hear some of the basic science," he said. After much deliberation, the "concerned group of faculty and staff" determined an educational forum as the most opportune approach.
Along with McIlroy, biology professor Linda Brandt helped organize the event. Over the summer, the two worked to bring their ideas to fruition. Collaboration led to the formation of a concise agenda, including several speakers, informational videos, breakout sessions, and a tree planting ceremony.
As September 20 approached, teachers began advertising the event for extra credit, and, in some cases, a mandatory grade; one teacher went so far as to make it worth five percent of the class. Posters detailing the event were placed around Dearborn, encouraging all citizens to participate. The itinerary was released, announcing McIlroy and Brandt as the opening speakers. Dr. Craig Donahue, associate professor of chemistry at the University of Michigan-Dearborn, and Dr. Emily Luxon, professor of political science also at U of M-Dearborn, were also keynote speakers. In addition, three films were being shown; Greta Thunberg's TED Talk, "Save the World by Changing the Rules, Inside the Sunrise Movement," and "The Human Element," which addresses humanity's relation to environmental change.
On the day of the Climate Forum, more than 400 people filled the Forfa Auditorium to better understand climate change. Brandt described Earth's disturbed carbon cycle and its effect on temperature, while her husband, Dr. Donahue, referred to the Transportation Data Energy Book to analyze carbon emissions in correspondence to the automobile. After discussing the societal side of environmental issues, Dr. Luxon pulled everything together in one sentence: "Activism changes the conversation, and now we need more people to show up and change the policy."
At the halfway point, students were given an opportunity to learn about youth groups routinely fighting climate policy. The Sunrise Movement and NextGen are two widespread, environmentally-charged activist organizations that aim to involve young people in the climate conversation; both were given rooms to share their message and recruit potential members. A Sunrise hub, started by McIlroy's online students, will also be introduced at HFC as a means of increasing involvement and elevating urgency, according to the Sunrise Movement.
The Student Environmental Association, HFC's student environmental group, collaborated with participants about promoting sustainability in personal lives and on campus. Given the opportunity to draw out their thoughts using recycled materials brought forth interesting conversations on intersectionality within environmentalism. "We talked about the dangers of miseducation on the business practices of certain 'eco-friendly' companies, as well as the importance of composting and planting flowers to promote the repopulation of pollinators," said HFC student Hannah Sullivan.
Following the breakout sessions, a Ceremonial Tree Planting commenced outside of building E. The Trillion Trees Campaign, an effort to plant and record 1.2 trillion trees to combat climate change inspired the idea. Henry Ford College President Russell Kavalhuna, Brandt, and McIlroy were the first people to break ground to plant the non-invasive ornamental pear tree, which benefits the environment by elevating carbon intake and benefiting pollinators.
HFC's Climate Forum received attention in the Dearborn Press and Guide and the Detroit Free Press. Whether for extra credit or further education, the forum gave everyone the chance to learn the science behind climate change, a crucial component to Earth's and our future. "I hope that people who attend learn something and feel motivated to get involved in some way," said Brandt.
Share it now!