HFC and DTE Burst with Energy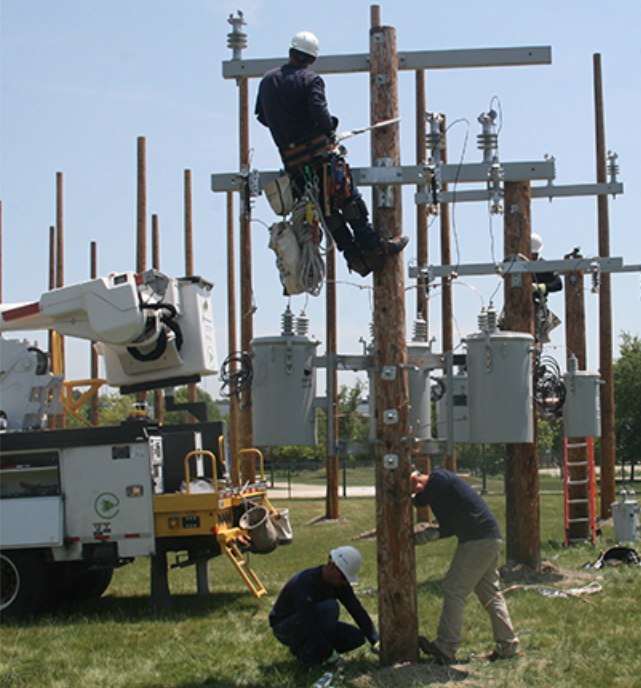 Henry Ford College students practicing on electrical poles | Photo courtesy HFC marketing
Over the next five years the country will see a shortage in skilled trade positions. A skilled trade position is a position that requires a special skill, knowledge or ability. There are many skilled trade positions like electricians, welders, and mechanics.
As Baby Boomers begin retiring there will be a gap in the career field. According to adeccousa.com 62 percent of firms struggle to fill important skill trade positions. If nothing is done to lessen the gap it is likely that 32 percent of billion-dollar manufacturers will lose $100 million over the next five years. Seventy-four percent of firms predict a shortfall and 31 million vacancies will be left unfilled.
DTE Energy and Henry Ford College (HFC) have teamed up to provide career pathways to six major energy careers and one associate degree program.
"We are heavily connected to DTE in the introduction of the program. DTE came to us and said we've got these several positions and we're going to have a lot of folks retiring and moving on from these positions in the next few years," said Chad Richert, chair of Building Sciences for Henry Ford College, "In the next few years we are going to see shortages and DTE doesn't have the structure in place to start a complete training program."
DTE Energy is a Detroit-based diversified energy company. DTE's operating units include an electric utility that serves 2.2 million customers in Southeastern Michigan and a natural gas utility that serves 1.3 million customers in Michigan.
The Power and Trades Pathway program is a one-year program that teaches the fundamentals of the energy field and more specified training in one of the six different career paths. The specific career training paths offered are overhead line worker and underground cable splicer (avg. apprentice salary of $55,200), electric field operations service representative (avg. apprentice salary of $41,200), gas operations maintenance and technician (avg. apprentice salary of $37,600), substation electrical maintenance ($56,000), construction ($42,000), and two-year associate program for power equipment relay technician or PERT ($87,610). "We know the key to a strong and vibrant Michigan is good jobs," Deborah Majeski, manager at DTE Energy's Center of Excellence, told Stephen Tait of HFC. Majeski added, "and quality education is essential to a good job – they are part and parcel."
Completing the program will get a student a pre-apprentice certificate and an OSHA card (Occupational Safety and Health Administration). The program does not guarantee a position with DTE Energy or any other energy company in Michigan and the program doesn't complete the training. It is a training certificate to train as an apprentice. There are two levels of the job once hired in, apprentice and journeyman. It takes several years of on-the-job training to achieve the rank of journeyman, which could also be a significant boost in pay.
DTE Energy and HFC have constructed a "pole yard" for training. The pole yard is located at the Southwest corner of campus. It is constructed but not being used yet. Current students train off campus.
The first cycle of the Power and Trades Pathways program is currently underway, and the students are already seeing the benefit of the program.
"I'm learning things I never knew," Vernor Jacobs, 19, of Detroit, told HFC's Stephen Tait, "There are new ideas and more knowledge."
The program takes a year to complete and breaks down into two parts.
"It's designed to be a one-year program. The first semester is energy industry fundamentals and safety training," said Richert. "After that, they would veer into a specific career track."
The six pre-apprentice programs do not require general education classes. It is laser focused to get the student into the working world as quickly as possible.
"This goes beyond the walls of DTE Energy, both literally and figuratively. This is part of our company's passionate focus to be a force of growth in the communities we serve," Majeski told Stephen Tait, "We see ourselves and the private sector as playing an essential role in pushing Michigan forward."
For more information about the HFC Power and Trades Pathways program contact Cassandra Myers (cmyers17@hfcc.edu) or Chad Richert (crichart@hfcc.edu).
Share it now!