Henry Ford Hosts Album Art Exhibit and Musical Performances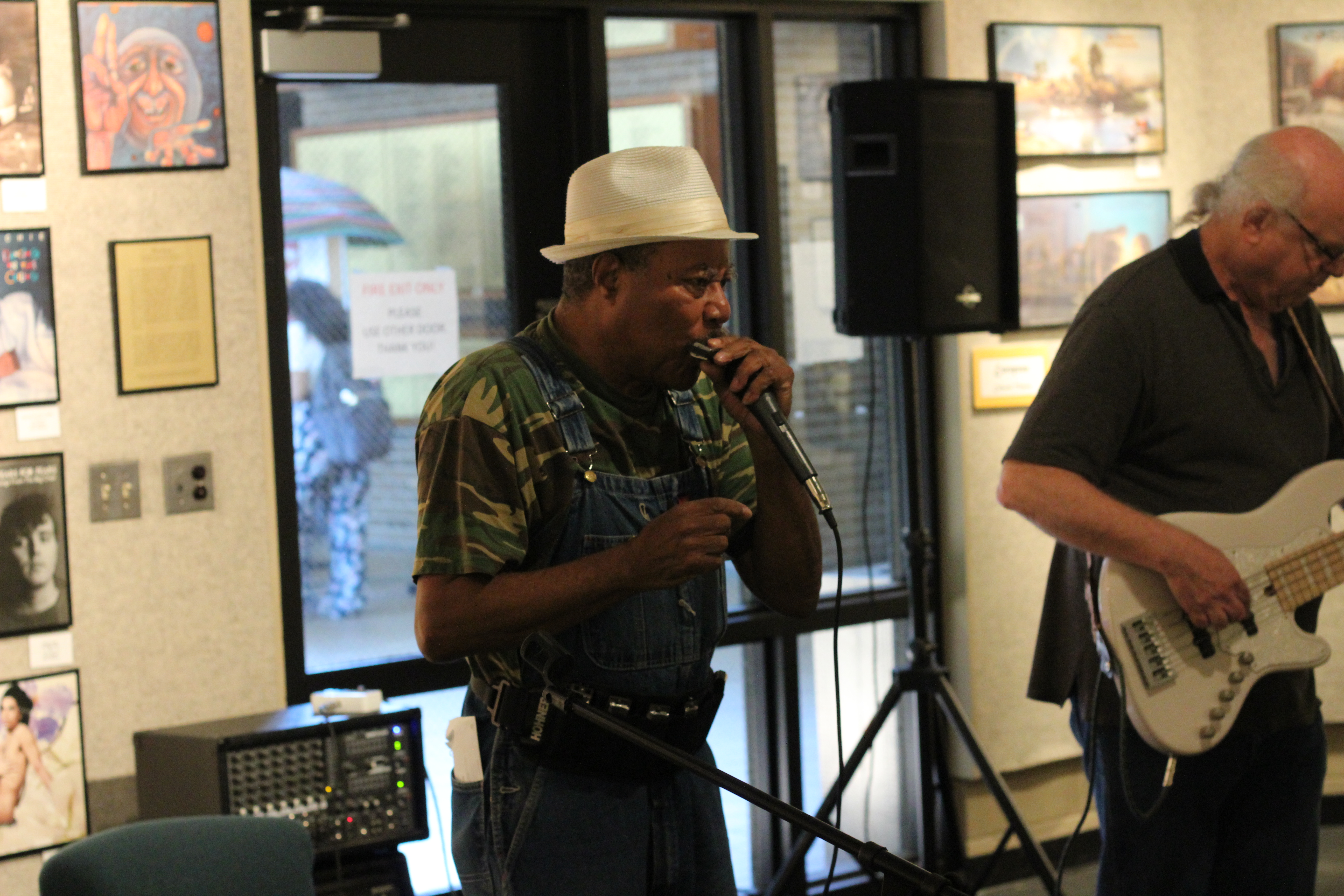 Harmonica Shah at the Sisson Gallery | Photo by Greg Timmons
Henry Ford College hosted an album art exhibit as well as five live local bands in the Sisson Gallery in the MacKenzie Fine Arts building from September 11-26. The exhibit and performances were coordinated by Sisson Gallery curator Steve Glazer.
"I put this together as a suggestion from Vice President Michael Nealon, who is friends with the man who owns all of this; I thought it would be a cool idea because it is a lot different than what we usually do in [the gallery]," Glazer said.
Glazer orchestrated this exhibit in hopes of getting more students involved with art and keeping students on campus.
"I would love to get more people here, being a record music junkie myself, I thought it was a cool way to show music history here. But it is the question of 'how do we get students involved?'" Glazer said. In conjunction with keeping students on campus, Glazer also hoped to show the change in music culture through an artists' album cover.
"In 1967, artists were demanding that they should give more attention to their music and that they should have more say in what gets released. In turn, this gave them more say in the album art; the most obvious was The Beatles' 'Sergeant Pepper's Lonely Hearts Club' where the four Beatles were dressed as a weird marching band," Glazer said.
Along with keeping students on campus and trying to get them to participate in on campus activities, Glazer invited five different music groups to perform in the same room as the album art exhibit.
"I was hoping that since we are in the art and music building, that people would hear the music and want to stop and listen. This was just my attempt at trying to keep students involved on campus," Glazer said. The performers that played in the gallery offered many different types of music genres, extending from Punk to Blues, and Rock to Americana.
Among the performers was Steven Glazer's brother, renowned blues guitarist, Howard Glazer, and his musical partner, Harmonica Shah.
"[Howard Glazer] and I agreed to do this show because we wanted to spread the knowledge of the blues and where it comes from. We want to show the younger generations that they do not just have to listen to music that cusses people out," Shah said.
These performers want to educate others on their particular genre of music that they play.
"A lot of people think that the blues is just crying into your beer, which is only one aspect of the blues. There are many different types: fun, sad, happy, fast, slow, happiness blues, and many other styles. When people hear us play, they say 'Oh yeah we liked that,' but they don't really know that it was blues they heard," Howard Glazer said.
Other singers want students to get exposed to original music that does not make it to the mainstream media.
"I think it is important to get people interested in original music so that people can have a better understanding of what they hear on a daily basis," Americana singer Joe Jaber said.
The performers that did these shows want to leave a lasting impression on their audience and they believe they do that through their music.
"I'm just trying to impact those who want to be impacted," Jaber said.
Share it now!