Hawks Volleyball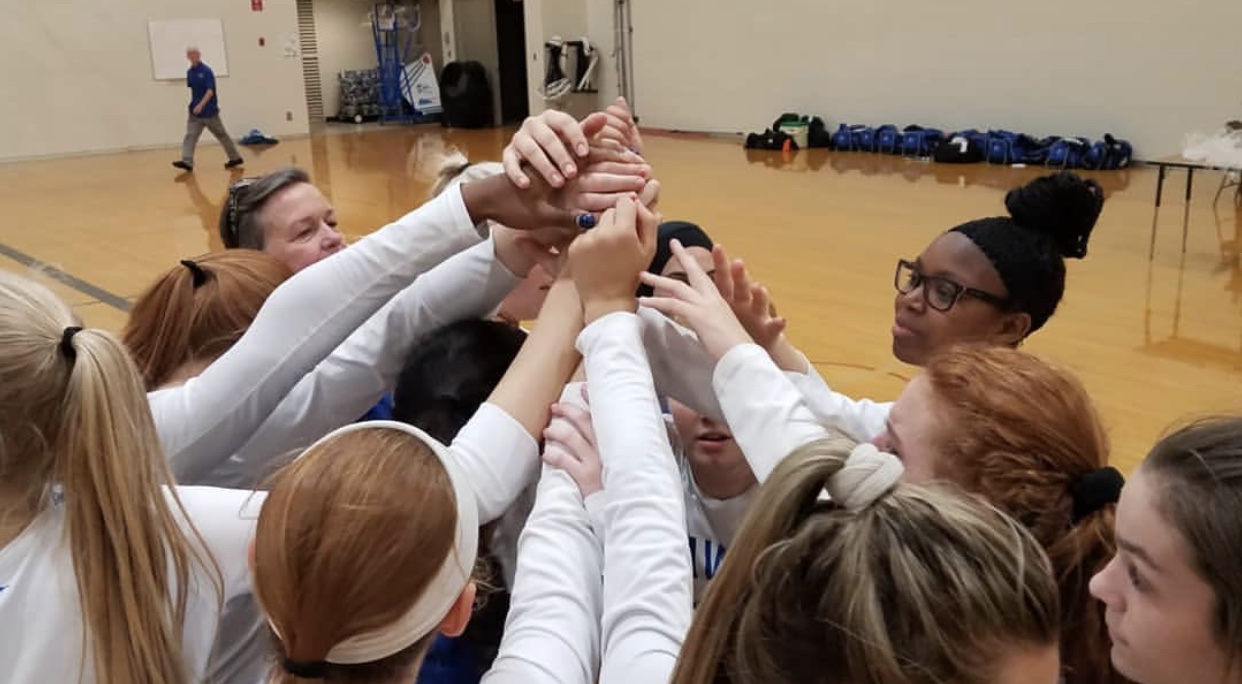 Hawks Volleyball 2018 team
Last fall, the women's volleyball team had a very exciting season, despite losing in the playoffs against Cuyahoga Community College. The Lady Hawks went 6-6 in the conference and had a winning 3-2 record at home. The National Junior College Athletic Association ranked Henry Ford College 17th overall in average home attendance. Fan support was key in the exciting home victory against Oakland Community College last season on Oct. 11. The stands were packed full of fans, and everyone was there to cheer on the Lady Hawks. This was Sophomore Night, to congratulate our sophomores for everything that they had accomplished over their two seasons spent as a Hawk. Emily Schroeder, Hannah Sullivan, and Katelyn Pinkowski were honored.
Katelyn Pinkowski transferred to Madonna University to study Speech Pathology, but she also committed to continue her volleyball career. Pinkowski said, "My time as a Hawk was such a memorable time. I made inseparable friendships that will last a lifetime and made numerous memories that I will never forget. One of my favorite memories as a Hawk was going to playoffs in the 2018-19 season. Although we lost, it was such a great time and I got to do it with some of my best friends!"
Pinkowski went on to say, "Madonna is a lot different than Henry Ford. Volleyball is a lot more intense here. There's more practices, games, and more competition. School is also very different. Everyone here is so welcoming and makes you feel like you've been attending the school for years. It's a great feeling to be in such a welcoming community. I definitely feel like Henry Ford volleyball prepared me for Madonna volleyball. The type of training and drills that we did made it easier to adjust once I got to Madonna. The conditioning we did also helped out a lot! Even though I hate admitting that, it really did."
This season, the women's volleyball team was already in the gym in July, conditioning, running new plays, and scrimmaging.
The 2019-2020 team consists of five returning sophomores: Halee Dorn, Olivia Grantham, Rachel Herrmann, Tori Jones, and Regine Porter. After the last season, the team recruited seven incoming freshmen who have all been a big asset. The incoming freshmen are Megan Glaser, Monique Sampson, Veronica Cechanowicz, Jahnae Collins, Mya Clark, Camille Brown, and Kelcy Harris.
The team is coached by Rosemary Motamedi, Jean Kouakou, Michelle Lewis, and Omar Tarabah.
The girls kicked off their season traveling to Owens Community College in Perrysburg, Ohio on Aug. 10. The team received their first win against Erie Community College. So far this season, the girls have played Owens Community College three times and Lansing Community College twice. The team also played Lake Land, Sauk Valley, McHenry County, Morton, Erie, and Sandhills Community College.
The girls are on the road for their next two games against Schoolcraft Community College and St. Clair County.
Their next home game is on Oct. 8, against Oakland Community College at 7 p.m. Come support the Lady Hawks! Good luck ladies!
Share it now!