Hawks Basketball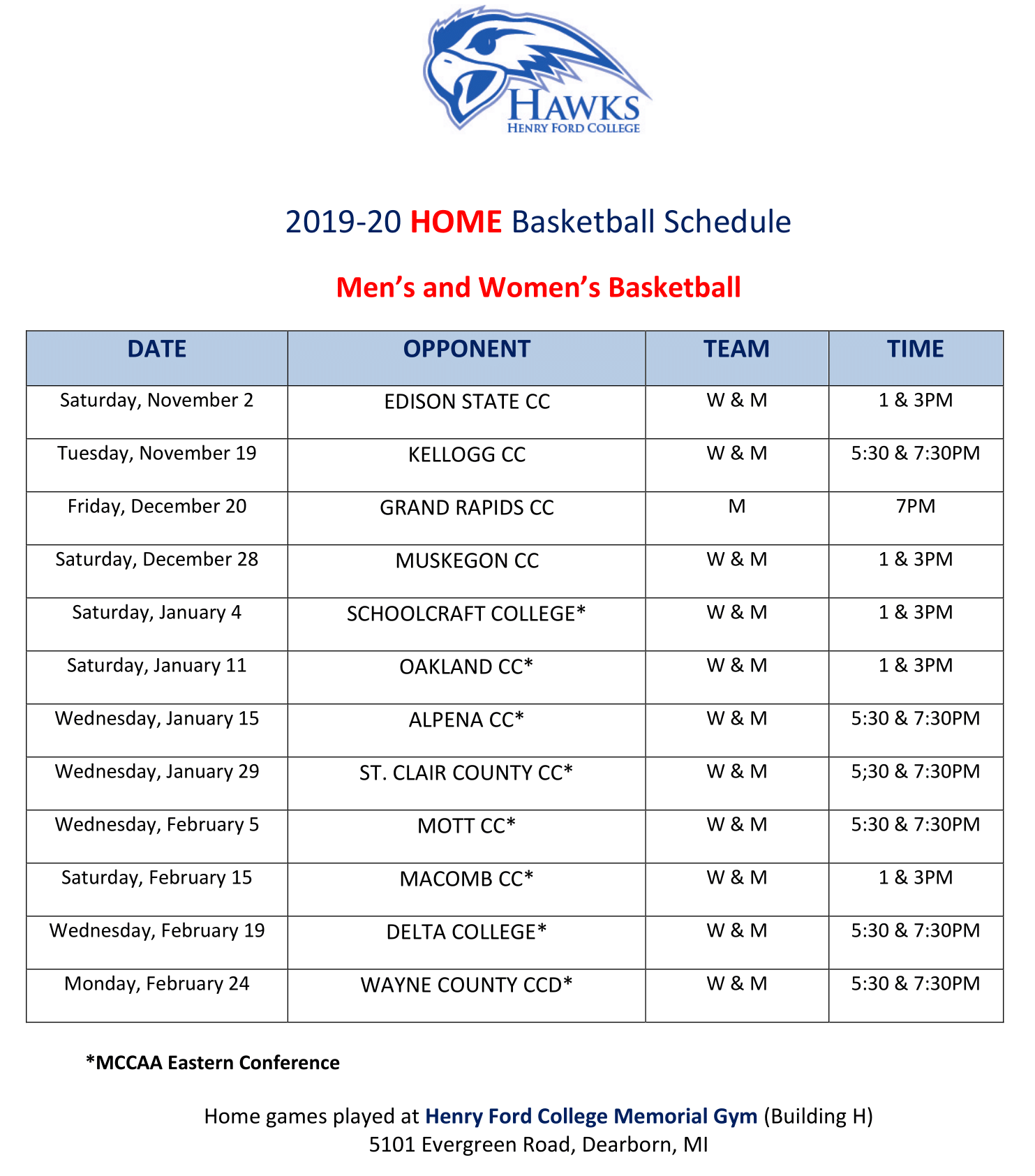 Henry Ford College Men and Women's Basketball Teams' season schedule
The Henry Ford College women's basketball team has a new head coach. Coach Kareem Hogan was assistant coach for two years for the Oakland Community College women's team. This will be Coach Hogan's first time as head coach.
As reported by Frank Wladyslawski of the Dearborn Press and Guide, Hogan replaced Kaylee Patton, who was unable to remain due to unforeseen "family matters."
Last season, the Lady Hawks were led by Head Coach Gwen Burton. They won two games, one against Alpena Community College and the other against Genesee Community College. Burton left HFC to accept the head coach position at Columbia State Community College in Indiana.
Last year, the team consisted of eight freshmen, and Coach Hogan is still unsure of who is coming back to join the team. The ladies on the team were Mariah Mitchell, Amber Davis, Michelle Vaughn, Brailyn Hill, Taylor Robinson, Kennedy Harris, Keiah Dancy, and Staje Vanzant-Hadley.
Harper Vanden Bosch, is a new student at Henry Ford College this year, and she was able to walk on to the women's team. Vanden Bosch said, "I knew that HFC has a basketball team, but I was unsure about everything else.
Vanden Bosch added, "I didn't originally plan on playing after high school, but I thought it would be a fun experience to go to a practice and see if they wanted me to join."
Vanden Bosch observed, "The previous seasons for the women's basketball team haven't been too successful, but this season we have a solid group of hardworking, dedicated women. If we work as hard in the classroom as we do on the court, we will be winning a lot of games."
The women's basketball team must spend a minimum of four hours per week in the college's Learning Lab and Tutoring Center in order to maintain the required GPA to be eligible to play on the team.
The women's basketball season officially starts in November. Good luck this season ladies!
Share it now!