Lt. Gov. Gilchrist Visits Henry Ford College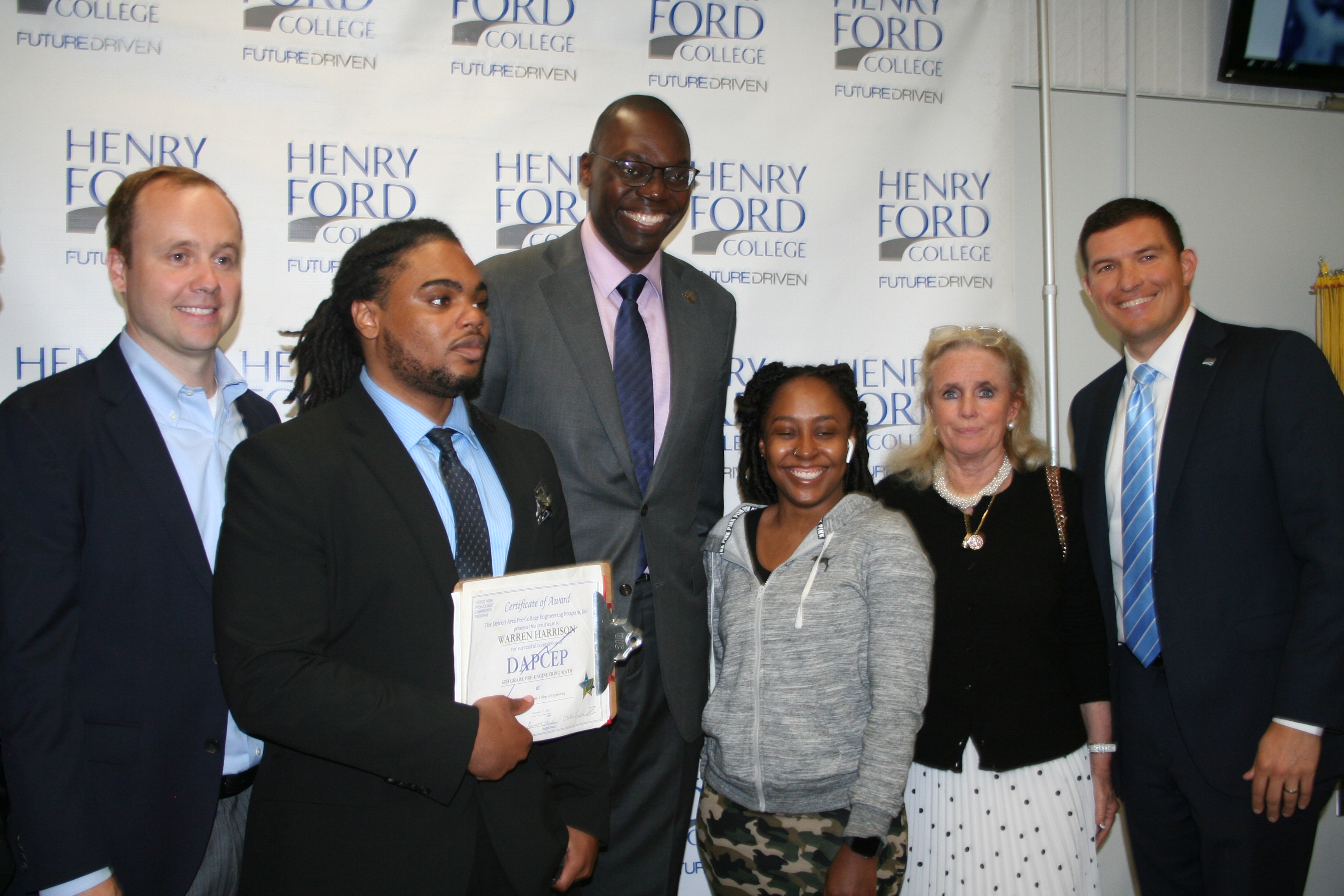 On June 17, Lt. Gov. Garlin Gilchrist II visited Henry Ford College for a leadership discussion focusing on closing the skills gap in Information Technology and increasing the number of underrepresented minorities in the field.
Following the discussion, Gilchrist toured the Electrical Technology and Robotics Lab where he viewed student demos as well as interacted with students from the Black Male and QUEENS Focus Group (BMQFG), an academic and social support network for Black students at HFC.
For the members of BMQFG, Gilchrist is not only an inspiration, he is an affirmation of the world of possibilities that lie within reach. At 36, he is the second highest ranking public official in the state of Michigan and the first African American to hold the position of Lieutenant Governor. His accomplishments challenge the prefabricated and widely accepted narrative for African Americans and students of color. The fact that he is young, and he is black matters because representation matters.
HFC student Warren Harrison thanked Gilchrist for taking time to interact with him and his peers. He emphasized the importance of having positive role models and the need for a collective effort to affording young people like himself opportunities, and mentoring and encouraging them to explore their full potential.
Harrison said, "The child who is not embraced by the village will burn it down just to feel its warmth." Harrison is a first year engineering student and a member of the BMQFG.
Dr Kalvin Harvell, coordinator of BMQFG stated that the Lt. Governor taking time to meet with the Focus Group signifies his commitment to the education of this generation.
"It speaks to his understanding of the important work of our ancestors and intentionality of Black people as models of excellence," Harvell said.
"Reflecting on his own college experiences, the Lieutenant Governor engaged the group in real talk; dialogue that can not be faked or accessed by individuals who are not truly committed to their constituents," Harvell emphasized.
Joining Gilchrist on the visit were other political, business, and civic leaders including U.S. Rep. Debbie Dingell, State Senator Sylvia Santana, State Rep. Abdullah Hammoud, State Rep. Karen Whitsett, Wayne County Commissioner Sam Baydoun, Dearborn City Council President Susan Dabaja, Secure24 President Nick Ilitch, members of the HFC Board of Trustees, the HFC Foundation Board, HFC faculty and students, and others.
Commenting on the importance of the visit, HFC President Russell Kavalhuna said that it is an honor to have Lt. Gov. Gilchrist, Representative Dingell, and many other leaders from government and industry visit HFC and interact with students.
Kavalhuna said, "All of us are dedicated to closing the skills gap in I.T. specialties and increasing the number of underrepresented minorities in technology and skilled trades fields." He added, "The governor and other state leaders have been staunch advocates of Henry Ford College's mission to educate the next generation of workers, closing the skills gap and providing opportunities for Michigan's citizens and businesses to thrive."
Share it now!