For Love, Not Profit
Gallery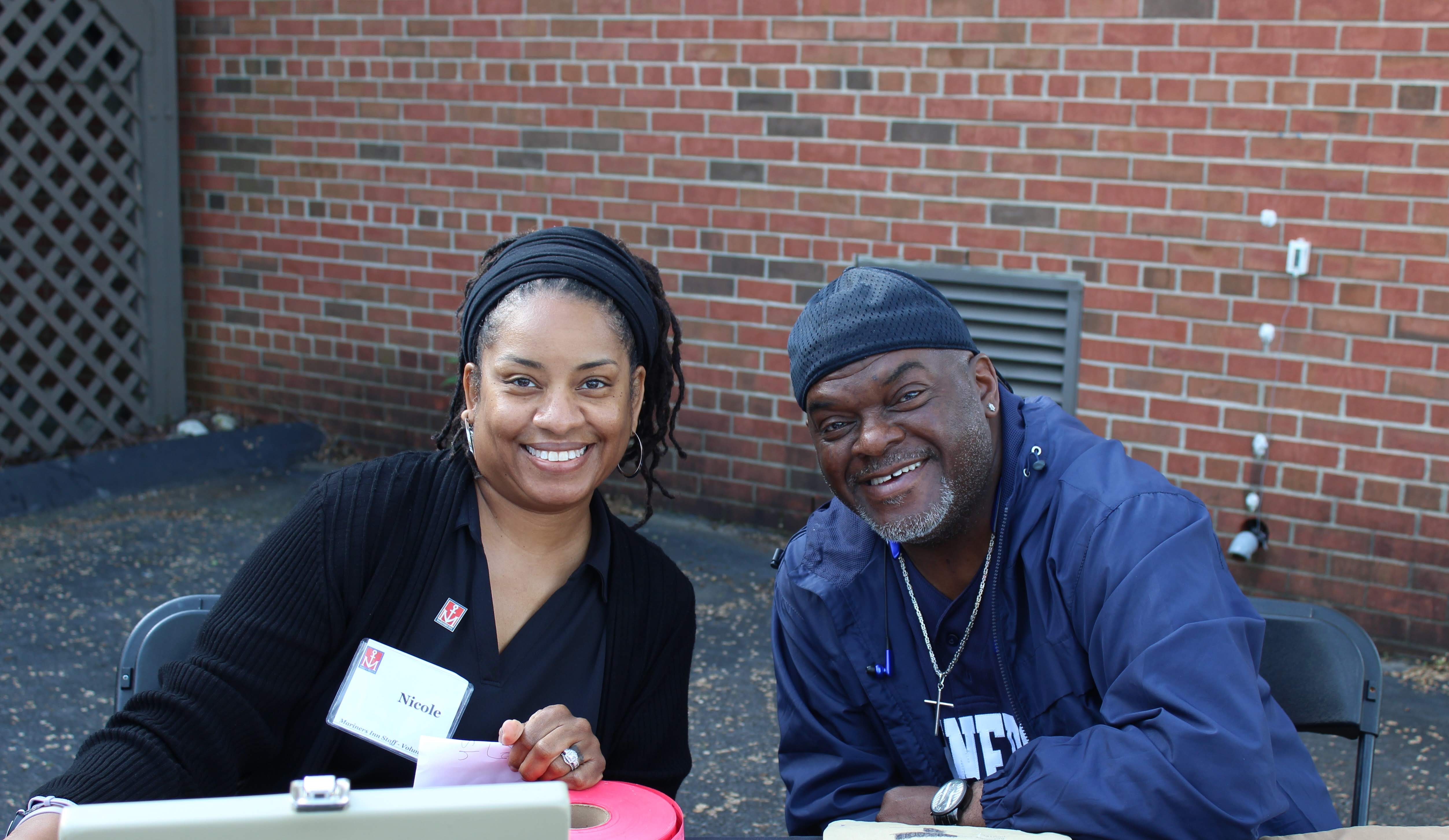 Mariners Inn staff at golf outing fundraiser | Photo by Justin Randles
The work of grassroots nonprofits can fall under the radar as news of Detroit's revitalization focuses on multi-million dollar development projects near downtown and midtown. Even as Detroit bounces back, community-based nonprofits have been addressing the needs of many of the most vulnerable residents of the city. The Henry Ford II Honors Program at Henry Ford College has partnered with several nonprofits for its service learning classes, and, starting this fall, have added Mariners Inn, Cass Community Social Services, Gleaners, and United Neighborhood Initiatives, to provide students with service learning opportunities that will directly impact communities in Detroit. Each of these community-based nonprofit organizations has its own story to tell.
As soon as you walk into the main building of the Mariners Inn in Detroit, the signs of their success are all around with pictures of survivors of addiction and a synopsis of their story. The sound of Motown music hits the ears and the smell of coffee fills the nostrils and in the midst of the bustling of men coming and going for chores or a smoke break a sort of hopeful energy can be felt.
"Recovery is real, and it begins at Mariners Inn" is the motto for this community-based nonprofit that has been helping men traverse the murky and turbulent waters of addiction for over 90 years.
Founded in 1925 by the Episcopal Diocese of Michigan, Mariners Inn was first called the Detroit Protestant Episcopal City Mission Society. In 1934, a building on Griswold was refitted as an Inn where citizens could get lodging, clothing and food. In 1955, the Griswold building was torn down in favor of the Detroit Civic Center and Mariners Inn was moved to its current location at Cass and Ledyard.
Mariners Inn has grown into a leading addiction treatment center, garnering acclaim across the nation for its programs and professional approach towards addiction and homelessness in Detroit.
The Inn is bursting with programs. The most prolific is the Residential Treatment Program that is accredited at the most prestigious level with the Commission for Accreditation of Rehabilitation Facilities (CARF). The program is typically the first step for the men entering Mariners Inn. The Inn cares for men that are 18 years or older that have substance abuse issues along with other mental health challenges. Most of the residents have a conglomerate of personal and social issues including developmental disabilities, physical disabilities, economic disparities, homelessness, legal issues, illiteracy, trauma, loss, among others.
Treatment includes the 12-step principles and a multitude of patient-centered individual and group therapy, all with the goal of treating the entire human and not just the addiction, and focusing on treating the underlying causes of addiction.
"We have six counselors in residential and we do individual and group therapy, didactics, psycho-educational, the whole nine yards," says Ariel Farley, a counselor at Mariners Inn, "We have music therapy and a drum circle. We have art therapy, our empowering fathers' group, grief and loss, trauma, acupuncture, yoga, all of the above." Farley graduated from Wayne State University with a master's degree in social work. She started at Mariners Inn as an intern for a year before being hired. Her empathy and desire for social work has been present all her life. She recalls wanting to be a therapist since she was 10 years old.
As she gets to know her patients, they become family and her empathy can be a complication at times. Recovery is extremely challenging, and it doesn't always work the first time, or the second or third, and sometimes a relapse can be lethal.
When a patient passed away after finishing the program, Farley recalls,"I had to re-evaluate who I was and re-evaluate my treatment style and even seek treatment myself," Farley said, "It shook me to my core. I was able to leverage that by telling my patients that I am in therapy as well. It kind of removes the stigma."
Helping others recover from addiction can be difficult, but there is a lot of good to counteract the bad. Farley recalls a patient that struggled with addiction and he completed his 45-day program, stayed in the extended living program where he got a job, and, after completing, he rented his own apartment and has a girlfriend and is doing very well now. He even comes to visit Farley regularly.
Success stories like this are around every corner and on many of the faces that walk the halls of Mariners Inn. The alumni program makes sure that a social network is established when patients complete the programs, ensuring men in recovery receive ongoing support.
To provide quality treatment and programs, Mariners Inn relies in part on volunteers, especially skilled volunteers, which is a theme across all nonprofits. Another obstacle that is particularly challenging for Mariners Inn is fundraising, given the stigma of addiction.
"If you don't have a personal tie to addiction, there is still a stigma. We don't have as much luck. We are very grateful for the donors and sponsors that we have because they all understand addiction," says Erika Rakowicz, Mariners Inn community relations liaison, "It is difficult to find a way for the general public to relate to addiction." To seek help or learn more about donating either time or money, contact Mariners Inn by visiting www.marinersinn.org, calling (313) 962-9446, or stopping in at 445 Ledyard St, Detroit, MI 48201.
Cass Community Social Services is one of the oldest community-based nonprofit organizations in Detroit. The land at Cass and Selden was purchased in 1881 by David Preston and he organized the Cass Avenue Methodist Episcopal congregation in 1883.
The church was designed by Mason and Rice architectural firm, the same company that designed the Grand Hotel on Mackinaw Island and the First Presbyterian Church in Detroit.
In the early years, the congregation of Cass Avenue Methodist Episcopal was well-to-do. The church was fitted with Tiffany windows and the largest 19th century pipe organ in Michigan. During the early 1900's the congregation shrunk due to the city increasing and businesses moving. In 1928, the church decided to stay in the city and not follow the wealthy members into the suburbs.
In the 1930's, during the Great Depression, the church offered bread and soup to the hungry. Rev. William Perkins, the minister during this time, sent out volunteers with trucks to scour the city for food and bring back food items by the truck load. This was just the start for Rev. Perkins.
"When the Depression happened, the church cashed in their endowment and bought food and a truck and started feeding people," says Rev. Sue Pethoud, Cass Community Social Services Church and Community Relations Liaison, "that was our beginning of the food program. We're up to 700,000 meals a year."
Rev. Perkins started a wide gamut of programs for the young and old alike. During the 1940's, while the church was struggling to remain open, Rev. Perkins hosted Golden Glove Boxing tournaments.
Rev. Lewis Redmond, the minister from 1953 to 1979, had a vision to reach out to residents with developmental disabilities by beginning an evening bible study program called Praise Class that addressed the spiritual needs of these individuals while also addressing their social needs.
Rev. Redmond started Project Scout, a casework program for homeless senior citizens and he opened a senior center that his son, Robert Rene Redmond, was the director of before he was shot dead by a teenager.
Rev. Edwin Rowe, the minister from 1979 to 1994, started to address the raging homelessness problem the city was having. Rev. Rowe created the homeless Drop-In Center, a client-driven program that provided the homeless with protection from the elements. It also provided a safe place for citizens to look for work and housing, take a shower, do laundry, and use the restroom and telephone.
Rev. Rowe also started the Interfaith Rotating Shelter in 1988. The Interfaith Rotating Shelter addressed the growing number of homeless and the insufficient number of shelters that were in Detroit. Roughly 40 churches were recruited to provide a week of shelter for 80 people.
Currently Rev. Faith Fowler, a graduate from University of Michigan – Dearborn, is heading up Cass Community Social Services. The 30-year Detroit resident has completed the Boston Marathon four times and is the author of two books, "This Far by Faith: Twenty Years at Cass Community" and "Tiny Homes in a Big City." She is well known for taking the tiny homes movement and putting it to practical use by building tiny homes for low-income citizens and people that may have a difficult time getting a rental elsewhere.
"We have a gentleman who is living in one of our tiny homes now. He was a member of the church a long time ago," Rev. Pethoud says, "He killed someone. He was a boy when he did it. The sentencing laws back then was life in prison. For a 15-year-old boy, life in prison is a long time. He was in jail for about 40 years and now he lives in a tiny home."
Rev. Pethoud is a retired middle school math teacher. When you walk into her office, a giant safe complete with a wheel crank door lock and a breathing hole, it is obvious that she is anything but. Pethoud is Rev. Fowlers right hand woman. She oversees roughly 7,000 volunteers, runs the Green Industries Program, and anything else Rev. Fowler needs her to do. She started as a volunteer herself.
Alongside serving 700,000 meals a year partnering with Gleaners and Forgotten Harvest, the nonprofit also has their tiny homes community, other permanent supportive housing, rotating shelters, an emergency shelter, and a warming center that is open to women and children from November 15 to March 31.
With their housing programs, Cass Community Social Services also createsd jobs for people with significant barriers to employment during the recession of 2007. They created Green Industries, a program that handles document destruction and makes mud mats and planters from illegally dumped tires scavenged from the streets. The use the profits from sales to hire more hard-to-hire employees. The program employs 12 previously homeless men.
Cass Community Social Services also has a collaboration with Ford Motor Company to create F-150 Ford Mobile Farm and the Ford Freight Farm, a 40-foot shipping container that grows food hydroponically. The space also includes a teaching area for school classes, volunteers, and others. The container is equipped with LED lighting and operates without the use of sunlight, pesticides, or soil. The container has a growing capacity of two acres and will produce 52 harvest a year.
Even though Cass Community Social Services enlists 7,000 volunteers a year, the nonprofit could use more. The challenge seems to be finding skilled volunteers that have experience with carpentry, accounting, electrical, and more.
Rev. Pethoud explains what volunteers can expect: "It just depends on what we need that week and their individual skill sets." Rev. Pethoud continues, "I like to keep them occupied. I like to try to do something different so that they see the whole gamut of what we do."
For more information, visit www.casscommunity.org, call (313) 883-227, or visit the location at 11745 Rosa Parks Blvd, Detroit, MI 48206.
Gleaners, the name, is often thought of to be a founders last name. That is not the case. In the Bible, Ruth and Naomi gleaned the fields of Boaz, a rich Israeli farmer, in order to feed the poor. Gleaners Community Food Bank founder, Gene Gonya, was inspired by this story.
"Gleaning is picking up those little pieces of green in the field that have been left behind after the harvesters come through," says Gleaners Director of Community Engagement Denise Leduc.
Gonya was born in 1940 and grew up on a family farm in Ohio. At the age of 19 he became a Brother in the Jesuit religious community only to leave it behind to continue his service work as a lay person of the Catholic Church.
April of 1977, Gonya co-founded Gleaners Community Food Bank. He rented the first floor of a near-eastside Detroit warehouse. The building was founded to solicit surplus food, store it safely, and distribute the food to local providers to feed the hungry. Gleaners was among the first food banks in the United States.
Years after founding Gleaners, Gonya, along with other food banks, founded Second Harvest. Second Harvest is a national network of food bank members and would later be called Feeding America.
Gonya earned many community service awards, he is featured in an August 1983 Readers Digest, "They Light Up Our Life" book about outstanding Detroit citizens, and was awarded Crain's Detroit Business best managed not-for-profit in 1990.
Gleaners exists to address hunger by providing nutritious food, and related resources. This goal is accomplished through collaboration, efficient operations, education, and innovative solutions to achieve a hunger-free community in Michigan. Gleaners is headquartered in Detroit and operates distribution centers in Wayne, Oakland, Macomb, Livingston, and Monroe counties. They provide food to 528 partner soup kitchens, food pantries, shelters, and other agencies.
In 2018, Gleaners provided more than 43 million pounds of food to people in need. Gleaners distributes an average of 96,000 meals and nutrition education to 171,000 children each year. Every dollar that is donated provides three meals, and 93 cents of every dollar goes to food and other food programs.
Gleaners works by collecting donations from local grocers, gardens, food drives, and other sources. Gleaners volunteers and staff sort the food for distribution to the 534 partners in the five southeast Michigan counties. This food nourishes our communities.
Gleaners achieves this by many food and education programs. Cooking Matters is a nutrition-education program that teaches low-income individuals and families how to prepare healthy, tasty meals on a tight budget.
"Cooking Matters is hands on cooking and nutrition education," says Chef Jake Williams, who oversees Cooking Matters, "Everyone learns from each other. We utilize facilitated dialogue in the classroom. We will have a culinary instructor, a registered dietitian, and volunteers and classes are two hours, once a week, for six consecutive weeks."
Kids Helping Kids allows Gleaners to partner with local schools to help end child hunger. Children will come to Gleaners and participate in the Backpack Program. Nearly 300,000 children are fed 2 of 3 meals at school. On the weekend, during holidays, and over summer break these children often go without those meals. Gleaners partners with schools to provide backpacks filled with shelf stable milk, canned protein, canned fruit, canned vegetables, and whole grain cereal of crackers. The backpack helps shield the children from embarrassment.
Gleaners also visits classrooms to provide education for grades 3 through 5. The kids learn about Gleaners' mission, hunger, and volunteering through presentation and activities.
The Detroit Food Zoo is a garden across the street from the main warehouse in Detroit. This garden offers educational and volunteer gardening experiences aimed at youth and coordinated with partner agencies.
"The property is owned by Gleaners, but it's operated by Capuchin Soup Kitchen," Leduc says, "They get about 10,000 pounds of fresh produce out of the garden every season."
Gleaners' Empty Bowls program partners children with a local artist and together they create two clay bowls. One for keeps and the other to donate to Gleaners which is then sold to support school-based programs.
Gleaners' Mobile Pantries provide food to neighbors by the truck load. The mobile pantry can provide an average of 14,000 pounds of food and allows food to get to places where pantries currently do not exist. School Food Mobiles provide low-income schools in the five counties around Detroit. Each distribution provides around 150 families with up to 30 pounds of food. The Senior Mobile Program works similarly by distributing 15 pounds of nutritious food to each participant.
My Neighborhood Mobile Grocery is a pop-up market that provides affordable food to communities across Metro Detroit. This allows families and seniors the pride of shopping for their own groceries and having a say-so in what they receive.
"If you don't have enough food to eat, it's hard to do anything else. It's hard to apply for a job. It's hard to have the energy to go to school. It is hard to do anything if you don't have the food you need," says Leduc, "The fact that we've been able to get good, healthy food into the community has helped people be better educated, stabilize their lives, and move on from hunger."
Much like Cass Community Social Services, Gleaners is always in need of volunteers, especially skilled volunteers. Gleaners also has an eye toward consistent long-term volunteers for programs that require longevity.
If you are interested in donating, volunteering, or need help contact Gleaners by visiting www.gcfb.org, calling 866-GLEANERS, or visiting 2131 Beaufait, Detroit, MI 48207.
Urban Neighborhood Initiatives is a non-profit that works directly with communities in urban neighborhoods to build safe environments where people want to live. UNI concentrates on a specific neighborhood to develop plans that meet the needs of the community. UNI is pronounced u-knee.
UNI hosted a fundraising and neighborhood appreciation event this summer that handed out awards to citizens that are making an impact in the community. The Heroes of the Neighborhood had pizza, traditional Mexican cuisine, auctioned art that is created during the event, dancing, a play for the children, and U. S. Representative Rashida Tlaib, who grew up in the neighborhood.
Located in Springwells, an area of Southwest Detroit bounded by Fort, Dix and Waterman streets. UNI was composed in 1997 at a time that gang activity, drug use, and prostitution was plaguing the neighborhood. There was not much positive opportunity for youth.
All Saints Catholic Church created UNI to transform an empty church into a center for neighborhood development called the All Saints Neighborhood Center. The church bought the vacant lots across the street from the center and constructed Springdale Green, a small park for neighbors of all ages to enjoy.
"Having a beautiful and safe place to walk in and play has changed people's feelings about beauty in where they live," says Christine Bell, UNI's executive director. Since then UNI has revitalized three city parks, beautiful green spaces, and developed a land stewardship that allows the residents to maintain 10 acres of land in their community. UNI also grew a robust youth development program that featured out-of-school learning, youth employment opportunities and leadership training to cultivate the future leaders in the community. UNI also provides employment opportunities for the community's youth.
"Sixty-four percent of our residents are under the age of 35 and an overwhelmingly young population means that we spend a lot of time focusing on youth development," says Anna Herrmann UNI's volunteer coordinator, "We're just getting ready to hire 225 young people this summer. We're placing young people at local businesses and a couple are being hired here through different programs that we're running."
UNI has more recently joined the discussion about chronic absenteeism in Detroit schools. Students are considered chronically absent when they have 10 absences or more. Fifty-seven percent of Detroit Public School Community District students are skipping school on a regular basis, compared to the national average of 30 percent. "No one was talking about chronic absenteeism before the Brightmoor Alliance," says Bell, "We brought in a national consultant Attendance Works and we started working on attendance. This was an issue that nobody was talking about."
The Southwest Urban Arts Mural Project (SUAMP, pronounced swamp) engages youth in artistic, workforce, and leadership skill building. They spend the winter honing their art skills to be put to work on commissions throughout the neighborhood. The murals can be seen throughout the small vibrant neighborhood at almost every turn. The Urban Forestry and Recreation Program maintains and builds new green spaces along with learning horticulture and landscaping skills. The Apprenticeship Program encourages young people to think about professional development, goal setting, and career exploration. This is part of the 225 jobs created for youth throughout the neighborhood.
Among the after-school programs like Harms Homework Help, the Youth Advisory Board, and Leadership 101 there is the Earn-A-Bike program for youth between the ages of 10 and 18.
The Earn-A-Bike program takes place at the Southwest Rides Bikes and Board Shop. The shop is a social-purpose business subsidiary of UNI. The bike shop refurbishes donated and trashed bikes and resells them for reasonable rates. A bicyclist could also bring his ride in for the team of youths to work on.
"Southwest Rides doubles as a youth employment opportunity," says Herrmann, "We do apprentices programs where children can earn their own bike, creating jobs and reliable transportation to school."
To learn more, donate, or volunteer, contact UNI at www.unidetroit.org, call (313) 841-4447, or visit: 11745 Rosa Parks Blvd, Detroit, MI 48206.
Henry Ford College Honors Program students who are interested in earning Honors service learning credit and the opportunity to volunteer with United Neighborhood Initiatives, Gleaners Community Food Bank, Cass Community Social Services, or Mariners Inn, contact service learning instructor Peter Kim: pkim@hfcc.edu.
Share it now!