HBO "Real Sports" Casts Light on District Detroit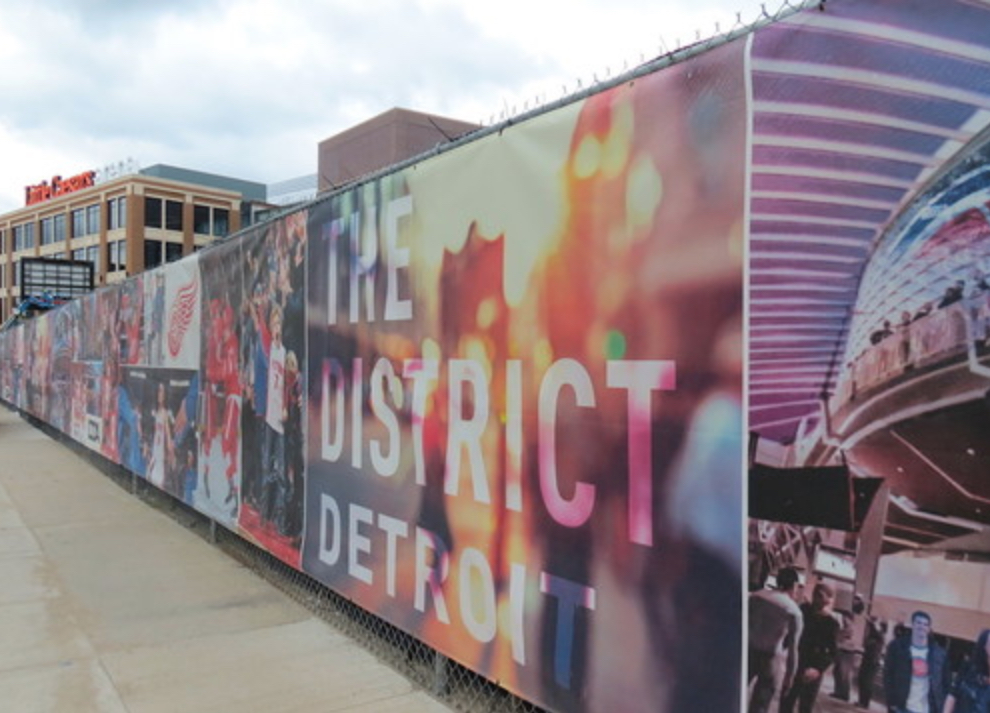 Photo courtesy of Deadline Detroit
Ilitch Holdings, Inc. plans for its District Detroit has come under fire recently as HBO's "Real Sports" aired an episode in April that asked whether Detroiters may have paid too high a price for a sports arena that may not in the end benefit them.
David Scott for HBO's "Real Sports" interviewed John Walsh, who as a state senator was a strong supporter of the Ilitch Holdings arena project, and sponsored the bill that would turn the arena project into a reality. Scott asked Walsh about the bill that moved money from a fund created to help the struggling public schools in Detroit to pay for an arena project owned and operated by a family-run corporation worth $6 billion. Scott asks how Walsh could justify that. Walsh said, "No one's wrong to be concerned about that. But what are we trying to inspire and do for the city of Detroit and its citizens, in supporting this investment? And, how do you make that investment? It had to come from somewhere."
Scott also interviewed Rashida Tlaib, who opposed the arena proposal when she was serving as a state senator, especially since the arena deal was asking Detroit taxpayers to pay more than $300 million for the investment, much of it coming from a state fund meant to pay the state's debt to the long struggling Detroit public schools. Scott reports that with the arena deal, that debt may not be addressed for another 30 years, which is when the city will be able to collect revenue for the new arena. Tlaib told Scott that Ilitch Holdings "promised that it would be something that trickled down to the neighborhoods. It hasn't trickled down." Tlaib went on to say, "We said yes to a billion-dollar corporation for nothing in return."
HBO "Real Sports" concluded its episode with host Bryant Gumbel asking Scott what role race might have with who benefits from the District Detroit deal. Scott replied, "People don't want to talk about it, but the arena seems to be designed and situated really to service a largely white suburban constituency around metropolitan Detroit." Scott added, "It's true that the Pistons play there now, but the Arena was built for the hockey team and hockey fans, and that is largely a white suburban constituency. They do not go to the public schools in Detroit that are, you know, footing much of the bill."
Now that Little Caesars Arena is done, and the new headquarters for Ilitch Holdings is almost done, many Detroiters are looking for answers from the Ilitch's as to when the rest of District Detroit will be done. In a press release, Ilitch Holdings announced that Phase Two of District Detroit just started last year and will include renovating three historic buildings and three new mixed-use buildings.
Keith Bradford, who was recently hired as vice president of Olympia Development, told Crain's Detroit,"We've already been speaking to several retail tenants who are highly interested in being part of this and being right here on Woodward."
According to the press release from Olympia Entertainment, a division of Ilitch Holdings, among the new plans for District Detroit are two projects on Henry Street. Both of the projects were going to be residential; however, due to the demand for office space in the area, they will now be turned into street level retail and office space. Olympia Development is also looking at the feasibility of building additional hotels and entertainment developments that would replace some of the existing surface parking lots in the area.
Chris Ilitch, president and CEO of Ilitch Holdings, told The Detroit Free Press, following the HBO story, "Some of the projects we talked about haven't gotten done. And time has proven our timelines were aggressive." Ilitch went on to say, "Our timelines may change. Our passion, the energy, the way we feel about this community has not."