Girls of the Crescent Aims to Highlight Muslim Stories in Literature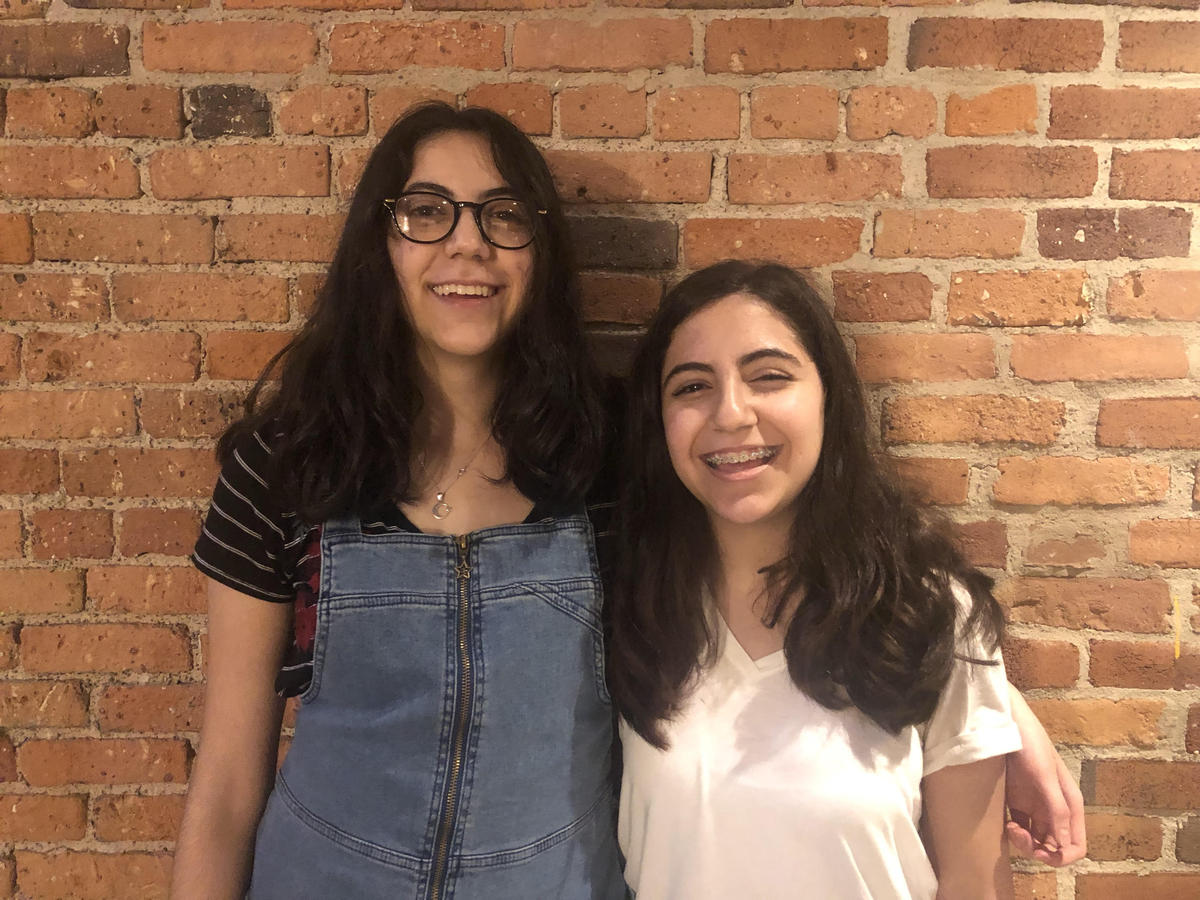 Zena and Mena Nasiri | Photo by Razi Jafri for Michigan Radio
Sisters Mena and Zena Nasiri have been working to promote inclusion of female Muslim characters in literature in schools and libraries in Michigan.
They began their nonprofit group, Girls of the Crescent, in April of last year, but the idea had been ruminating in their minds for years.
The sisters recall the original inspiration for the project began several years ago when, in fourth grade, they were required to do a project on an inspirational figure. They went to the library with several ideas of Muslim women they could write about, but were disappointed to find a severe lack of options.
The nonprofit finally came to fruition last February when the sisters came across a book called The Lines We Cross by Randa Abdel-Fattah, featuring a teen Muslim refugee character who befriends a classmate who comes from an anti-immigration family.
"Reading it was just this amazing experience," Zena said, "being able to see this character who was also Muslim and also female, like us."
The book was the final spark of inspiration in their desire to begin their nonprofit.
"We wanted other people to be able to experience the same thing we did, which is why we decided to take action," Zena said.
The sisters said they initially contacted their local Parent-Teacher Association, asking them to put forth $150 for each school's media center in the Rochester Community School District. They were successful and ended up donating over 200 books to the media centers of their district, prompting the sisters to make the decision to turn their idea into a permanent project.
The Nasiris raise their money in a variety of ways-- primarily through fundraisers, can good drives, and book fairs. They just recently finished a campaign during Ramadan through LaunchGood, a crowdfunding website focused on the Muslim community.
While the sisters initially focused just on their school district, they have slowly grown to nearby cities, out-of-state, and international schools. They have donated to schools in Texas and Pakistan, and have donations ready for Hong Kong, France, and Toronto.
The sisters currently maintain an extensive list of over 200 books from which they select to donate to schools and libraries.
The Nasiris research books with female Muslim main characters, look at reviews, and add them to the list if they seem appropriate. In addition, they receive a slew of recommendations from people and, on occasion, receive donations of books from the authors themselves. Some books highlighted on their website include "Under the Persimmon Tree" by Suzanne Fisher Staples, "A Thousand Splendid Suns" by Khaled Hosseini, and "The Librarian of Basra" by Jeanette Winter.
The sisters say they continually receive positive feedback from the schools and from the communities to which they donate.
"We have gotten a really positive response from the community and from friends," Mena said.
She adds that the schools and libraries are especially receptive to the idea, as they are always looking to expand their collections.
"Librarians and teachers are working nowadays to diversify their libraries," she said.
In addition to receiving positive feedback from the community, the nonprofit has also been frequently highlighted in local and national media: Girls of the Crescent garnered attention from Amy Poehler's Smart Girls, the Malala Fund, and the sisters were even featured on The Today Show in February. They are also active on social media, maintaining a presence on Facebook and Twitter, and championing the use of the hashtag "#muslimgirlsread2."
The Nasiris explain that their nonprofit aims not only to increase representation for female Muslims, but to bring awareness and to educate others.
"We can empower Muslim girls and we can teach others," Zena said, with Mena adding that offering a more diverse selection of literature may provide others with a perspective on Muslims they may not have ever considered.
A 2014 report by the American Library Association would agree with the Nasiris' statements. In it, the report makes the argument that "more children's books representing diverse cultures should be made available to children through library collections to assist in their identity development and to help them make global connections."
This focus on promoting diversity in literature seems particularly important considering a study by the Cooperative Children's Book Center showed that 31 percent of new children's books in 2017 were by, or about, people of color or native people, and that only 7 percent of published children's book in 2017 were actually authored by people of color.
"Being able to get that exposure to your own culture through a book is pretty impactful," Zena said, "especially since books are so immersive."