Detroit Cookies Creations at Detroit Cookie Co.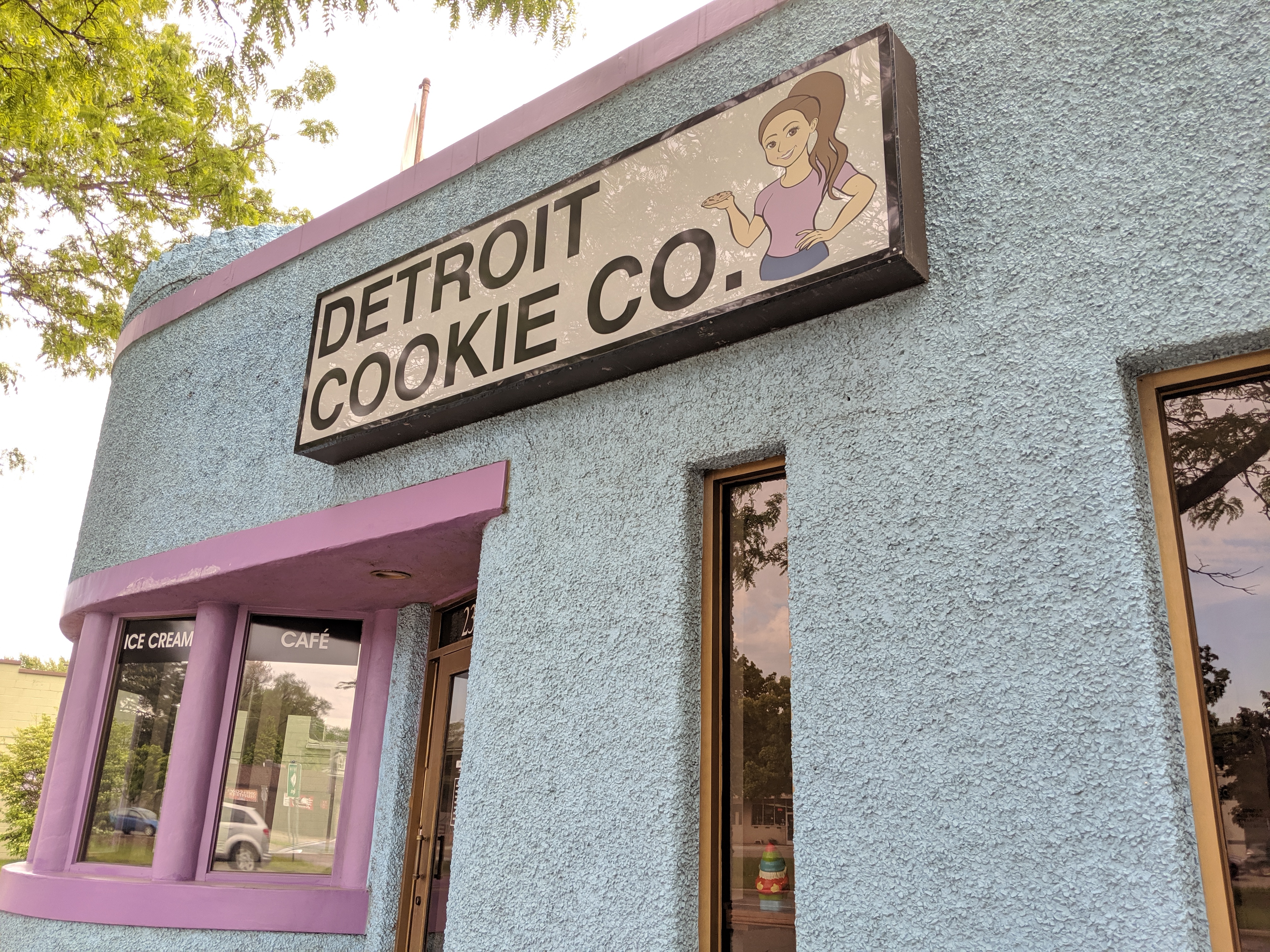 Detroit Cookie Co. | Photo by Abby Massucci
Get ready to sink your teeth into some delicious sweets at Detroit Cookie Co. Known for its outrageous gourmet cookie creations, Detroit Cookie Co. opened its doors in September 2017 and has been pumping out tasty treats ever since. The café sits on Woodward Avenue in Ferndale and is hard to miss with its striking blue and purple exterior. Once you step inside, you are greeted by friendly faces and the wonderful aroma of fresh baked cookies.
Lauren Roumayah, the founder of Detroit Cookie Co., grew up watching her mother cook and bake and was inspired by the many different flavors in Detroit. While attending Wayne State University for fashion merchandising, Roumayah began experimenting with different cookie combinations and had her college buddies as taste testers. She opened shop in the old French Gourmet building changing the interior and exterior to bright colors and cookie inspired decor.
All of the cookies are freshly baked every morning and throughout the day. Customers can buy a dozen cookies of all different sorts: circus snack, Superwoman, birthday cake, banana pudding, chocolate chunks, and peanut butter. Cookies can be topped with everything from Fruity Pebbles to potato chips. Patrons can also enjoy delicious cereal bars and cinnamon rolls that are the size of your face. Detroit Cookie Co. even sells its cookie dough for customers to take home and bake for themselves. Circus snack is a cookie creation worth considering because it is a cookie inside of a cookie. Underneath the soft cookie dough hides sprinkles and roasted frosted animal crackers. Biting into it was like being transported back to childhood, stuffing my face with sweets until I felt sick. Even with the crushed cookies in the dough, the cookie was soft and smooth.
Superwoman is similar to a Michigan staple ice cream: Superman. The cookie is brightly colored and is similar to its ice cream counterpart. Superman cheesecake is infused into the batter giving it its color and soft texture. The flavor of the cheesecake is not overpowering, allowing for the cookie dough to blend in perfectly. Birthday cake is stuffed with a sweetness that will give you a wild sugar rush. Packed with funfetti cake, funfetti white chocolate chips, and sprinkles, the birthday cake cookie is richly textured with the white chocolate chips giving it a bit of a crunch.
Chocolate Chunk is Detroit Cookie Co.'s signature cookie filled with a delicious blend of chocolate. The chunks are huge and give the cookie a snappy texture. The batter is rich and sweet with just a little kick from the savory ingredients.
Detroit Cookie Co. is constantly updating their in-store cookies. They have the wild creation called The BIG Momma which is a one pound chocolate chunk cookie stuffed with marshmallows and Reese's cups. They also have s'mores cookie in double chocolate, and regular with a roasted marshmallow on top. The 8 Mile, an homage to the well-known street in Detroit, which is packed with Bettermade Pretzels, Reese's cups, and M & M's.
On top of all the insane baked goods, Detroit Cookie Co. also sells ice cream and coffee. Sourced from Country Dairy, another Michigan company, the ice-cream comes in an assortment of tasty frozen treats. Customers can either purchase by the scoop or choose cookies and ice cream to make into an ice cream cookie sandwich.
Detroit Cookie Co. is proud to roast its own coffee in-house. Customers can also purchase bags of beans. Detroit Cookie Co. apparel is also available.
Detroit Cookie Co. is open from 8 a.m. to 8 p.m., Monday through Friday, 9 a.m. to 8 p.m. on Saturday, and 10 a.m. to 6 p.m on Sunday. For more information check out: www.detroitcookieco.com.
Share it now!