The Sign of a Truly Inspiring Teacher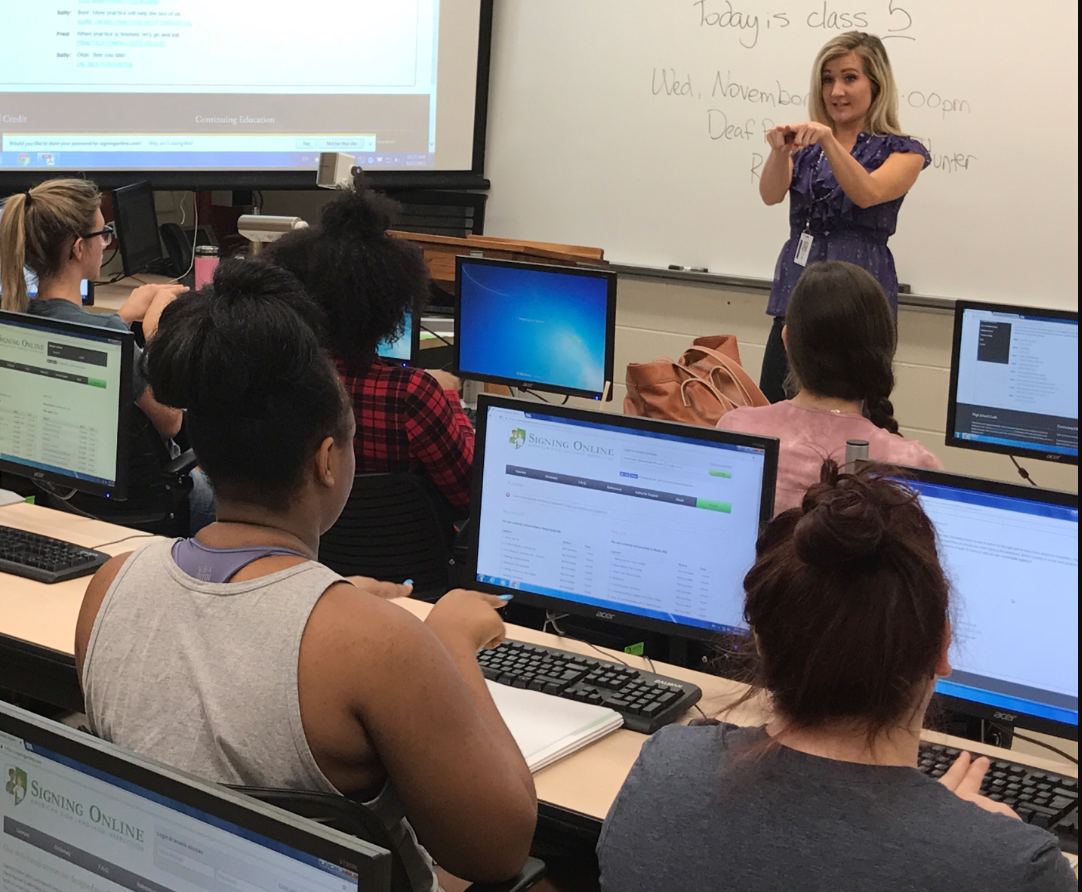 Professor Jennifer Stewart instructing an ASL course at HFC | Photo by Mirror News
Over the past few years, Henry Ford College has seen a lot of changes throughout its campus – one of these changes being the incredible growth of the American Sign Language program.
Just a little over a year ago, HFC began offering an Associate Degree in Interpreting alongside the already established Certificate in Deaf Studies. With the implementation of a new degree, so came new classes and instructors, as well as a surge of student interest. Taking part in events around campus, founding a successful student-led ASL club and raising awareness of deaf individuals, on and off campus, the ASL program is becoming quite prominent on the HFC campus. While many instructors have assisted in the development of this program, Jennifer Stewart is one HFC professor who works as hard as she can to ensure this program's success.
Stewart's passion is teaching, and just popping into one of her classes even if it is only for a minute, this becomes quite obvious. As an instructor in the American Sign Language classes and the Deaf Culture class, Stewart also serves as faculty advisor to the ASL club. Stewart helps oversee the program and assists in its ongoing development.
Professor Stewart began her career at HFC in August 2015. Explaining what inspired her to begin teaching, Stewart says, "Obviously growing up as a CODA (Child of Deaf Adult) my career was pretty much set out for me. I used ASL as a child and continued using it throughout my life. After high school, I went to a community college and got my associate degree in ASL interpreting. I then got my bachelor's degree in ASL interpreting through Siena Heights University's fully-online completion program. We offer the same 3+1 program with Siena Heights here at HFC. I encourage everyone to do it!" She continues, "After interpreting for a few years, I knew I wanted to pursue my passion for teaching. I continued on at Saint Joseph's University for my Master's in Special Education and Certificate in Teaching Deaf Students. HFC started offering ASL classes, and I was hired here to teach them. After seeing how many students were interested, we started creating a Deaf Studies certificate program. More and more interest kept happening, so we added an ASL Interpreting associate degree. And here we are today!"
Stewart's passion and love for ASL and her students stems from growing up in the Deaf community. "I grew up in two worlds, the Deaf and the hearing world," says Stewart. "My father, David Stewart, was very prominent in the Deaf community. He wrote educational books for learning ASL and teaching Deaf students. He was also head of the Education department at MSU. He was the lead professor of Deaf Education there, and his influence spread throughout the country and even the world. He was involved with every aspect of the Deaf community and educating people about it." She continues, "Ultimately, I was born into it. Growing up with my father being Deaf and hanging out with his Deaf friends and my other Deaf family members, I was able to gain a perspective that I never would have otherwise gained by just attending school. I feel as though I need to continue his legacy and teach with the passion he had for his own language and culture. This position at HFC means the world to me and I want to continue to inspire my students to follow their passions as well."
American Sign Language is often misconstrued, or mistaken for not being an actual language; however, Stewart explains, "ASL is an actual language. It is the third most commonly used language here in the USA. ASL is not just signing English words; it is made up of mouth movements, facial expressions, body gestures and particular ASL structure and grammatical components."
When discussing how much the ASL program has grown over the past few years, Stewart shared her excitement: "Exponentially! We are so proud. We have a fast growing program with over 200 students currently taking ASL classes. We also have an ASL club that gives back to the Deaf community and hosts Deaf community events to spread awareness, inclusion and to give back to the community that teaches us the language of ASL." She continues, "We have high hopes that our students will be successful and become excellent interpreters that serve the Deaf community well."
As much as this program has changed the lives of HFC students, it also made an impact on Stewart's life. "This program gives me purpose," she says, "I wake up happy and ready to do what I believe I am meant to do with my life. More importantly, we are hoping to train ASL interpreters to serve the Deaf community in a positive manner and in a way that they deserve to be served."
Her passion and love for her students and program radiates. With a broad smile on her face, Stewart encourages readers to "Sign up for ASL classes today!"
Any questions regarding the program, classes, and criteria can be directed to Jennifer Stewart at: jetewart1@hfcc.edu.