Fowling, it Rhymes with Bowling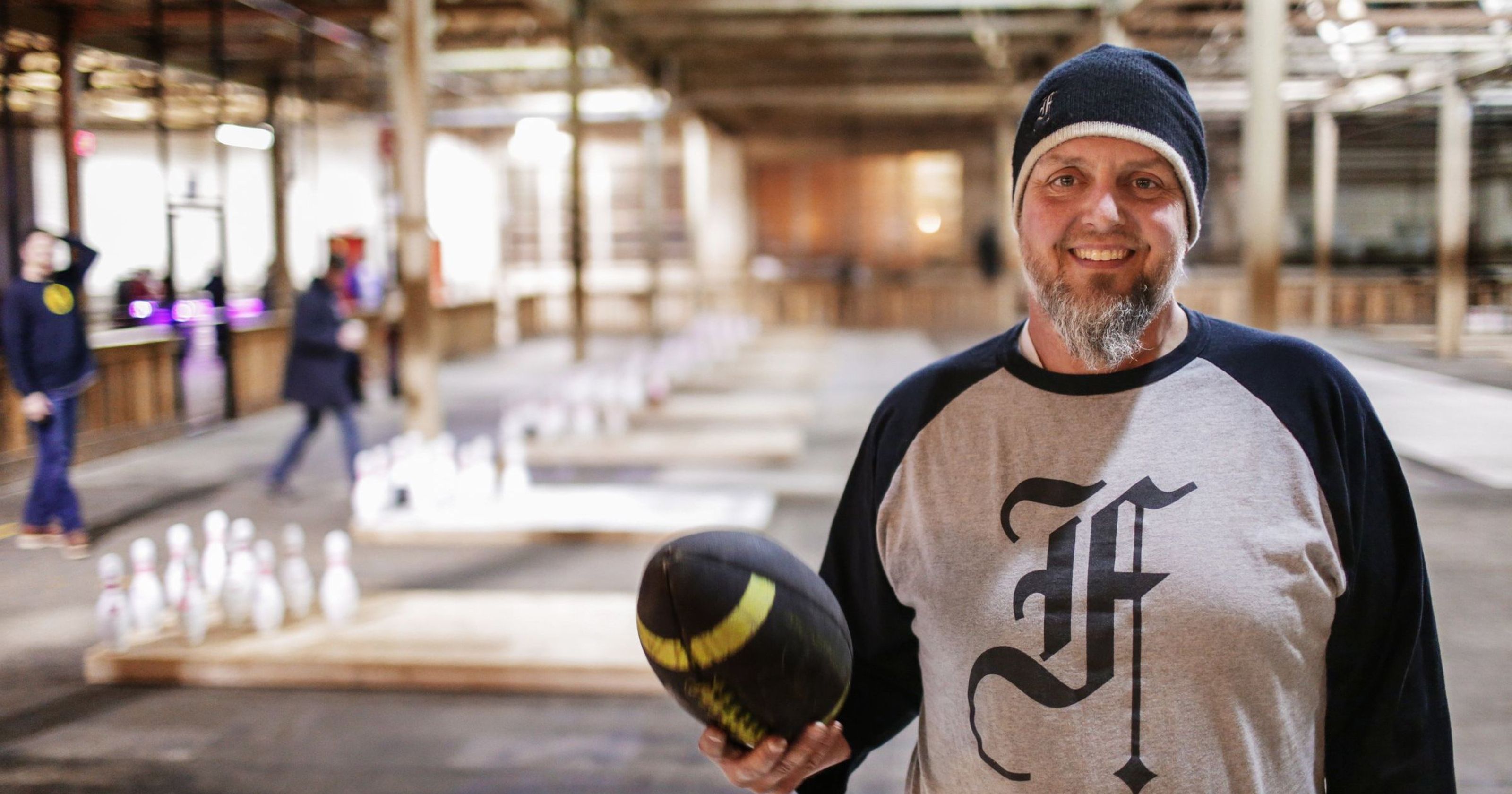 Chris Hutt, owner of the Fowling Warehouse | Photo by Ryan Garza for the Detroit Free Press
An up and coming sport is taking over the metro Detroit area and beyond. It combines the time-tested game of bowling with the nation's favorite game, football. Throw in a dash of lawn games and you have fowling. Fowling is a Detroit original like Vernors, coney dogs, and the automobile.
The sport was conceived at a tailgate party at the Indy 500 in Indianapolis by Detroiter Chris Hutt in 2001. Hutt and friends were bowling with pins and bowling balls on the lawn but the game was causing a disruption for other tailgaters and was abandoned. Then a rouge football came flying through the air and toppled some of the pins and a light bulb went on in Hutt's head.
Flash forward a few years and fowling was brought to the Detroit area. Hutt opened the first location at an old toy factory on Van Dyke near Davison for $10 donations collected at the door. This location offered a BYOB option and the floor had a dozen or so buckets collecting rain water.
When a neighboring tenant was raided over a marijuana-related offense, Hutt decided it was time to leave.
"When they smashed through the gates with these tank-like armored vehicles," Chris Hutt told the Detroit Free Press, "I figured it was time to look for another location." After a long search for a new location, Hutt reopened the Detroit Fowling Warehouse in 2014 in an old factory where Jeep axles were built during World War II in Hamtramck. The Hamtramck location has 34,000 square feet of space to toss footballs and kick back with some beers. The Warehouse features 40 fowling lanes, 2 bars, big screen TVs, large tables, and a stage for live music.
Lanes consist of two 8-feet by 48-inch plywood boards with 48 feet between the boards from end to end. Lanes are at least 15 feet apart. Teams on each lane can have between 2 and 4 players that alternate turns. Fowling is a relatively simple game that attracts all sorts of players.
"One of the things that makes fowling fun is that you don't have to be an athlete to play," Hutt told the Detroit Free Press, "You've got people who have never held a football in their lives, and they can not only knock over a pin or two, they can actually win the game."
The high school star quarterback might seem like the favored winner, but fowling is all about accuracy over power. So anyone with patience and a keen eye can run the lane.
"I'm here with my brother, friend, and my 12-year-old son," said Ian Leonard from Northville, "My son Grady has been carrying every team he has been on. He only lost two games and I think we played 10 games, at least."
Fowling is a gentleman's sport. After a match, fowlers will meet in the middle of the lane, shake hands and say, "Good fowl." This act is inspired by the polite Canadian sport of curling.
Fowling has gained a lot of traction in recent years. There are currently four tournaments each year, including one at the Indy 500, where the sport was conceived. International fowlers have spread the game all over the world to places like Canada, Sweden, and Germany.
Fowlers pay a $10 fee for unlimited play, however, play is not guaranteed as challengers will force the losing team off the lane. If your team takes the loss, you simply get back in the que for the next game.
"It's like a pool hall where you put a quarter on the table," Hutt told the Free Press, "So far, people have been really agreeable about it. It's a fun game even when you lose."
What can the losing team do for fun? They can watch one of the many big screen TVs and they can sit at one of the two bars. The bar counters are made from 27 polished pin decks from a defunct Indiana bowling alley.
Like bowling, fowling can be played as a drinking game; in fact, it is highly recommended. The Fowling Warehouse has many different beers from craft beers, ciders, and traditional domestics. There is an old pop machine that is decorated with question marks that dole out random cans of beer. The $4 to $6 option will provide a craft beer or cider while $2 will get you a PBR type beer. If beer doesn't wet your whistle, then the Warehouse offers liquor and wine.
Aside from bar snacks, the Fowling Warehouse doesn't offer food. That does not deter patrons from eating there and the staff encourages outside food being brought in. The occasional spire of pizza boxes has become a mainstay throughout the warehouse. This feature makes the Fowling Warehouse a prime destination for affordable and fun adult birthday parties.
On weekends before 6:00 p.m. the Fowling Warehouse is a family affair. Children 10 years and older can play but at the stroke of 6:00 p.m., like Cinderella at the ball, they need to go.
Throughout the day, a sudden warning could come across the PA system to cover your ears. Do it. Shortly after the warning the deafening blast of a freighter ship air horn rumbles throughout the Warehouse. This shocking sound is initiated to celebrate a Bonk, a term used when a fowler strikes the center number five pin and no other pins. This is rare and is also a game winner.
Hutt is not able to patent the game itself but that didn't stop him from trademarking the name and the rules of the game. Aside from the Hamtramck warehouse and another location in Grand Rapids and an upcoming location in Cincinnati, no other establishment can use the term "fowling" in their name.
"This is a great place for a date night," said Bill Parker from Westland, "My wife just had a baby a couple months ago and she is carrying every team she plays on. The beer is great, the crowd is energetic, and the game is exciting."
The Fowling Warehouse is open seven days a week: 5:00 p.m. - 2:00 a.m. Monday - Thursday, and 12:00 p.m. - 2:00 a.m. Friday - Sunday. It is located at 3901 Christopher St., Hamtramck. Check out www.whatsfowling.com for more information. Put on some tennis shoes and go knock down some pins this weekend with friends.
Share it now!