Controversy Arises over Title IX Proposals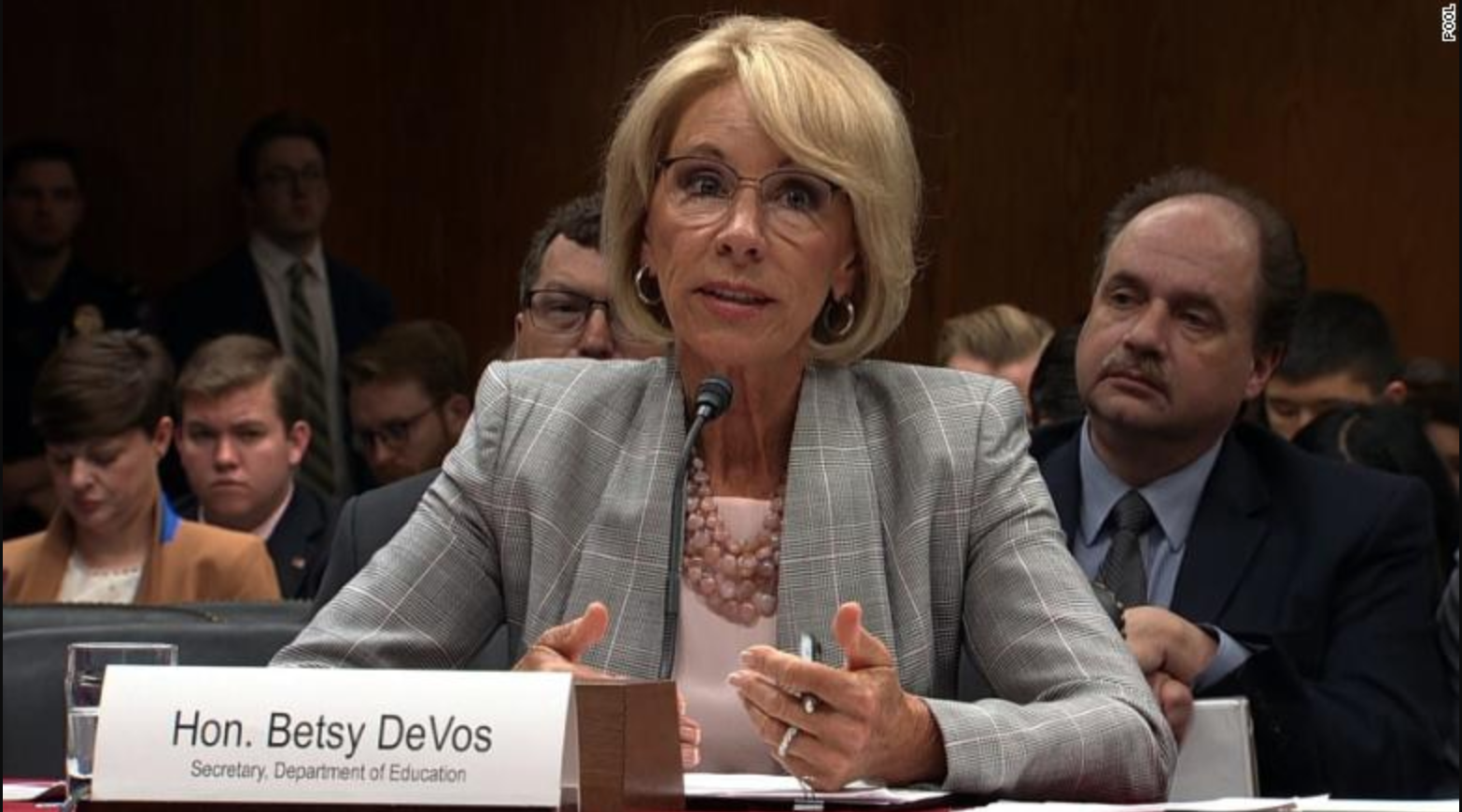 Secretary of Education Betsy DeVos rescinds Obama-era Title IX guidelines | Photo courtesy CNN
Title IX is a law prohibiting sex discrimination in federally funded facilities. During the Obama Administration, several revisions were made to Title IX, focusing on transgender rights and victims of sexual violence. Betsy DeVos, appointed Secretary of Education by President Donald Trump, has proposed changes that will reverse the Obama revisions.
During his presidency, Obama added Title IX guidelines, while not legally binding, which urged institutions to adopt measures to prevent sexual misconduct or lose federal financing. The Trump administration has claimed that universities responded with extreme overcompliance, concentrating on the rights of victims of assault. The Trump Administration has reversed over twenty Obama-era anti-discrimination policies and guidelines, including those of Title IX, where victim and transgender protections have been lifted. Jeannie Suk Gersen, columnist for The New Yorker, describes the abrogations as having "provoked concern that DeVos is turning her back on vulnerable students."
Many are quick to assume that DeVos's proposed policies would prompt an immediate stripping of rights, but that is still under debate. The shift in focus from accuser to accused has called for a change in due process, enforcing cross-examination in cases of sexual assault. Institutions are able to formulate individual guidelines, provided they fit under the federal rules, now demanding a presumption of innocence. The proposed changes to Title IX may not affect the due process procedures at Henry Ford College. As a "welcoming college," HFC aims and advocates for equity on campus for underrepresented groups, including women and the LGBTQ+ community. With regard to Title IX cases, both accuser and accused have access to aid through the college administration. The situation is assessed by the college's Title IX officer through a series of three questions: what happened, what behavior took place, and does it violate HFC's policies. After following due process, the Title IX officer is able to make a recommendation for the next course of action.
Aside from issues of sexual misconduct, DeVos's proposed changes to Title IX would reverse policies that support and protect transgender students' rights and choice of bathroom. HFC chose to follow the Obama-era Title IX guidelines by designating gender neutral restrooms at various buildings across campus. According to Aura Cazares, Title IX officer, for DeVos "to take it back doesn't really affect us in that we've already installed single-user bathrooms." Other programs, like the Sexuality and Gender Acceptance club, would not be forced to discontinue, but would need to comply with the new policy. Student Activities Officer Cassandra Fluker is confident for the future of the club, stating, "The club's mission can take on a whole new meaning. Student clubs serve as a platform for students to express themselves in an organized manner and to play an active role as it relates to their education."
The best way to stop discrimination of any kind is through awareness. "Prevention for us is so critical, but the best way to prevent is to make you aware; that awareness is key," said Cazares. As of now, there are plans at HFC to engage students and faculty in the conversation on sex violence and discrimination, including several movie screenings and events, such as the "Silent Witness" exhibit silhouettes in the Student Center this semester, depicting real-life instances of assaults resulting in death, and the domestic violence seminar earlier this month, where Congresswoman Debbie Dingell, a survivor, gave the opening remarks.