Modern Studio Glass Exhibit in Dearborn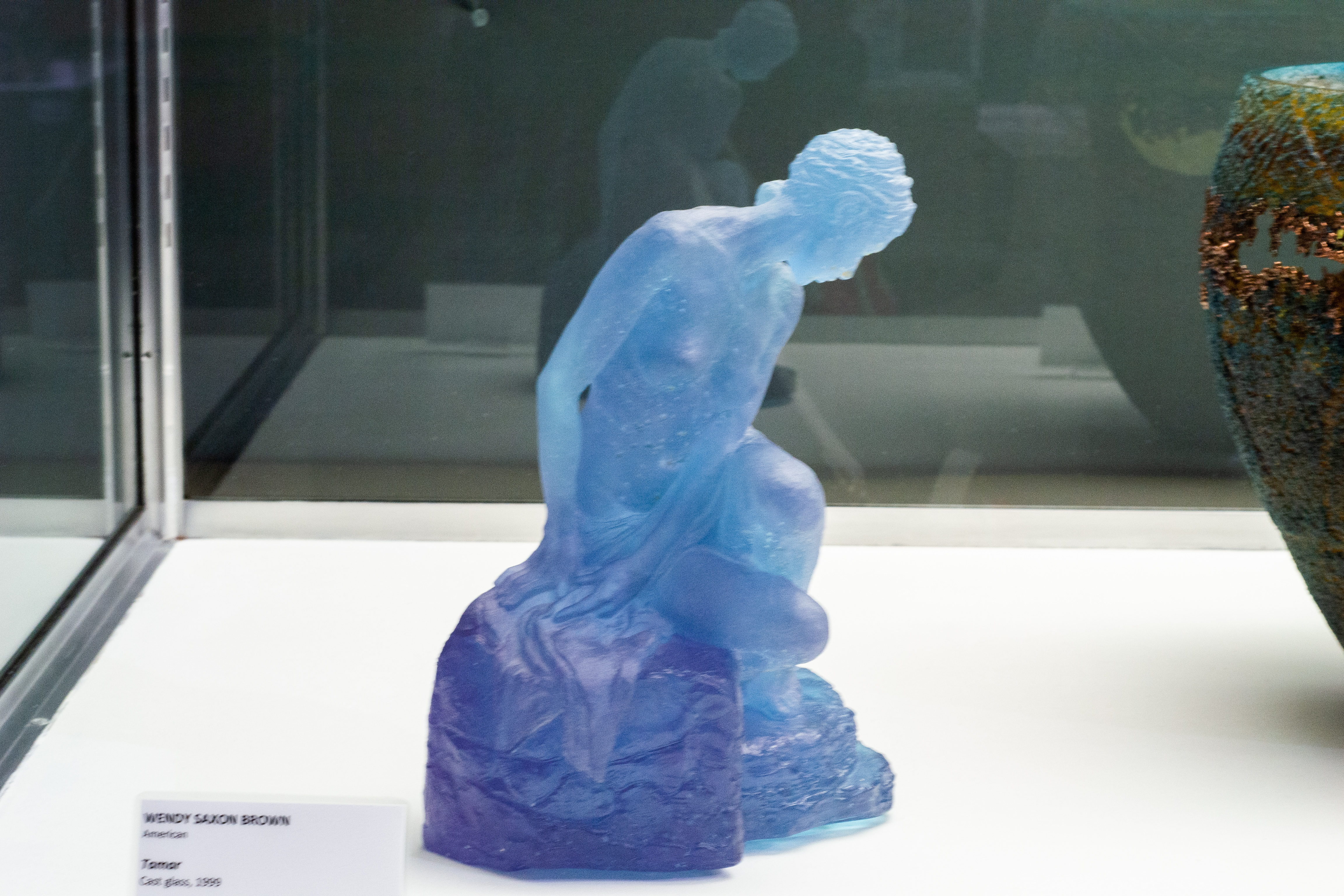 "Tamar" by Wendy Saxon Brown
"Glass: A Survey of Form and Function," an exhibit at the Berkowitz Gallery in the Mardigian Library at the University of Michigan-Dearborn, is a charming display that features 56 popular artists that have influenced glass art in many positive ways. The exhibit includes several local glass artists such as Harvey Littleton, Howard Ben Tré, and Dale Chihuly. Michigan is conveniently located in one of the most important regions in the nation for glass so it is no surprise that the exhibition was also featured at the Kalamazoo Institute of Arts during the summer and fall of 2018.
The gallery presents glass from the modern studio glass movement. Before the early 1960s, much glass was factory made, and mainly for practical use, like drinking glasses or vases. In 1962, University of Michigan graduate, Harvey Littleton, broke this trend. His dreams came true when Toledo Museum of Art Director, Otto Wittmann, hosted the first studio glass workshop. He designed equipment for glass making that artists could use to express a creative side, in the comfort of home, and by the mid-1970s, glass was established in many studio art programs. Laura Cotton, art curator and Berkowitz Gallery manager, explains, "Harvey Littleton is the father of glass" and has had a major influence in the glass art we see today. He is admired for dedicating his career to promoting the use of glass as a means of sculptural expression. The Glass exhibit is an exciting ride through this artistic look at the "form and function" of glass in America.
Cotton also explains that some of the most iconic art pieces can be found in their gallery. A piece by the artist, Kyohei Fujita, who is best known for his delicate glass boxes with intricate details, is bright, colorful, and, with his use of the colors blue, pink, and gold, appears to give the essence of a blossom tree. Cotton's personal favorite is the artwork by Lucio Bubacco. The meticulous piece is nothing short from extraordinary. With very small and precise details and a bold blue and orange palette, it is easy to see why this one stands out.
During the studio glass movement, it was rare to see anyone other than a middle-aged white, American, male creating art, but the this exhibit showcases women artists who thrived during this time as well. The use of pastel shades and all the delicate florals demonstrate the importance of a feminine perspective to the art. African American artists are also celebrated. One piece titled "Ladder" by African American artist Therman Staton is a full-sized ladder that is completely made of glass leaning upright against a wall. Mixed paint and colored pencils make the ladder appear like abstract art.
"Glass: Survey of Form and Function" is free and open to the public, 9:00 a.m.- 5:00 p.m., Monday, Tuesday, Wednesday, and Friday, and from 9:00 a.m.- 7:00 p.m. Thursdays until Sept. 20. The Berkowitz Gallery is on the third floor of the Mardigian Library at the University of Michigan-Dearborn.