Henry Ford Falls to St. Clair in NJCAA District 10 Men's Basketball Championship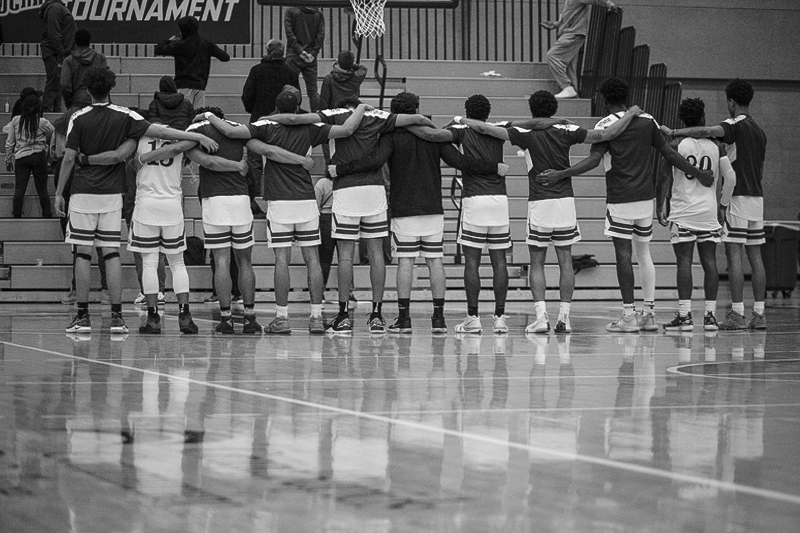 On March 9, at the National Junior College Athletic Association District 10 Championship, Henry Ford College lost to St. Clair County Community College, 88-71.
Leon Ayers led the Henry Ford Hawks in points with 28, while LaMarkco Gulledge and Andre Johnson each added eight points.
St. Clair had multiple players score in double digits. Omari Duncan scored 22 points, Jalen Miller had 17 points. Mark Hill, Derrick Johnson, and Tariq Hardy each contributed 10 points.
As the game got underway the St. Clair Skippers would jump out to a 14 point lead. With 16:39 left in the first half, the score was 16-2 Skippers.
At 11:15 left in the first half, Luster Johnson would drive the baseline for a reverse layup and get flipped and land on his hip and cause him to leave the game. He would continue to cheer on his team from the bench.
With 6:42 left in the half, St. Clair gained a 31-17 lead over Henry Ford, increasing that lead to 41-19 with 3:40 left in the half.
With seconds left in the half, Kiewuan Graham would have an electrifying dunk to spark the bench and crowd for the Hawks.
The Skippers would use a trap defense to control Henry Ford's offense throughout the game, leading to many turnovers that hurt the Hawks.
At 3:56 left in the second half, St. Clair led 83-63.
With the game coming to an end, Luster Johnson entered the game while injured to leave his legacy on the court. The crowd cheered to honor the last game Johnson would play as a Hawk.
After Johnson, second year players A.J. Crawford, Andre Johnson, Luster Johnson, Kiewuan Graham entered the game to make their final appearance as a Hawk.
The game ended 88-71 with St. Clair topping Henry Ford. Many players from St. Clair congratulated Henry Ford players and coaches.
Henry Ford ended the 2018-19 season at 23-9 and 13-3 in the conference, including the Eastern Conference title.
View more photos of the game here.
Contact Joshua Tufts: jtufts@hawkmail.hfcc.edu. Follow him on Twitter @Joshua_Tufts.