Henry Ford College Men's Basketball Wins MCCAA Championship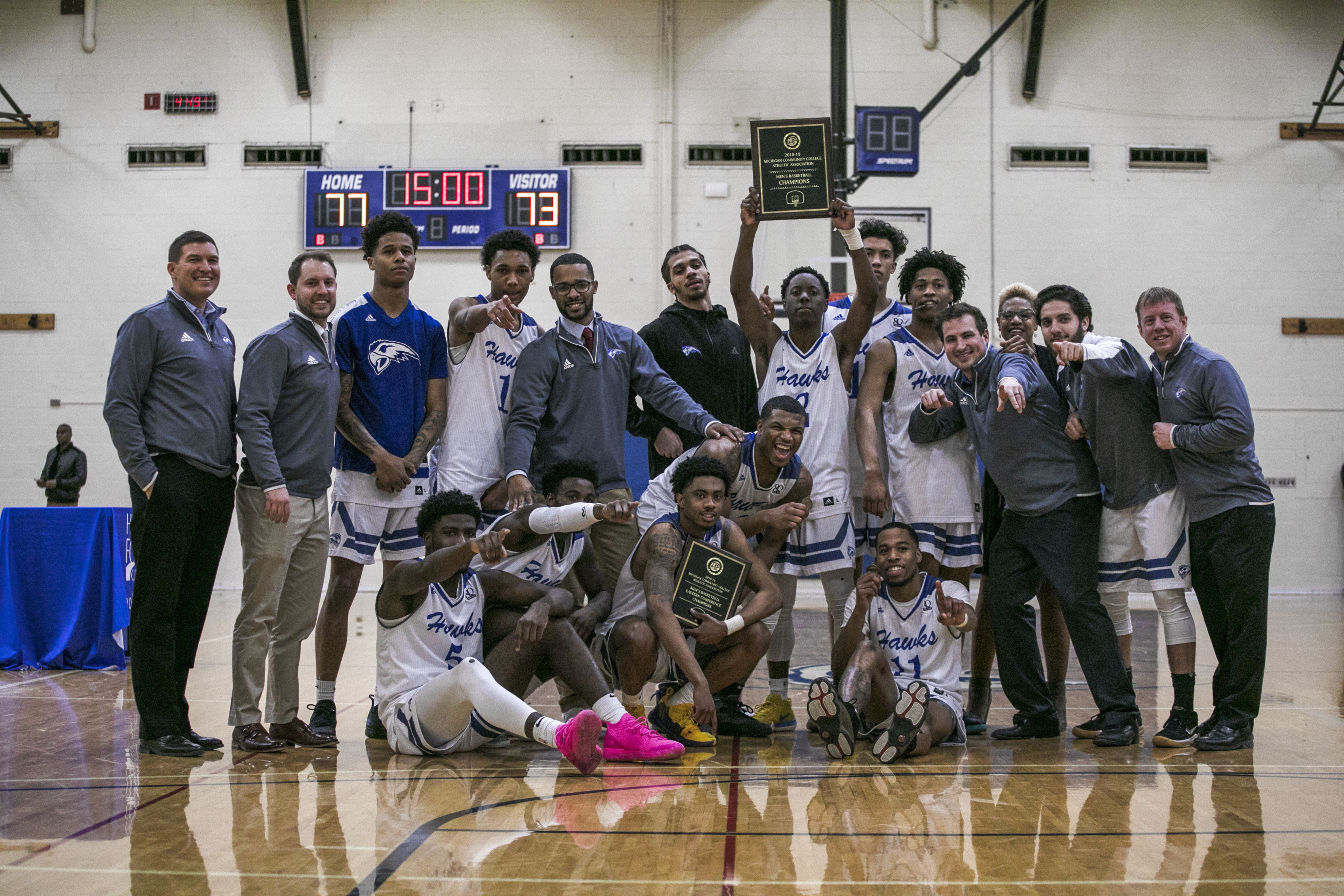 HFC men's basketball team celebrating their MCCAA title win. | Photo by Joshua Tufts
On March 2, Henry Ford College defeated Grand Rapids Community College 77-73 to win the Michigan Community College Athletic Association championship.
Henry Ford (22-8) faced off against Grand Rapids (23-7) in Dearborn. Henry Ford had just defeated St. Clair County Community College on the same court on Feb. 27 to claim the Eastern Conference title.
For the Hawks, Leon Ayers had 22 points in the victory, leading the Hawks in scoring. Edwin Bailey had a total of 14 points and Luster Johnson netted 12 points. Davion Moore scored seven points and four rebounds.
The Raiders had Sammie Ryans put up 24 points, leading the game in scoring. Teammate David Hearns made 21 points, and William Otole scored a total of 14 points. The Raiders came out with a ton of momentum, bringing the score to 23-14 with 13:52 left in the first half.
Leon Ayers led the charge bringing the Hawks within 1 point, 30-29 with 7:50 left in the first half. Ayers made two highlight dunks to hype up the crowd.
Henry Ford ended the first half tied with Grand Rapids 43-43. As soon as the break was over, both teams came out in the second half fighting for the lead.
Luster Johnson and Edwin Bailey proved to be catalysts for Henry Ford's scorching start in the second half. Not only did they spark the offense for the Hawks, but they also helped mount a strong defense.
For Grand Rapids, Ryans hit four three point shots in the game to keep the momentum moving on the Raiders side, while Hearns and Otole combined to score 35 points in the game.
The teams would battle back and forth in the second half, but finally the Hawks took over and jumped out to a 73-67 lead with 2:47 left in the second quarter.
The game would come close in the final second but resulted in Henry Ford topping Grand Rapids College 77-73.
Henry Ford will now play in Grand Rapids in the National Junior College Athletic Association tournament on March 8. The opponent for the game will be determined in the coming days.
Follow Mirror News reporter "Joshua Tufts" for live updates, photos and recap of the games in the tournament on twitter @Joshua_tufts.
You can view more photos of the game online here.
Contact Joshua Tufts: Jtufts@hawkmail.hfcc.edu. Follow him on Twitter @Joshua_Tufts.