Henry Ford College Beats Macomb Community College to Advance to the NJCAA District 10 Championship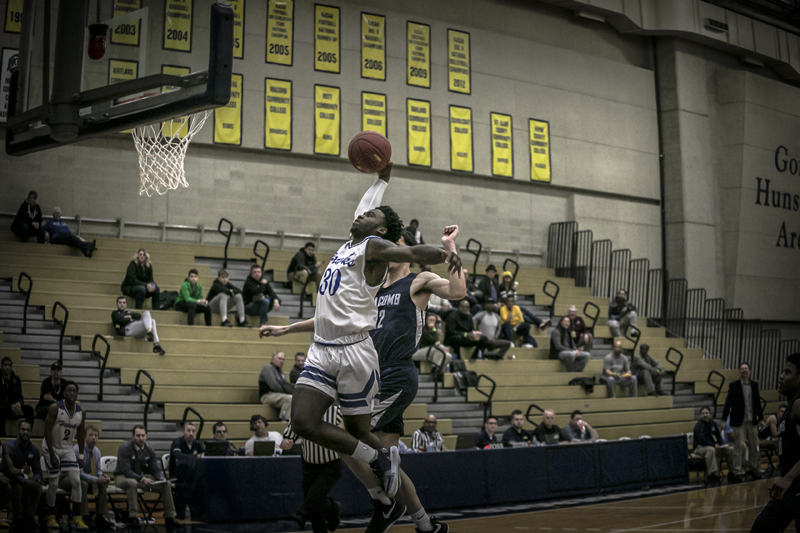 Kiewuan Graham | Photo by Joshua Tufts
On March 8, Henry Ford College (23-9) traveled to Grand Rapids as the number one seed in district ten of the National Junior College Athletic Association tournament.
Henry Ford defeated Macomb Community College, 80-75. The Hawks advanced to the MJCAA Division 10 Championship on March 9 in Grand Rapids.
In what was a hard-fought game, Henry Ford kept the game close. For Henry Ford College, Leon Ayers knocked down a total of 29 points, leading the game in scoring. Ayers scored four three-pointers and grabbed six rebounds in the contest.
Luster Johnson scored 16 points, while Edwin Bailey and Kiewuan Graham each scored eight points.
For Macomb, Darrius Canty scored 22 points. Amier Gilmore had 19 points and Dequann Powell came away with nine points.
The Hawks led most of the game, but at one point Macomb made a run to take the lead by nine points. Henry Ford fought back and took the lead by the half with the score at 35-34.
At the start of the second half, Kiewuan Graham pulled off a highlight dunk in the open court to electrify the crowd, changing the momentum in favor of the Hawks.
Throughout the second half, both teams would exchange multiple shots. At 2:33 left in the game, Henry Ford held the lead at 74-67.
Towards the end of the game, Macomb made a strong push to come within four points, but fell short. Henry Ford won 80-75. Henry Ford will play St. Clair County Community College for the championship.
You can view more photos of the game here.
Contact Joshua Tufts: Jtufts@hawkmail.hfcc.edu. Follow him on Twitter @Joshua_Tufts.