Street Food is Hot at Detroit's Food Halls
Gallery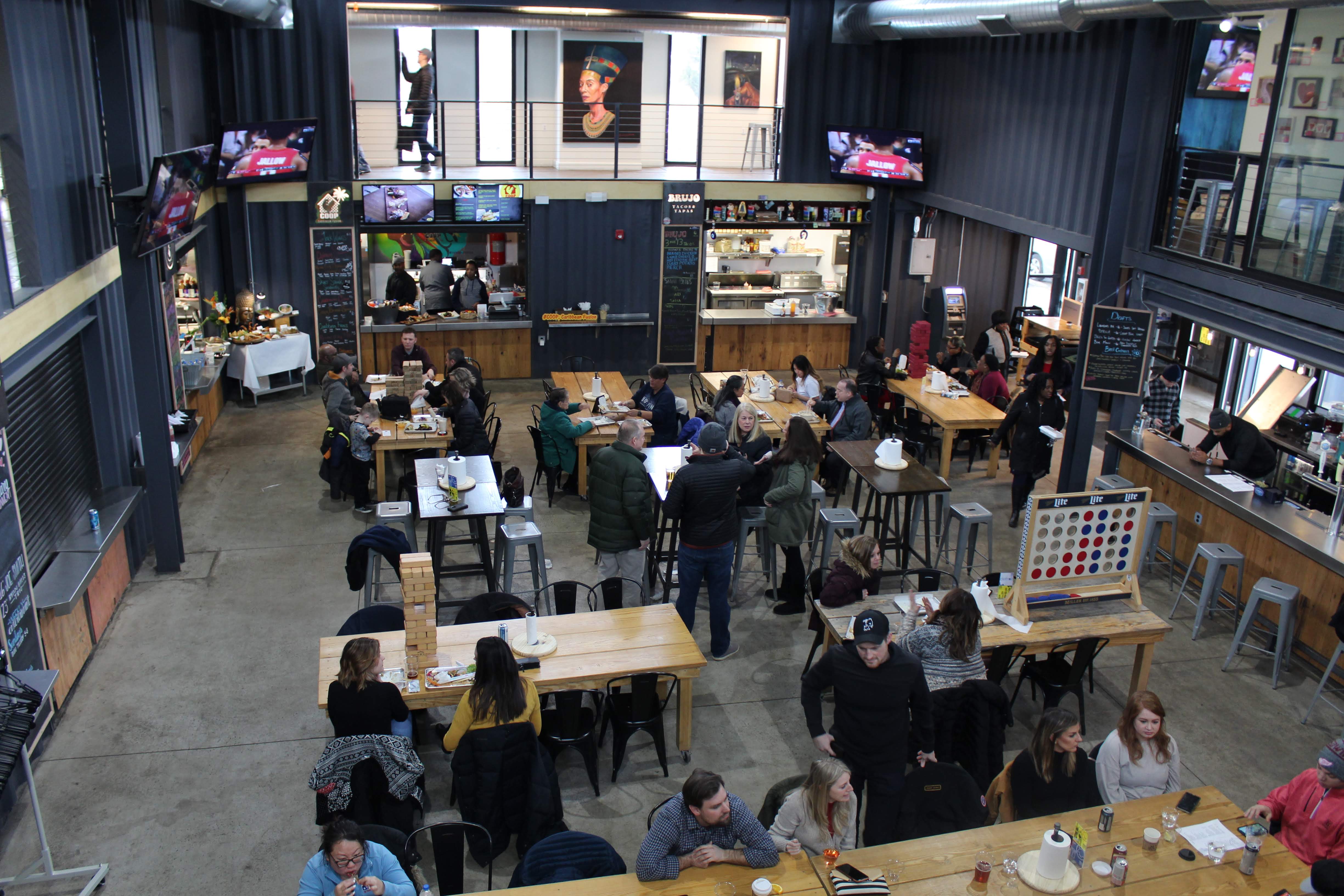 Detroit Shipping Company | Photo by Justin Randles
Food halls are nothing new and they certainly are not just a passing fancy. Research by Cushman and Wakefield from 2014 suggest that the number of food halls will triple by 2019. In that time Detroit has opened two food halls coupled with the effort to revitalize the city.
What are food halls? Thinking that a food hall is equivalent to food courts in shopping malls which are full of fast food options that are barely palatable would be a misstep. Food halls provide restaurants, artisanal goods, and occasionally a professional podcast recording booth.
Another important dynamic to a food hall is the advantages that it provides to restaurateurs and chefs. A food hall provides chefs with a unique opportunity to start a restaurant with a small carbon footprint, little overhead, little risk, and the potential for big reward. Food halls provide an opportunity to dine on an eclectic variety of foods from chefs that may have never had the overhead to get started otherwise.
"Fort Street Galley acts as a launch pad for chefs," said Ben Mantica, Co-Founder of Galley Group, "Where they are able to open a new restaurant concept in a low-risk and low-cost environment. By providing chefs with everything from equipment to front of house staff, the chefs are able to focus on honing their concept and building a loyal following."
Food halls are nothing new. The concept has ancient roots. Trajan's Market, built in the second century, was one of the earliest and largest covered shopping structures. The Grand Bazaar in Istanbul is arguably the oldest permanent market and has influenced food halls of today.
Markets featuring food related shops have existed in the U.S. for a long time. The Quincy Market opened in Boston (1825), the Reading Terminal Market in Philadelphia (1893), and the famous Pike's Place in Seattle (1907) are just a few of the most notable food hall renditions in America. Food halls fit well in the demand of today's diner, filling bellies with quality quick food and an array of options to choose from, spanning many cultures and backgrounds.
In Detroit, we have Fort Street Galley and the Detroit Shipping Company.
The Detroit Shipping Company is a two-story building constructed from repurposed shipping containers in the Cass Corridor. The block of Peterboro Street seems to be mostly vacant and lonely until the sounds of music and laughter hit your ear and the intoxicating smells of a multitude of cultural dishes being prepared gently kiss your nose.
"The food of a five-star food truck. The atmosphere of a beer garden. The walls of a shipping container," the company's website claims, "Detroit Shipping Co. is a restaurant collective and beer garden featuring five unique food-truck style eateries, two full service bars, a coffee and ice cream booth, a small stage, galleries for local artists and retailers, and two private lounges. All constructed from repurposed shipping containers. And all located within a few miles of everything you already love about Detroit."
Brujo Tacos & Tapas is one of the eateries at the DSC. Brujo means sorcerer and that sorcerer in this case is Chef Petro. Petro Darkopoulos is "Chicago born, but Detroit made." Chef Petro honed his skills working for large hospitality companies such as Marriott and Texas de Brazil and opened Republica in Berkley, Michigan. Brujo Tacos and Tapas is a completely halal approach to Mexican tacos and Spanish small plates.
Bangkok 96 Street Food is another option at the DSC. Bangkok 96 is inspired by Chef Genevieve Vang's Hmong heritage and is a sister restaurant to Bangkok 96 in Dearborn, MI. This food stall brings you food that would be typically found backpacking along the Mekong River and in the streets of Bangkok. The Pho Noodle Soup is robust and full of flavor. Diners can also enjoy Thai Pizza, sushi rolls and more as well as Chef Vang delivering vegan and gluten-free cookies to patrons' tables free of charge.
Chef Genevieve Vang was inspired to create Bangkok 96 as a young child in Laos. She traveled to Thailand as a child and fell in love with the spices and flavors of the country. When control of Laos was taken over by communism, she and her family became refugees and fled to Paris. The "City of Love" continued to refine her culinary skills and taste. Chef Vang and her husband, Guy Vang, eventually settled in Michigan and have called Dearborn home ever since.
Another chef vendor is Coop Caribbean Chicken from Detroit-born celebrity chef Max Hardy. Chef Hardy is the 'chef to the stars' because he's cooked for Missy (Misdemeanor) Elliot, the Prince of Dubai, and spent five years cooking for former NBA star Amar'e Stoudemire. Hardy has three Detroit restaurants: a small Caribbean-Soul joint called River Bistro, Honey's Restaurant, and Coop in the Detroit Shipping Company. The Caribbean jerk wings are loaded with spice and flavor and is his marquee dish at Coop. Coop is a fresh take on Caribbean fusion by Hardy and offers locally sourced ingredients, 24-hour marinated chicken, and their signature Scotch Bonnet Pepper.
The Detroit Shipping Company also offers patrons -320 Coffee & Creamery for a variety of caffeinated beverages and creamy ice cream made from instantly freezing of organic and natural ingredients with liquid nitrogen, which is a crisp negative 320 degrees; thus the stall's moniker.
The Detroit Shipping Company offers patio service and an outdoor bar when the climate allows it. The bar and food area have long wooden communal tables throughout the main floor and private seating on the second floor for more intimate occasions. There is complimentary 2x4 Jenga on every table and a couple giant Connect Four games that diners can enjoy. The second floor offers an art gallery where local artists are celebrated and sold and a rent-a-space for podcasters that houses a multitude of professional grade podcasting equipment. Another draw to the shipping container hall is the free parking at the adjacent lot and along the street. Upcoming events at the Detroit Shipping Company can be found at:.detroitshippingcompany.com.
Another food hall in Detroit is located on the corner of Fort Street and Shelby in the historic Federal Reserve building. Fort Street Galley, created by Navy veterans, Tyler Benson and Benjamin Mantica, was inspired by their worldly travels to bring innovative food and beverage concepts to the U.S.
"As a veteran owned business, Fort Street Galley is incredibly supportive of other entrepreneurial veterans," Mantica said of the desire to support veteran chefs. "Galley Group has had multiple veteran owned concepts at their locations and we look forward to replicating that success in Detroit," he added.
Where the Detroit Shipping Company has casual dining prices for both food and beverages, Fort Street Galley is a bit pricier. Mimosas at Fort Street Galley cost about $10 and were not much more than the size of a shot. Mimosas were a bit bubblier for your buck at about $6 at the Detroit Shipping Company. The price for dishes is on average $15 to $24 at Fort Street Galley and $6 to $15 at the Detroit Shipping Company.
That is not necessarily a slight against Fort Street Galley but a note to the differences. Detroit Shipping company and Fort Street Galley have completely different vibes. The Detroit Shipping Company seems more squinted towards a party crowd and Fort Street Galley is slightly more of a fine dining experience. Fort Street Galley leans more modern and the Detroit Shipping Company is more industrial.
Fort Street Galley offers communal tables with a few private table options. Diners can also sit at the full bar as they decide what to eat among four unique restaurants. There is Lucky's Noble BBQ, founded by celebrated chef, restaurateur, food scientist and author, Jimmy Schmidt, well-known in Detroit for the coveted Rattlesnake Club restaurants. Schmidt has won many awards including three James Beard Awards for best Midwest chef, the Great American Chefs of 1987, Who's Who of American Cooking 1984, and a Wine Spectator Award of Excellence. Schmidt partnered with Brian Recor, a celebrated chef with over twenty years' experience.
The BBQ joint focuses on traditional cooking methods such as grilling, slow roasting, braising, pickling, smoking and curing creating intricate meals by simple and rustic means. "We pride ourselves on creating healthy BBQ," Marci Espinoza, a manager at Lucky's, said, "We do everything in house; smoke our own meat, make our own flour, pickling, everything. We also get all of our produce and meat locally from sustainable sources."
The owners of Isla, husband and wife chefs JP Garcia and Jacqueline Dino, come from a computer science background. Garcia a former Microsoft Certified Professional and Dino a former data analyst decided to merge their Filipino heritage with their classic French culinary training to create a hodgepodge of small plates and entrees. Isla feature a broad range of taste, including bangus croquettes with milkfish, banana ketchup aioli, and purple yam puree. The entrees include bok choy with egg noodles, beef shank and bone broth. For brunch on Saturday and Sunday from 11:00 a.m. to 3:00 p.m. they offer a delicious rendition of chicken and waffles, the waffles made with purple yam batter.
Isla illustrates Fort Street Galley's interest in bringing international cuisine to Detroit. "We were inspired by vibrant street markets we experienced while on deployment in Southeast Asia, primarily in SIngapore and Thailand," Mantica said.
Michael Goldberg's Allenby is another option at FSG. Goldberg grew up in Detroit and just started cooking in 2013 and became lead line cook in two years. Allenby is also run by Katie Nelson, a sous chef from The Slurping Turtle in Ann Arbor.
Allenby serves up healthy sandwiches like the Yemenite Falafel, Lamb Merguez, and Chicken Schnitzel. Small plates such as eggplant caponata, harissa roasted cauliflower, and a green salad featuring Bulgarian feta, nigella seed, sumac and tahini ranch.
Mike Han's Pursue is the last of the food stalls at FSG. Han honed his craft in top Japanese restaurants in Los Angeles, New York City, and Chicago. He led the sushi kitchen at Zuma in Miami and opened New York's first sustainable omakase sushi restaurant. Han returned home to Detroit to pursue his mastery of sustainable American seafood, locally sourced produce, and flavors inspired from his Korean heritage.
Pursue offers a variety of bowls including the Packard Plant Tiger with raw salmon, dried Michigan cherries, mustard seeds, house soy dressing, horseradish, and beets. Bowls are $15.
The Fort Street Galley Bar is led by professional bartender Marlowe Johnson, formerly of Candy Bar at the Siren Hotel in Detroit. Johnson offers a diverse selection with cocktails on draft, charity cocktails that provides a portion of the proceeds to charity, and eight feature cocktails that rotate seasonally with a focus on in-season and rare ingredients. The bar also offers 21 beers on tap and a large selection of Japanese whiskey.
"Dining at Fort Street Galley is unique," Mantica said, "because you can have a different type of experience every time. With four different high-quality dining options, a creative beverage program and unparalleled service and hospitality, guests can be confident that there will be something new and delicious when they come back to Fort Street Galley. It could be a quick bite for lunch, a Friday night date or a midweek happy hour with friends, and because of the variety and consistency in quality Fort Street Galley really brings everything to the table."
"The atmosphere is warm and inviting," says Lindsay Sneed of Sterling Heights, a patron sitting at a communal table on her third visit since opening, "Some of the food may require a more refined pallet but the ambiance and energy is what keeps me coming back."
You can find more information on the Fort Street Galley at fortstreetgalley.org.