Remembering Congressman John D. Dingell Jr.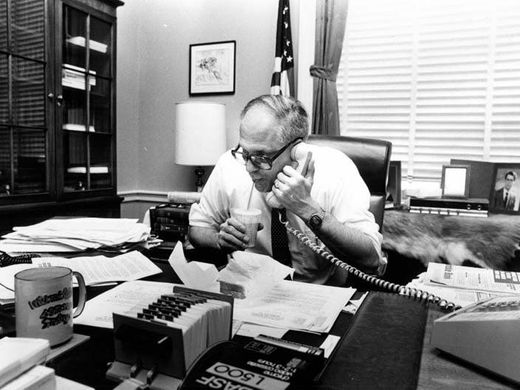 Photo courtesy of Detroit Free Press
On Feb. 15, former US Congressman John D. Dingell Jr., the longest-serving member of Congress in US history, was laid to rest at Arlington Cemetery in Washington, D.C. Dingell passed away peacefully on Feb. 7, at his home in Dearborn. Dingell was 92 years old.
Born in Colorado Springs in 1926, John Dingell Jr. was raised in Detroit and Washington. His father, John David Dingell Sr., was the congressional representative for what was then Michigan's 15th District from 1933 to 1955. Dingell Jr. spent much of his childhood and teenage years on Capitol Hill where he served as House page for five years.
In 1944, at the age of 18, he joined the army and quickly rose to become second lieutenant. As revealed in a 2006 interview with the Edward M. Kennedy Institute for the United States Congress, just before the bombing of Hiroshima and Nagasaki in 1945, Dingell had his orders to be in the first wave of U.S. soldiers to go to Japan.
After the war, Dingell went on to obtain an undergraduate degree in chemistry from Georgetown University, and a law degree from Georgetown Law School. He worked as a forest ranger, a Wayne County prosecutor, and as a private lawyer before he joined the House on Dec. 13, 1955, filling the seat of his father, John Dingell Sr. who died in office after serving 22 years.
Dingell was a member of the U.S. House of Representatives from 1955 until his retirement in 2015. He was succeeded by his wife Congresswoman Debbie Dingell. During his time in the House, Dingell served as ranking member of the House Energy and Commerce Committee, Chair of the House Energy and Commerce Committee, and 43rd Dean of the U.S. House of Representatives. He played a crucial role in passing some of the most monumental legislation for civil rights, clean air, safe drinking water, education, and health care.
In Michigan, as hundreds of people filed past his casket paying tribute at the public visitation held at Ford Community & Performing Arts Center in Dearborn, and as mourners gathered for a funeral service at the Church of the Divine Child, it was clear to see that his passing leaves an indelible mark on those whose lives he impacted throughout his life of public service.
Highlighting Dingell's many contributions to the Henry Ford College community, HFC President Russell Kavalhuna states, "John was a man driven by his purpose--making others' lives better. He did some of that work right here at the College."
President Kavalhuna further highlights Dingell's efforts towards making lives better for the Henry Ford College community by citing some examples, including a town hall meeting he hosted at HFC in 2011 to discuss the newly implemented Affordable Care Act; the 2012 passage of the U.S. Department of Labor's Trade Adjustment Assistance Community College Career Training Program; tirelessly advocating to make Henry Ford College more accessible to students seeking higher education and career opportunities; and speaking at the annual Michigan Student Political Issues Convention hosted on the Henry Ford College campus, a tradition now carried on by his wife , Congresswoman Debbie Dingell.
Dr. Anthony Perry, HFC political science professor, remembers Dingell as a great friend of HFC and the HFC community. "He was always there to speak to students and attend our Democracy Institute events that aimed to engage our students in public service," says Dr. Perry. "When we pitched the first student convention at HFC, Dr. Mazzara and I went to see John. He was the first person we approached to be on the honorary steering committee. He gave his full support, and was always there for us and our students," he adds.
John McDonald, President of American Federation of Teachers Local 1650, the faculty union at HFC, and Vice President of the national American Federation of Teachers, states: "It's very difficult to summarize John Dingell. In my eyes, he was a man who always gave back to his community greatly, remembering many people by name. He also always supported education greatly, and the college of Henry Ford. He participated at the college for political conferences that inspired many at the college."
HFC Business Intelligent Systems Analyst Rick Michalski fondly remembers his time as an intern under Dingell: "Getting the opportunity to intern with Mr. Dingell meant a lot to me since my grandfather, a World War II veteran who also served in the United States Marine Corps, held him in such high regard." Michalski adds that his time working with Dingell was one of the highlights of his career. "He greeted me in every passing, asked how I was and would compliment his people, including myself, regularly on how we carried out our daily tasks."
Beyond the Henry Ford College community, Dingell is also remembered dearly by many. Michigan Governor Gretchen Whitmer stated: "John Dingell will forever be remembered as the Dean of Congress, not simply for the length of his service, but for his unparalleled record of legislative accomplishments." She added, "the Congressman's grit, humility, and humor taught us all that we can disagree without being disagreeable, while still finding common ground and working together to get things done."
Michigan Secretary of State Jocelyn Benson observed: "Congressman Dingell's leadership, wisdom, and wit will be missed, but his legacy will live on through every person he inspired to lead and serve." Benson added that Michigan has lost a legend who was both a strong, determined, effective legislator and a kind, gentle public servant dedicated to his constituents.
Speaking at the memorial service at the Church of the Divine Child in Dearborn, former U.S. Vice President Joe Biden reflected on Dingell's efforts to advance civil rights, his contribution to healthcare and environmental legislation, and the signing of the Affordable Care Act in 2010 when Dingell was at the side of President Obama and himself. "Dignity was how John walked, dignity was how John talked, dignity was how John treated everyone," said Biden. He added that while Dingell chose confrontation hesitantly, he could always be found standing firm on the right side of history, even when he knew he had to stand alone.
Along with his wife, Dingell is survived by two daughters, two sons, one of whom served 15 years in the Michigan Legislature, and several grandchildren.
Share it now!