Henry Ford College Men's Basketball Fights but Falls Short to Schoolcraft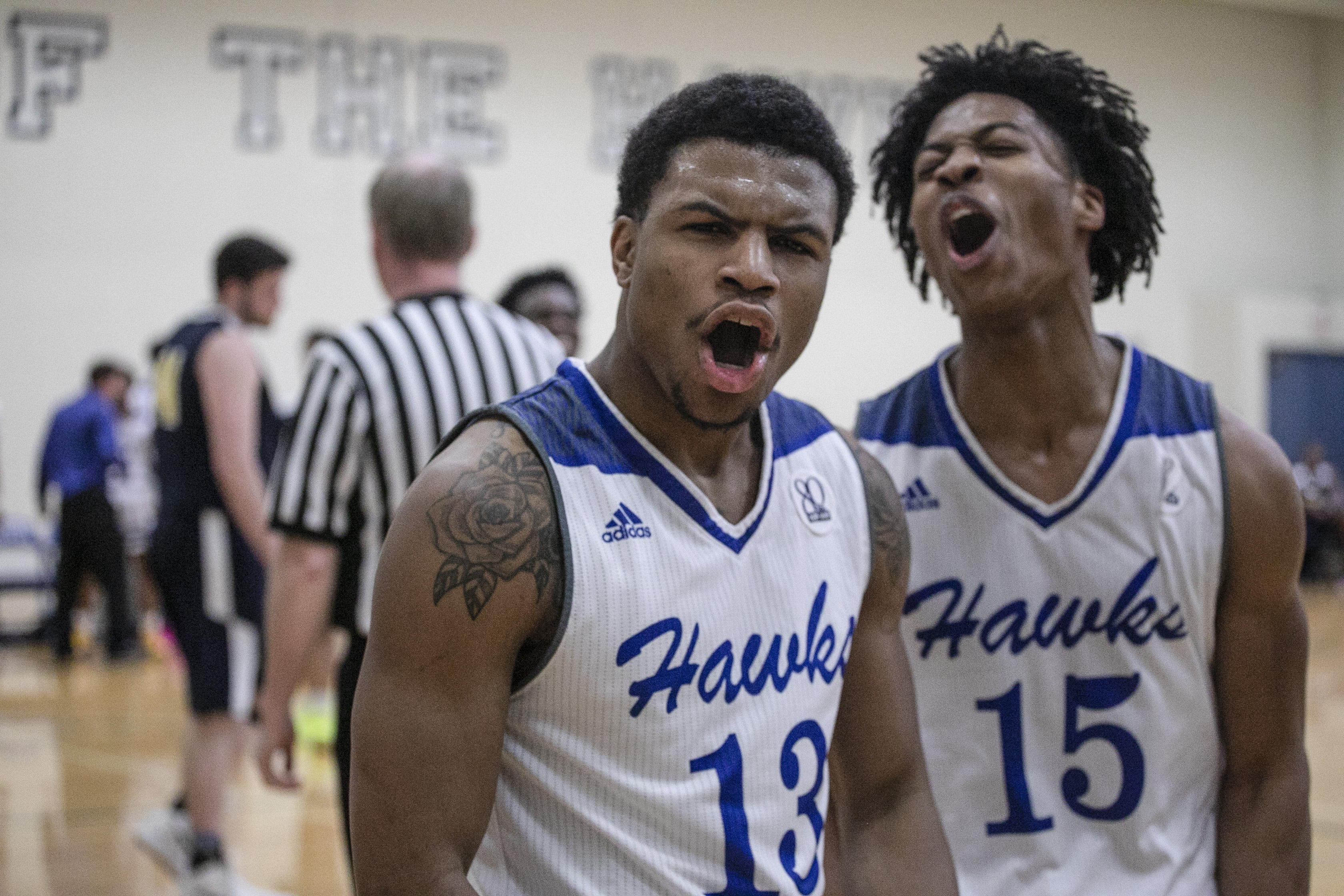 HFC's Luster Johnson and Edwin Bailey | Photo by Joshua Tufts
On Feb. 20, Schoolcraft College (13-9) traveled to Henry Ford College (18-9) and squared off in a nationally ranked game, ending with Schoolcraft topping Henry Ford 96-72.
Henry Ford was coming off a strong win against Delta College on Feb. 16. Henry Ford's last meeting with Schoolcraft College resulted in a close loss at 68-65.
Prior to this game, Henry Ford was undefeated on their home court in Dearborn.
In what was a hard fought game, Henry Ford made a strong run after half time, overcoming a 20 point deficit. For Henry Ford College, it was Luster Johnson who knocked down a total of 24 points leading the Hawks in scoring.
Johnson helped lead with 18 points in the second half to bring the game within 8 points at 6:10.
Leon Ayers scored 14 points in total for the game, scoring two three pointers in the first half. Ayers received a college offer to play for Malone University after this game.
In addition, Andre Johnson scored 11 points, while Kiewuan Graham and Davion Johnson both scored 8 points.
For Schoolcraft, Runako Ziegler wrapped up the night with a game-high 26 points. Aley Ismail had 18 points and Kemon Bassett came away with 17 points.
The Hawks were off to a slow start, with Leon Ayers leading the team in scoring for the half at 8 points. With contributions from Aley Ismail with 13 points Schoolcraft gained a 57-36 lead over the Hawks by halftime.
Despite coming within 8 points, the Hawks were not able to close the gap. Schoolcraft handed the Hawks their first loss on the Henry Ford home court this season. Henry Ford has already clinched a berth to the playoffs and will find out in the next two weeks who they will play.
Wednesday's contest was preceded by a game between the Schoolcraft and Henry Ford College women's basketball teams.
Henry Ford is scheduled to return to action on Feb. 23 at Wayne Community College at 3 p.m. Henry Ford's last game of the regular season will be at home against St. Claire College, starting at 7:30 p.m.
You can view more photos of Wednesday's game here.
Contact Joshua Tufts: Jtufts@hawkmail.hfcc.edu. Follow him on Twitter @Joshua_Tufts
Share it now!