Detroiters Worry About Air Quality Around Detroit Incinerator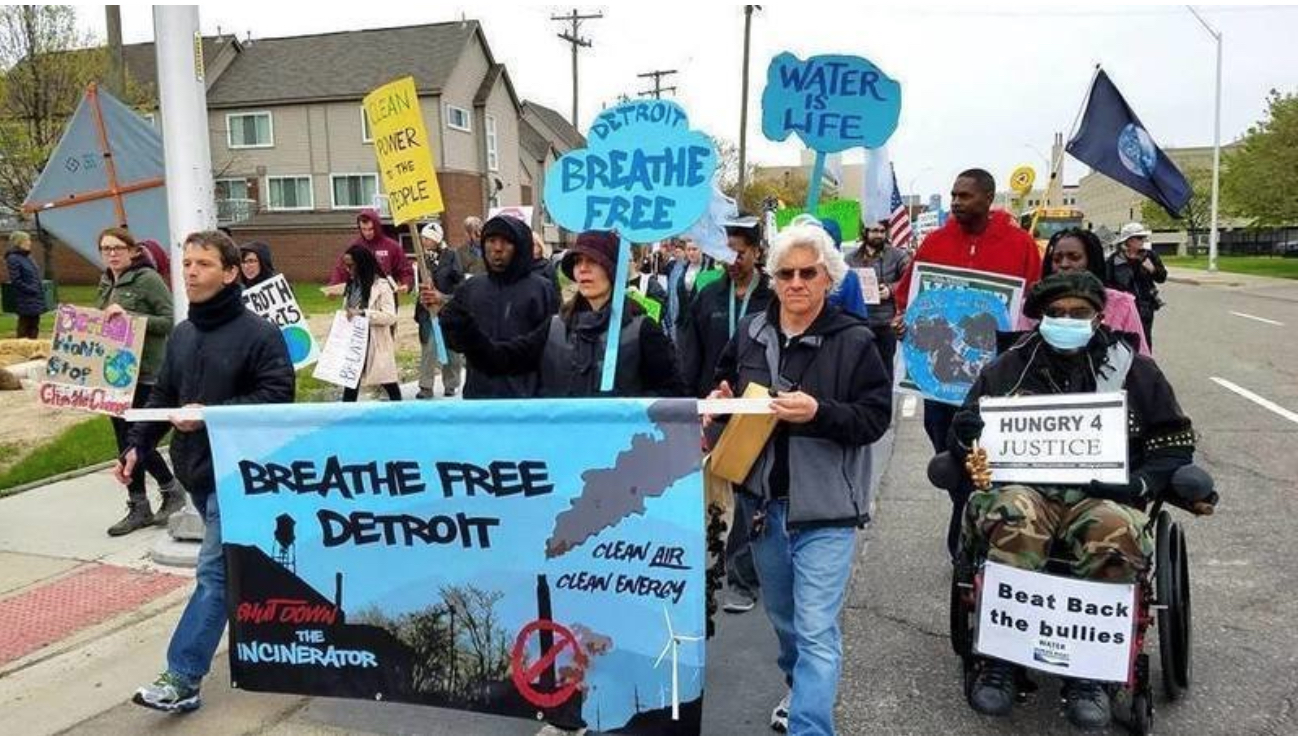 Photo of Breathe Free Detroit campaign marchers protesting Detroit Incinerator | Photo courtesy of William Copeland and Our Climate Voices Change.org 2017 campaign
At the intersection of I-75 and I-94 in Detroit stands the nation's largest municipal incinerator causing a multitude of concerns to those that reside near it. Detroit Renewable Power, which owns and runs the facility, faces a pending lawsuit filed by The Great Lakes Environmental Law Center to hold them accountable for violation of emission guidelines set by the Michigan Department of Environmental Quality. Between 2013 and 2017 the facility has violated emission standards nearly 800 times. Emissions from the incinerator include carbon monoxide, carbon dioxide, mercury, lead, and, perhaps the most threatening for people to breathe, particulate matter. Particulate matter can accumulate in the deepest parts of the lungs hindering a person's respiration.
The grassroots environmental campaign, Breathe Free Detroit, conducted a study taking carpet dust samples in homes near the incinerator and found that these homes have higher than average levels of dioxins and furans, both known carcinogens. Detroit Renewable Power has said they have reached out to the Breathe Free Detroit campaign to discuss discrepancies they have with the report conducted without avail while KT Andresky, campaign organizer, reports that she spoke with other members of the campaign all of which have not received anything of that nature. Regardless, Detroit Renewable Power has permits to keep the facility in operation.
Dana Afana of MLive reported last year on how many in the communities around the incinerator feel the best solution is to shut the incinerator down entirely. Though this is one possible solution, the facility produces steam for Detroit Thermal which owns the steam loop, providing surrounding businesses including Detroit Children's Hospital with necessary heating and cooling services. Detroit Renewable Power, which is the parent company of Detroit Thermal, claims the steam loop could not be powered without the incinerator. DRP and Detroit Thermal state that transitioning to steam is more environmentally friendly and cost effective because the businesses are able to operate without a boiler.
Residents fear that emissions from the incinerator could be a potential reason the rate of asthma related hospitalizations are so high though the incinerator has not been directly linked to these adverse health effects. Detroiters submitted complaints to the MDEQ about the foul smell emanating from the incinerator.
"You can't even go outside in the summer without being violated," said one Detroiter. MDEQ has ruled the odors from the incinerator are in violation of Michigan Air Contaminant Rule 336.1901 prohibiting the "unreasonable interference with the comfortable enjoyment of life and property." Detroit Renewable Power (DRP) claims they are doing the best they can to alleviate odors including clearing the room where waste await incineration weekly and "tightening things up" in the facility. Keith Methany and Kat Stafford of The Detroit Free Press report that DRP has invested 6 million dollars towards technology to address the odors.
Share it now!