Breaking the Ice: HFC's Production of "The Foreigner"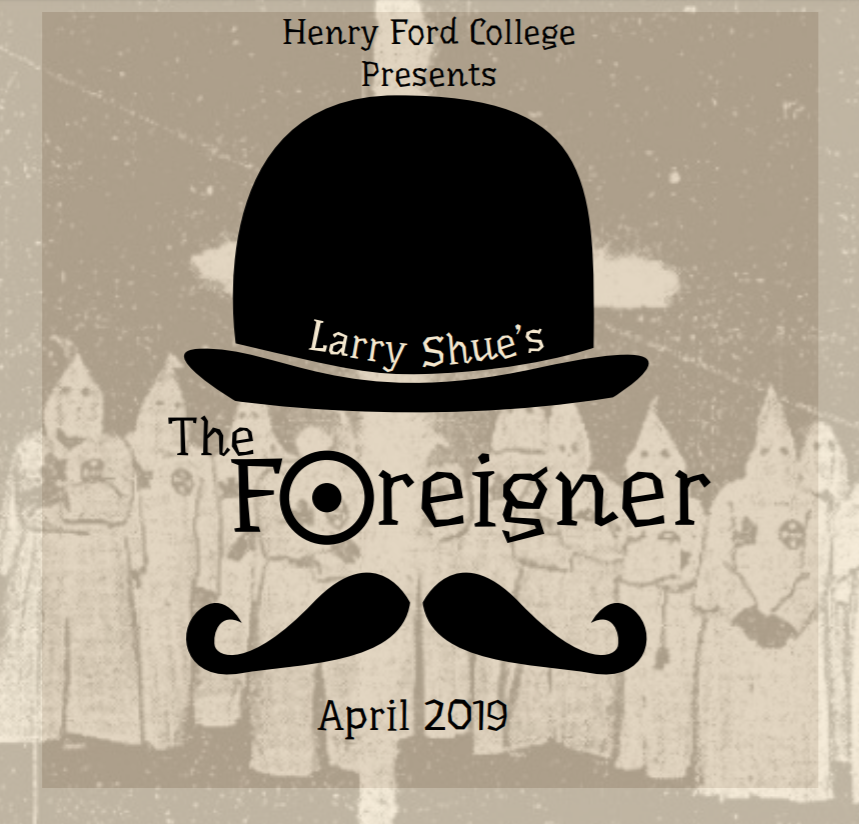 Illustration by Gabrielle Sisler
For the winter production, Henry Ford College's theatre department is bringing Larry Shue's "The Foreigner" to the campus community. Taking place in rural Georgia, this fantastical farce follows the story of a British military demolitions expert named Froggy, who runs training sessions at a nearby army base, and their hopelessly, antisocial friend, Charlie, who is down on his luck and in desperate need of a vacation.
Staying at a remote fishing lodge, Charlie is overwhelmed by the thought of having to make conversation with strangers. Froggy devises a plan to tell Betty, the lodge owner, and its other inhabitants that his friend is a "foreigner," and can't speak a word of English. Among the hilarious hijinks that ensue, there is an underlying tone of seriousness regarding the play's antagonist – the Ku Klux Klan.
While this play is not centered around their ideals or beliefs, they are the enemy in this comedy. Judith Fletcher-Barber, director and HFC instructor, shares her inspiration behind choosing "The Foreigner."
"About 20 years ago I had the pleasure of seeing a production of it in Petrolia, Ontario, Canada, and thought it was the funniest show I had ever seen. I've already directed a lot of my bucket list shows including: 'To Kill a Mockingbird', 'Grease,' 'A Christmas Story' – but this was still there. I thought it would be a good follow up to our fall production of 'The Laramie Project' with a lighter, hilarious, farcical comedy."
Barber goes on to explain her approach to the play: "Once I had acquired the script and read it, I realized I had completely forgotten the nature and affiliation of the antagonists in the story. Written in 1983, and set in the deep south, they were viewed (up until about 5 years ago) as an anachronism, at least to us northerners; unfortunately, the undercurrents of racism and xenophobia have reared their ugly heads once again in our society and are now prevalent." She continues, "I do believe that this show – its story and writing – speaks for itself, and addresses the issues with its message of acceptance, tolerance, love, friendship and solidarity against hate and greed."
Barber states, "There are some potentially controversial issues raised and we will post disclaimers accordingly and urge audience members to read up on it." She continues, "Although it is very funny and has no objectionable language or sexual situations, it has some elements, including costuming, that are potentially disturbing but are an integral part of the story."
Barber observes, "I have been an instructor in theatre at HFC for over 23 years now and I believe it is my mission to instill in my very diverse groups of students the value of live theatre, especially its power to not only entertain but to educate and inform!" She adds, "I've come to believe that this show can do all three. It's basically a fantasy about good versus evil, with the good reigning triumphant, and it's filled with warmth and humor. I hope our audiences will find the story of our sad sack 'foreigner,' and reluctant hero, who ultimately changes the lives of nearly everyone he encounters, to be a gentle reminder of the magic of kindness." Barber closes, "to borrow a phrase from Dr. Martin Luther King, Jr.: 'Hate doesn't drive out hate; only love drives out hate.'"
The Foreigner opens Thursday, April 4 at 8 p.m. and will run for two weekends, ending Sunday, April 14. Tickets are $12-$15 and can be purchased online here.
Share it now!