One Coney, All the Way Up, Minus Meat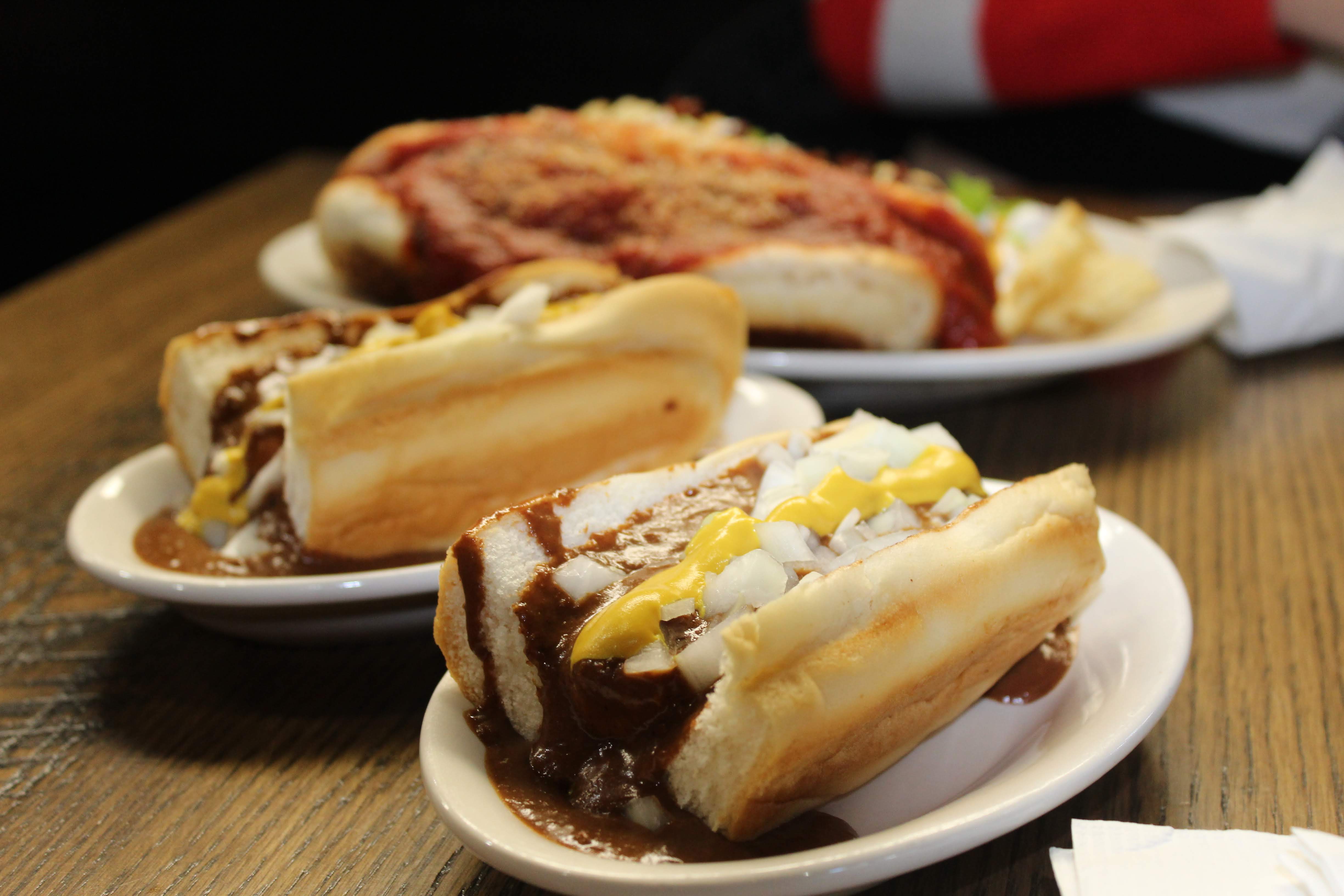 Detroit is a place known for many things: the modern automobile, Motown music, Aretha Franklin, Eminem, and chili covered wieners on a steamed bun topped with onions and mustard. The Coney Island dog is a food delicacy that has Detroit roots dating back to the early 19th century.
It would be more likely to have a wish granted on a shooting star than it would be to find who is responsible for the invention of the coney. While the specific origin of the chili covered hot dog may forever be a mystery, the history is not. The coney did not start in Detroit, though slathering it with a meat sauce may have, the Detroit Coney story is as an American dream tale as any other.
Between 1900 and 1919 the inception of the Coney Island restaurant was a part of the great wave of Greek immigrants coming to America. Greek immigrants fled the economic devastation caused by Greece's bankruptcy at the turn of the century, which saw an influx of 343,000 Greek citizens coming to America for a better life. As the Greek immigrants traveled through Ellis Island in the early 1900s they either heard of, or visited, the famed Coney Island amusement park in New York. Their love for the park resulted in the equally famed name of their restaurants and their flagship dish, the Coney Island hot dog.
The hot dog, a sausage of beef and pork, is widely credited to Charles Feltman, a Coney Island pie-wagon vendor. Feltman is also credited, for good or bad, as the inventor of fast-food by serving hot dachshund sausages on milk rolls in 1867.
Feltman opened the first hot dog stand on Coney Island in 1871 and sold 3,684 sausages that year. The success Feltman achieved slinging his wieners enabled him to open a huge complex of restaurants and beer gardens on Surf Avenue, known as Surf and Sitwell, by the turn of the century. Though seafood ultimately became his specialty, he dedicated seven grills just to churn out dogs.
Nathan Handwerker, founder of Nathan's Famous restaurant, started by opening a small hot dog stand on Coney Island. The hot dog stand brought the wiener into the limelight by introducing it to politicians, sports stars and other society elites as well as common everyday folk. Franklin D. Roosevelt even served Nathan's hot dogs at a 1936 lawn party for Britain's King George VI and his wife, Queen Elizabeth.
Meanwhile, the Greek immigrant wave brought a completely different meaning of Coney Island to Michigan and other midwest states. The Coney Island became the name of small Greek restaurants that serve a different kind of wiene—a Coney Island hot dog placed on a steamed bun and smothered in bean-less chili, mustard and onions. Ground zero for the Midwest coney began with two brothers that were formerly sheepherders from the Greek village of Dara. William "Bill" Keros and Constantine "Gust" Keros opened Lafayette Coney together in 1923. After a family feud Gust Keros opened American Coney in 1936. Both claim the title of the first coney.
The sibling rivalry helped create Detroit's own Surf and Sitwell on the corner of West Lafayette Boulevard and Michigan Avenue. The two restaurants served the "working man's lunch" and the "late-night" last call as the booming auto industry brought a plethora of workers into the city. There were so many workers that people rented apartments in 8-hour shifts, so the idea for a quick meal made perfect sense. The coney is the grease to the human machine that powered the assembly lines and built automobiles.
There are more than 500 Coney Island type restaurants open in the Detroit-area today and many throughout the Midwest and select places throughout the country. Though not all coney dogs are created equally. Jackson Coney Island in Jackson, MI garnishes their dogs with fried onions. Flint, MI has a unique version of the coney dog that is topped with loose meat and beet hearts concocted by Abbott's Meat. A coney in Cleveland, OH is often dressed-up with a sweeter chili sauce and served with spaghetti. The coney's fame and disputed history has created a bias so deep for American Coney and Lafayette Coney that some fans refuse to step foot inside the other coney, ever. The apotheosis of the Detroit coney history was written by Katherine Yung and Joe Grimm titled, "Coney Detroit" and tells of the fantastic history of Coney Islands and their flagship dish, the coney dog, in greater detail. Coney Detroit celebrates the Detroit Coney and the community from which it came. All revenues from the book are donated to Gleaners Community Food Bank in Detroit.
"I like that when you go to a coney island and sit down at the counter, you could be sitting next to a custodian or a bank president," Joe Grimm told MLive's Ashley C. Woods, "And it doesn't really matter. Because while you're sitting at that counter having a coney dog, you're in this place, momentarily, where we're all about the same thing. I think coney islands bring people together."
Coneys have been and continue to be the engine powering the American dream for immigrant families and to start their lives in America. Now, we have a new addition to the storied history of the Detroit coney, the addition of the first vegan coney island and vegan coney dog.
Enter Chili Mustard Onions, a vegan coney island in Brush Park, one of the first businesses to open in the area that is revitalizing the neighborhood once filled with beautiful Victorian homes. The vegan coney island is founded by Pete LaCombe, a family man with a love for cooking, and inspired by his switch to veganism years ago. "I became vegan. That was a huge part," Pete LaCombe said of his inspiration to open a vegan coney island, "I worked in the auto industry for a long time. I went vegan almost 6 or 7 years ago and didn't like the options."
"I missed all of this stuff," LaCombe gestured to our table full of vegan coneys, a "chicken-parm" submarine sandwich, "chili and cheese" smothered waffle fries, and a Big Mock sandwich, "so I just started messing around and started to find things I liked. This is just what I wanted to do. It was for the animals first. I want to change the world but I'm not a picket guy, I'm not a protest guy but I could change it (the world) with my food."
Chili Mustard Onions is next to a two-story brick office building on an empty block on Brush street. Though the block probably won't be empty for long. Inside the restaurant is cozy and trendy with artwork produced by Detroit artists. The entire inside of the coney island is the work of LaCombe's.
"Everything from the concrete floor to the ceiling, I did," LaCombe says, "From the cement to the plumbing to the electrical. If I was going to fail, I was going to be the only one that suffered. This is it. We are killing it every single day."
The clientele is 90 percent non-vegan according to LaCombe. The shop is visited by tow-truck drivers, cops, nurses, lawyers, and more. LaCombe has a familiar client base that he knows by name and knows their order by heart.
"There is no Wi-Fi, no TVs, just some background music but everyone is talking. I love that about this place, people come in and talk and having a great time," LaCombe says, "I think I did something right."
Not everyone is convinced that the vegan restaurant should be called a Coney Island or serve vegan coney dogs. Since the inception of Chili Mustard Onions there has been coney purists who, like the American Coney and Lafayette Coney rivalry, stand against the vegan coney.
"It's not a coney," says Joe Grimm, co-author of Coney Detroit, "I'm not trying to be a coney cop or food police, but you cannot have a vegan coney. A coney is a hot dog made of beef and pork with natural casing. Then it's topped with bean-less chili, the chili is basically a meat sauce, and if you decide to make that dish vegan, then you are making something else. You are making something that is not and cannot be a Detroit-style coney."
Grimm says, "I wouldn't take corned beef, bacon, and chicken nuggets and put it in a bowl with ranch dressing and call it a salad," Grimm continues, "They can call it that if they want but it's not a coney."
LaCombe is not bothered by coney purists.
"I don't care if it is," LaCombe says of the nay-sayers and his inclusion into the storied history of Detroit's coney dog, "I did this for the animals. Even if you don't care about animals, you just saved some by eating here."
Regardless of the exclusion of animal by-products into the Chili Mustard Onions coney dog, it rivals the taste of any Detroit coney, even those at American Coney and Lafayette Coney.
"Eat the food and you'll see where I'm coming from," LaCombe says, "I wanted to show that vegan food is exciting. Even with the heavy stuff, you will feel great after eating it."
Share it now!