Library Street Collective is Worth Checking Out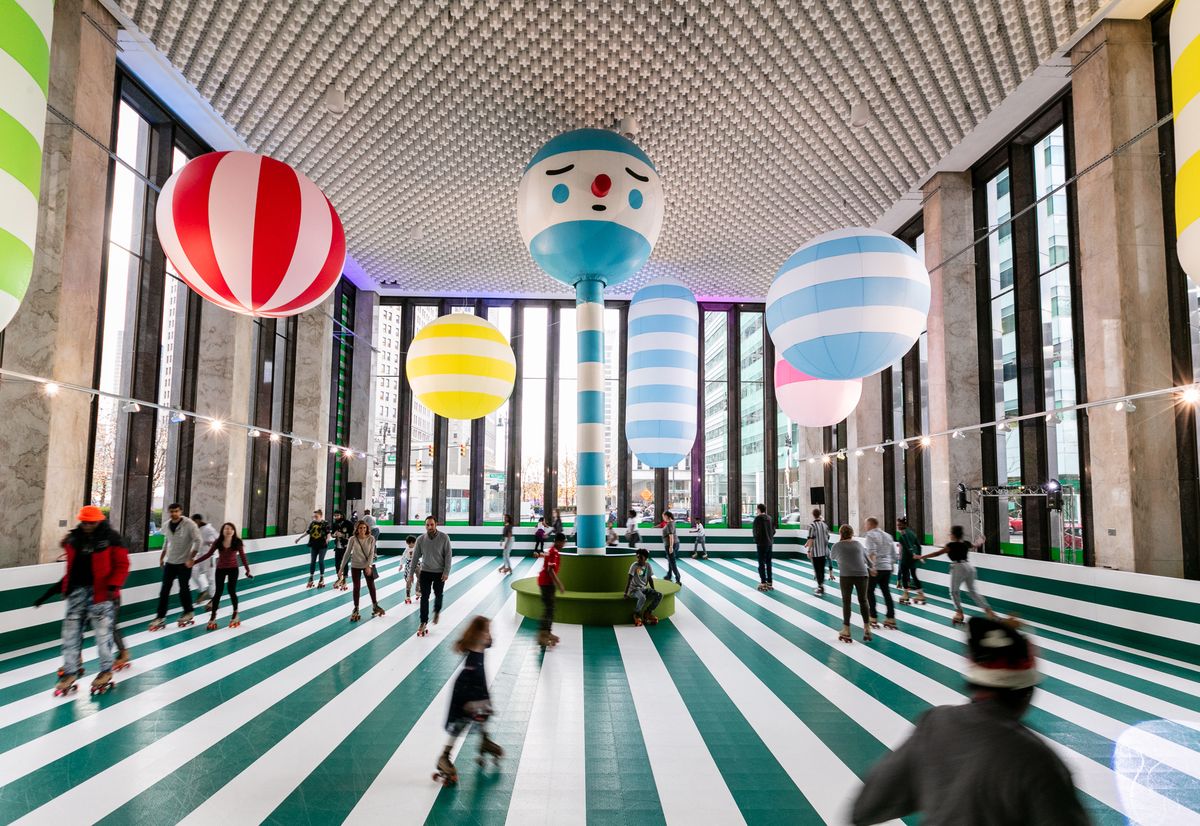 Roller Rink photo by Michelle and Chris Gerard for Curbed Detroit
Rainbow City Roller Rink, a holiday-inspired roller rink overlooking Campus Martius in Detroit, is an immersive art installation in which people can skate around eight vibrant, Candyland-like sculptures which hang from the ceiling.
The roller rink, located at 1001 Woodward Ave., was opened by Library Street Collective in collaboration with Los Angeles-based art duo, FriendsWithYou, whose mission is to spread "the positive message of Magic, Luck, and Friendship." FriendsWithYou consists of Samuel Borkson and Arturo Sandoval III, who have been creating art collectively since 2002. Their artist statement states that their "mission is to cultivate moments of spiritual awareness and powerful, joyous interactions." A press release by Library Street Collective explains that "the installation creates a surreal landscape intended to provoke an iconic and childlike awareness, and offers an opportunity to connect physically and psychologically with an energetic, ephemeral setting." The installation is supported by Bedrock and the Quicken Loans Community Fund.
Eight large brightly striped balloons hang from the ceiling and the floor is colorfully striped green and white. The festive colors give roller skaters an indoor experience to counter the outdoor ice rink in front of the Christmas tree at Campus Martius. Given the limited space, you must schedule a 45-minute skate time in advance. Skates and helmets are available for rent in limited quantities. The roller rink is open to the public Wednesday through Sunday from 2:00 p.m. to 9:00 p.m., and the installation will run through Jan. 27.
The Rainbow City Roller Rink is not the only large-scale installation that Library Street Collective has curated. Occupying the old State Savings Bank on 151 W. Fort St., Doug Aitken's art installation "Mirage Detroit," is a sight to behold: the installation is a sculpted home comprised solely of mirrors. Mirage Detroit's website explains that it is "embedded within the city's landscape, Mirage Detroit speaks to the history of its landscape while looking towards its future." Aitken's work has also been featured in the Museum of Modern Art and the Serpentine Gallery in London. The website also explains that there is intent to host "cultural events" at the installation while it is running, "including educational programs, musical performances, and conversations open to the public in partnership with organizations like Cranbrook Academy of Art and Art Museum, Museum of Modern Art Detroit (MOCAD) and College for Creative Studies." In an interview with the Detroit Free Press, Aitken explains that he wanted to create a "human-kaleidoscope effect" with the installation: "I wanted something you could get lost in."
The "Mirage Detroit" installation is open to the public Wednesday and Thursday 12:00 p.m. - 8:00 p.m., Friday and Saturday 12:00 - 10:00 p.m., and Sunday 12:00 - 5:00 p.m., and runs through February.
Library Street Collective also conceptualized and curates "The Belt," a "culturally redefined" alleyway in downtown Detroit. The Belt, located between Library St. and Broadway, features murals and installations by local, national and international artists, that are often vibrant and eye-catching. It also features "Public Matter," which "features rotating outdoor exhibitions of large-scale paintings," according to the Library Street Collective website. The current outdoor exhibition, called "XERISCAPE," includes works by Nina Chanel Abney, Rosson Crow, Beverly Fishman, Tschabalala Self and Wendy White. On their website, Anthony Curis is quoted as saying, "The Belt is another example of our growing interest in reimagining underutilized spaces throughout the city. This formerly desolate alley has transformed into one of the most dynamic pedestrian-friendly public spaces in the country."
Library Street Collective, with Bedrock Detroit, curates "The Z," a parking garage adjacent to The Belt filled with murals from 27 artists, making it a must-see Detroit destination. In an interview with Forbes, JJ Curtis, co-founder of Library Street Collective, said, "Detroit has a rich history and a bright future in arts and culture. I see a city rebuilt on creativity, innovation and most importantly its people."
In addition to hosting public installations, Library Street Collective has an art gallery at its 1260 Library St. location in downtown Detroit. Currently, it is hosting the solo exhibition "Say it Loud" by native Detroit artist Tiff Massey, and "Homemade," an exhibit curated by McArthur Binion.
"Homemade" is comprised of work from eleven Detroit-based artists. The work included in this installation ranges from repurposed store signage by Maya Stovall to screen-printed acrylic glass by Conrad Egyir. A press release by Library Street Collective explains that the exhibition was "conceived from Binion's desire to reconnect with Detroit's art scene in the present day, inspired by his formative years and the increasing recognition the city's talents are finally receiving on a national scale."
Massey's "Say it Loud" exhibition features a range of artwork. It includes metalwork, sculptures, textile works, and gingham and Kente cloth. Massey, the first black woman to receive an MFA in Metalsmithing from the Cranbrook Academy of Arts, explains in an interview with Oxford University Press that her influences range from Japanese fashion designer Issey Miyake, to sculptor Edmonia Lewis, to hip-hop jewelry. In a press release from Library Street Collective, Massey says that she began to use gingham because "I realized it had a political background, made from cotton manufactured with slave labor and then used to create uniforms or markers for slaves on plantations. You see appropriation of it everywhere." Akin to Doug Aitken's "Mirage Detroit" installation, Massey also heavily utilizes mirrors in her work. Per the press release, the mirrors are meant to "create an experience in which the viewer is forced to examine themselves in the work."
Tiff Massey's "Say it Loud" and McArthur Binion's "Homemade" exhibitions will run through Jan. 12.
Share it now!