Wasserman Projects: "Coatlicue's Return" and "Speculations" Exhibits
Gallery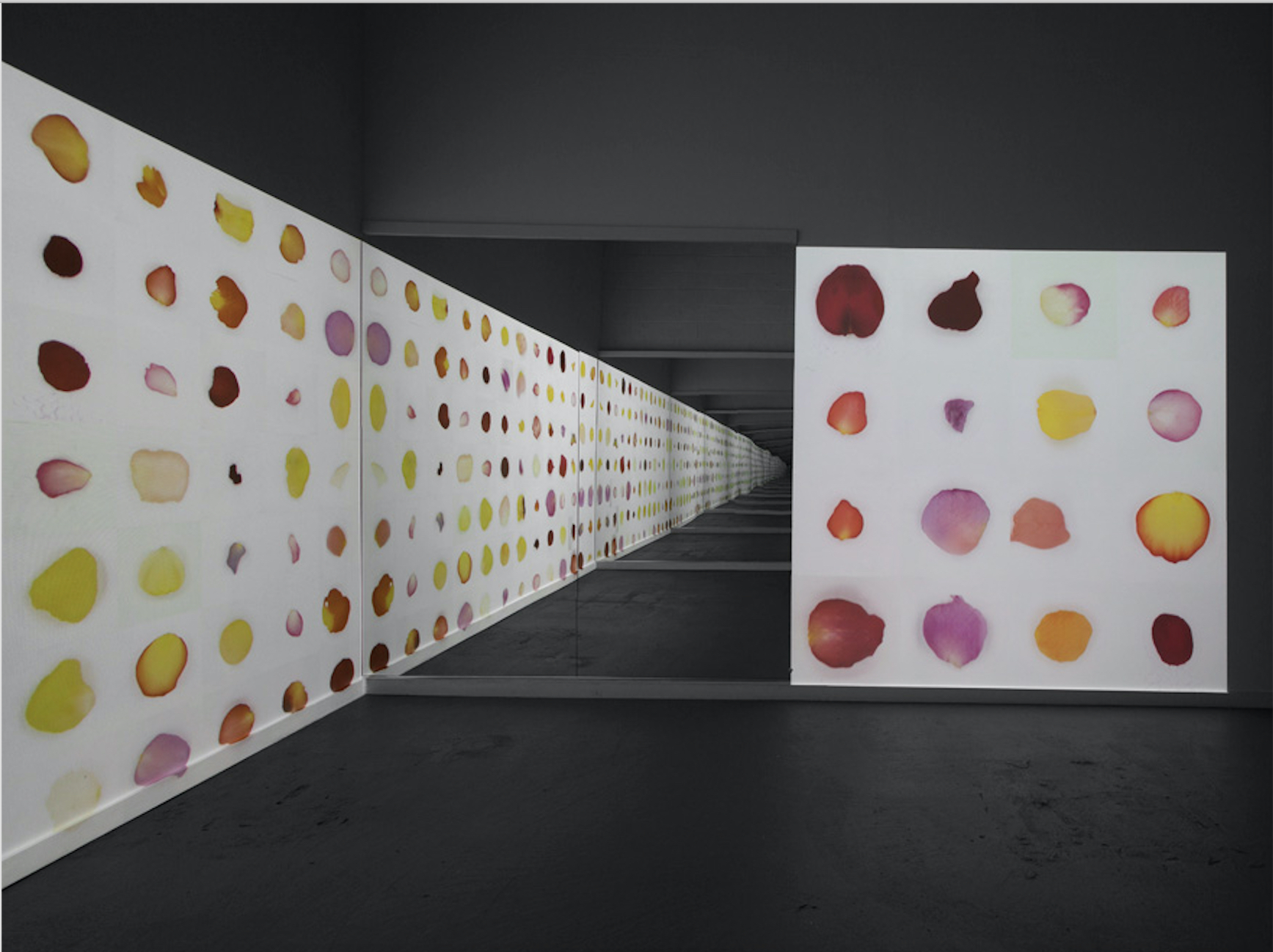 Artwork by Sarah Meyohas | Photo by PD Rearick
Built in an abandoned fire station at the edge of Detroit's Eastern Market stands the Wasserman Projects. The 9,000 square foot space is partially renovated being careful to show the scars of the lives that have lived in the building previously. The building's open-space floor plan shows scratches, dents, dings, and oil spills reminiscent of a time when Detroit fire trucks came in for maintenance.
With the scars, the building also features diverse contemporary artists from all over the world and from many art mediums. The Wasserman Project is part gallery, part museum, and part chicken breeder. Yes, chickens. The notion of chickens as art may sound weird and it is weird. Weird is good. Weird belongs in Detroit.
With one of its first exhibitions, Wasserman Projects introduced Detroiters in 2013 to the Cosmopolitan Chicken Project. This project, which featured chicken coups constructed in the gallery, celebrates the importance of connecting worldly experiences with local in an effort to create a stronger and healthier vision of the future. The Cosmopolitan Chicken Project (CCP) was started by Belgian artist Koen Vanmechelen, a multi- and transdisciplinary artist, 20 years ago in Belgium. Vanmechelen is a hybrid artist who works with frontiers of science and emerging technologies. He is one of Belgium's most prolific and prominent artists.
The CCP is a transtemporal examination of biocultural diversity and identity through the interplay of science and beauty. The ultimate goal of the project is to create a cosmopolitan chicken that carries genes from all the world's breeds of chicken. Eighteen countries have already been included in the genetic code of the chicken. The chicken is a healthier and more disease-resistant breed than it was at the start, creating a metaphor for the human animal and its relationship with biological and cultural diversity.
Even though the CCP has moved out of the gallery, the chickens are still being bred at the Oakland Avenue Urban Farm in Detroit. The Planetary Community Chicken eggs can be purchased for consumption at Eastern Market on the weekends.
Gary Wasserman is the founder of the Wasserman Projects. Wasserman is less of a gallery owner and more of an industrialist. He is the president of Allied Metals Corporation and an arts enthusiast and philanthropists. Wasserman became enamored with Detroit.
"These are Gary's words, not mine," Alison Wong, director of Wasserman Projects, said of Wasserman's return to Detroit, "He says he didn't just drink the kool aid, he dove in head first."
The gallery's mission is to provide a welcoming environment for all walks of life whether they be art collectors or just residents looking to gain culture.
"We really do try to offer something for everyone," Sara Blakeman, Wasserman Projects gallery manager, said, "It's a huge task and not every show and not every piece is going to meet that mark."
"It's really important to me as a curator, as an art director, to make the space feel inclusive and meant for everyone," Wong said, "even if you don't have the budget to purchase $20,000 artwork, you can have a conversation about what's going on."
Currently Wasserman Projects is exhibiting a joint collective in its gallery space, featuring Marela Zacarias's "Coatlicue's Return", and Sarah Meyohas's "Speculations" and "Cloud of Petals."
Zacarias was born in Mexico City, Mexico, and lives and works between there and New York. A muralist for over 10 years, she is well known for site-specific work, incorporating themes from the locales where her art is exhibited. The journalist and activist uses art as a vehicle for social change.
Coatlicue's (Kwat-li-kwei) Return features three-dimensional sculptures that reference Diego Rivera's murals at the Detroit Institute of Arts and architecture of the Fischer and the Guardian buildings. Coatlicue is a feminine god from Aztec mythology that symbolizes growth, destruction, and regrowth. A concept that is not unfamiliar to Detroit. "Coatlicue is a being represented by this machine," Zacarias said, "causing you to think, is technology going to take us into destruction or is it going to take us into a better world?"
The exhibit transforms figurative work into abstract landscapes that grow from the floor, hang from the ceilings, and protrude from the walls. Imbued by creative energy and a sense of resolve that fuels the city, the exhibit features tires, milk crates, and window frames found on Detroit's less-traveled neighborhood streets. The soft organic curves are created from wire mesh with dozens of layers of plaster.
The title work gives the impression of swaths of colorful billowing fabrics. The largest of the sculptures is an abstract version of Coatlicue as represented by Diego Rivera's depiction of her as a machine in his "South Wall" mural at the DIA. The sculpture is constructed of nine different pieces that can be pulled apart, like the god of Aztec mythology is by her children, and sold separately, so each piece can grow and develop its own story.
Sarah Meyohas is the other artist represented at the exhibit. Meyohas is a French-American visual artist based in New York City. Her disciplines include film and photography, both represented at the exhibit, and virtual reality, performance art, and sculptures.
Meyohas combines her Wall Street background with her art with her own cryptocurrency, BitchCoin. BitchCoin is sold for $100 and equates to twenty-five square inches of any of Meyohas photographic prints. The value of the BitchCoin fluctuates with the value of Meyohas's works.
"There are investors that are accruing interest, a lot of it, because her work has gotten so much attention." Wong said, "It poses really interesting questions in the correlation between an investment in stock as well as the investment in art. Either one is this sort of intangible concept. When you buy artwork it's not paper and ink. You're buying the ideas that went in to create it."
The "Speculations" series uses two-way mirrors with constructed props like rose petals, branches of yellow flowers, the human body, and rope. The photographs create a limitless exchange and do not have a definite end.
Meyohas's film "Cloud of Petals" was screened at an event held at Wasserman Projects on Nov. 10. The film was based on a large-scale exhibition at the abandoned Bell Labs in Holmdel, NJ. The two-floor exhibit featured sixteen male workers photographing 100,000 individual rose petals. The massive database was entered into an artificial intelligence algorithm that learns from the data to generate endlessly new flower petals that never existed in the physical form.
The film is an artistic journey through the process of creating "Cloud of Petals." Throughout the film a yellow python is seen slithering its way through man-made construction and weaves in and out of server room cables.
"I am disrupting the architecture with natural born creatures," Meyohas says of the snake that slithers through wiring in the abandoned building, "with something that shouldn't belong there."
During a personalized tour, Wong and Blakeman walked me through the exhibit and provided first-hand knowledge of each individual piece, stressing that everyone who visits the gallery is treated to the same level of care and attention.
"We are shifting some perspective: you can appreciate art without investing in it," Wong said of the gallery's philosophy, "Your investment in art is coming here. The artists gain so much more from people being able to see their work than just buying it. Artists aren't making things in a vacuum, it's not about creating something that nobody sees."
"Coatlicue's Return", "Speculations" and "Cloud of Petals" will continue through Dec. 15. The gallery is open 11:00 a.m. - 5:00 p.m. Wednesday, Thursday and Saturday and 11:00 a.m. - 7:00 p.m. on Friday. The Wasserman Projects is located just off Mack Avenue at 3434 Russell St, near Eastern Market in Detroit.
Share it now!