Welcome to the Ends of the World with Detroit's "Ambassadors of Psychedelia"
Gallery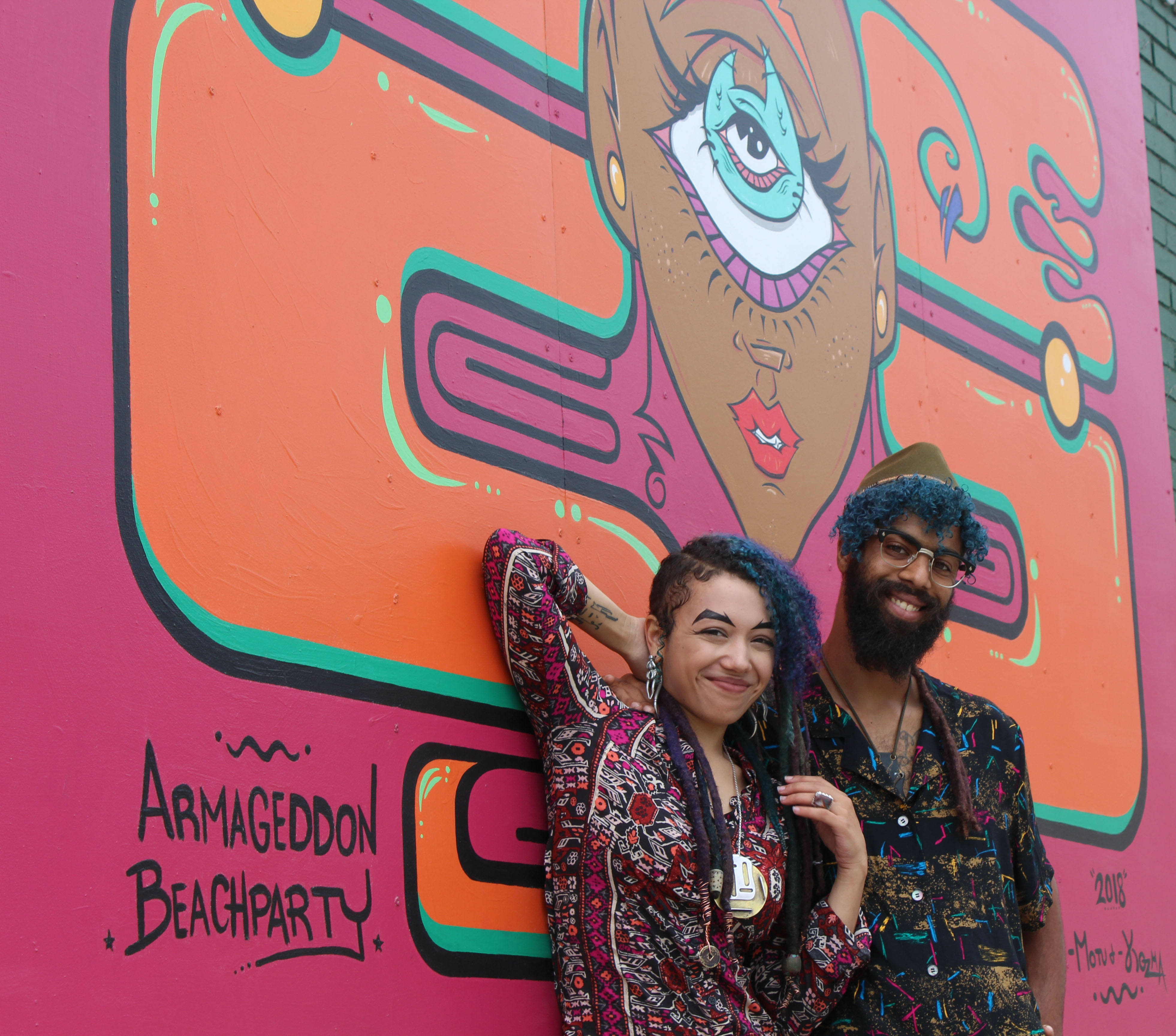 Photo by Jessica D'Alfonso
In Detroit's Woodbridge neighborhood, Armageddon Beachparty's recently-opened spot is impossible to overlook. The vibrant sign, brightly-colored outdoor seating, and windows filled with vivid and lively displays are practically enticing you to step inside for more.
And you'd be missing out if you didn't. Inside, this combination storefront, art gallery, lounge, and venue is adorned with a multitude of striking visuals: from the strange-looking, cycloptic cat-like creature that is strewn throughout to the surrealist and tribal-inspired paintings that hang on the walls, the space makes for a unique and effervescent Detroit experience.
Comprised of husband-and-wife duo Aubrey and Elena Smyth, Armageddon Beachparty opened their storefront in July in a block on the corner of Putnam St. and Trumbull Ave. The storefront is the first to open on the block, which will also contain "Bikes & Coffee," a new location for "Lucki's Cheesecakes," and "Katsu Detroit," a Japanese izakaya.
The apocalyptic name "Armageddon Beachparty," Aubrey explains, is "about how we live in a society that's so obsessed with the end of the world. We've lived through countless and supposed doomsdays. We imagine that we'll see many more within our lifetime."
"It's just a fun way of saying if the world's going to end, let's enjoy our time while we're here," he continues. "It's just about remembering to enjoy your life," Elena adds.
Their desire to enjoy life is evident in Armageddon Beachparty's start: The pair both explain how they had been miserable working their former jobs – Elena as a corporate graphic designer and Aubrey doing call center work – and had always dreamed of becoming successful, self-employed artists. One day they finally decided to take "a giant leap of faith" by quitting their jobs with nothing in the bank. "We ran off and and traveled the country for a couple months just living out of our car," Elena says.
They eventually came back to Detroit and began doing live performance painting at music events and festivals – such as Electric Forest in Michigan, AfroPunk Fest in Brooklyn and Mystery Land in New York. Elena continues, "We saved up enough within a couple weeks of getting back, got a new place and just went wild with it." Prior to opening the new storefront, they did these live performance paintings for about five years.
"It was just this really invigorating experience," she explains, "Some of the vibes that you experience and just the overall energy is just overwhelming and beautiful."
One particularly memorable festival moment, Elena says, is when the couple met three-time Grammy Award winning musician, Zac Brown, at the Voodoo Music and Arts Experience in New Orleans.
While the couple were setting up their vending booth on the first day, Elena says Brown was walking down the main drag and "made a beeline" for their booth. He absolutely loved their work and ended up buying about six or seven original paintings.
While arranging to bring over his purchases on the final day of the festival, Elena explains that Brown invited them to hang out, where he posited the idea of bringing them on for an artist residency.
The couple ended up doing two residencies for him. The first being in 2016, shortly after the festival at Brown's recording studio, Southern Ground Nashville in both Tennessee and Fayetteville, Georgia, and the second being at Brown's Southern Ground Headquarters in Fayetteville, in 2017.
"It was an absolutely amazing experience," Elena explains. "We got to do all sorts of work for his personal collection. For the first one, we painted a ton of different murals for him."
She shows off one such piece called "Dastardly Demon-sions," a vibrant painting of a three-eyed horned demon. Elena says that the original 5-foot-long piece is currently a headboard on Brown's tour bus.
She explains the process behind this complex piece, which took the couple about a week and a half to create: "It was painted on plexiglass, so you can actually see all of the details on the layering. We paint half of the piece on the back of the plexi and the rest on the front. The background red and the whites of the eyes – that's all done on the back. Then, all the detail work is done on the front, literally creating that multidimensional look."
However, the pair eventually felt that in order to grow as artists and create a more comprehensive ethos for Armageddon Beachparty, they needed to establish their own space. Elena explains, "It was not allowing us to create the caliber of work that we're capable of," later adding, "we wanted to open up our own space where we can actually lay down roots and, essentially, be able to focus more on some of the in-depth aspects of our work."
While they still want to do maybe "two or three major festivals a year," Armageddon Beachparty wants to scale back and shift their focus to having their work be seen more as fine arts. In addition to the storefront, they hope to put an emphasis on doing more national and international art galleries. They recently were featured in a exhibition entitled "Symbiosis" at Detroit Artists' Market on Woodward, which is focused on "artistic power couples."
"In the past number of years we've done tons of large-scale solo exhibits and things, but then, for a couple years, we got more wrapped up in the festival world of it," Elena explains, "[we're] shifting back to our original intent where it's like – no, we want to be world-renowned fine artists!"
Armageddon Beachparty also places heavy importance on reducing waste by reusing old furniture, canvas and miscellaneous objects in their work. Their prior work with Detroit-based recycling program, "Recycle Here!" gave them both different perspectives on reducing waste. "That heavily inspired a lot of our outlook on, you know, that the whole thing of reduce, reuse, recycle," Elena says.
"It's one of the things that humanity needs to needs to get a grip on." she says, adding that finding an "outside-of-the-box" way to recycle is essential: "There are all these materials that that we put out there into the world, and once they've been utilized for that one thing, we toss them away."
While explaining how the couple utilizes often-discarded objects in their work, Elena gestures to a side table in the lounge area. She exclaims, "This is could be a plethora of things!"
"The top of this table can be the background canvas for a painting. The border edges of this could be used for a found object assemblage of some sort." She points to a decoration on the side of the table: "Those portions could be, like, multiple mouths of like a multi-mouth beast of some sort." You can clearly feel her passion for her work, while her gears turn at the prospect of a new project.
In addition to reducing waste, using these "found objects" in their pieces also creates a more distinctive, remarkable piece of work. Elena excitedly points to a print on their wall called "No Barrier Fun."
"It's one of our fan favorite pieces," she says. She explains that the interesting texture created by using found objects often causes people to believe that their work is digital. She goes on to detail how the unique background texture was created: "That's all painted in acrylics and inks, but it was painted on top of a vintage 1950s tabletop." She additionally points out some veneer that had been incorporated into the painting: "We took these strips of veneer and we epoxy them onto the painting, and then cut them and painted over the edges, making them into these structural elements of the painting. So it's actual, tangible textural layers."
The couple acquires much of this furniture by going through old abandoned buildings around the city, as well as through donations from "Sit On It Detroit," a project that refurbishes old furniture to make park benches for the city; Elena says that "Sit On It" donates to them any wood that is unable to be used in making benches.
There are several of these found object assemblages throughout the store. Elena points out one called, "The Prognosis of the Woken Mind," an impressive wall sculpture that is a arranged as a colorful creature, with jagged teeth and massive, defined eyebrows. She explains that all the pieces of the work came from found objects from around the city: "The base of this is is from a vintage fireplace." She then points to the eyebrows: "The eyebrows are fan blades." The rest of it, she explains, contains metal from old oil cans, vintage mirrors, miscellaneous furniture and "wonky, different pieces of found wood."
The duo explains that most of the inspiration for their work comes primarily from their subconscious. Elena explains, "We have very vivid imaginations. We have spent many years building up our dream world and working on lucid dreaming," adding that they were once even able to co-dream. Aubrey elaborates that most mornings they wake up and discuss their dreams over coffee with each other: "There have been way too many times where it's all lined up."
They also elaborate that their upbringing had a major impact on their artwork. They both grew up with families who "pushed education and knowledge." He adds that they encouraged him to formulate his own ideas and perception of the world. Elena adds that the narrative of Armageddon Beachparty "is essentially a dissection and an exploration of how we've interpreted all of these things."
Armageddon Beachparty also has a company mascot named Gidget, which can be found in numerous paintings and products throughout the space.
Elena explains that Gidget is "one of our first original characters we created sort-of on a whim a number of years ago, and people just fell in love with this cat." The couple laugh and explain that although they were also doing these "hyper-conceptual" pieces at the time, any work that included Gidget practically flew off the shelves: "As fast as we could make the make these paintings or products with this little cat, they were just gone," Aubrey says while chuckling.
The duo also elaborates on the importance of revitalizing and including themselves in the community. Aubrey explains, "As born and raised natives we've always felt it was really important to have our brick and mortar flagship store here in the city."
Elena continues, "Yeah, the best way to fight gentrification is inclusion, so we're including ourselves in this revitalization."
The new storefront also functions as a venue, allowing Armageddon Beachparty to facilitate a number of events. They recently hosted a discussion of mycology called "Spores are from Space," with "Fungi Freights," a Detroit-based urban mushroom farm and environmental studio.
Elena points out that this is just one example of the like-minded people they hope to continue working with. Elena says that she and Aubrey are "basically just building up the community of very eccentric, open-minded people that have a similar set of goals and a similar message that they want to convey."
They also regularly host an assortment of events such as a comedy showcase called "Delinquents of Comedy," film showings, a drink and draw event with live models called "Sketchy Citizens Brigade," and a "Pass the Pineapple" open mic night, which welcomes all performance types.
The duo both feel it is imperative to build a community around their space: "All forms of expression are welcome here," Aubrey says, "we throw all different shows, all different genres." In addition to creating a "central hub for the subcultures of Detroit," Aubrey adds that they aim to dispel the stereotype of the "starving artist."
It is clear that Armageddon Beachparty is succeeding in bucking those stereotypes. Elena explains that not only was their grand opening was a massive success – they sold over half their work at the grand opening alone – they also have been met with great success over the past six years: "[We've] created over 500 paintings in the past six years and everything has sold, other than what you see right here and the five pieces we have on exhibit" at Detroit Artists' Market.
With their unique and versatile art-style, dedication to sustainability and commitment to community-building, Armageddon Beachparty is definitely an integral part of Detroit's vivacious and constantly-evolving art scene.