Quiet Reflection Room Moves to Eshleman Library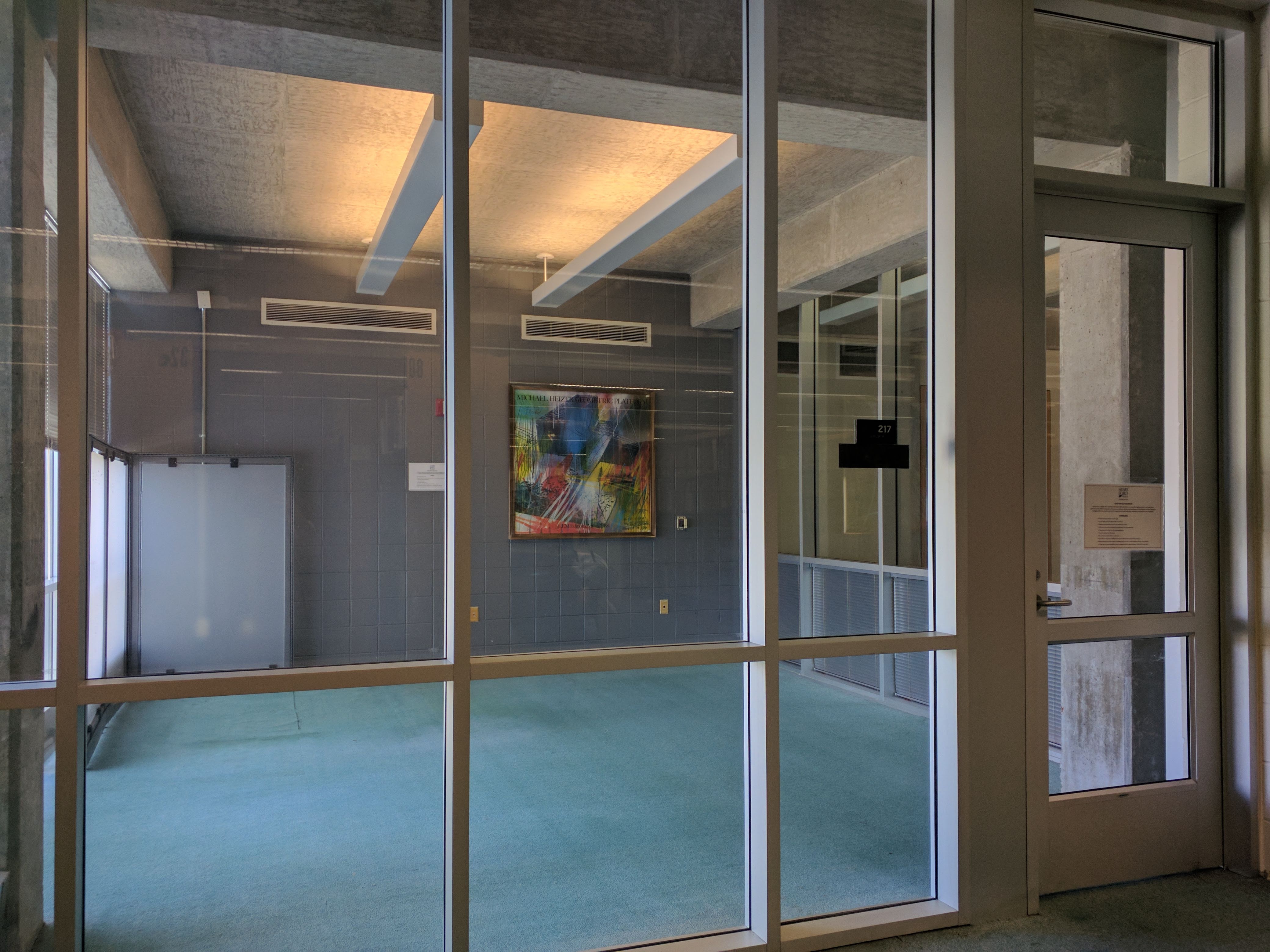 Henry Ford College took the initiative to address student concerns by upgrading the Quiet Reflection Room, an inclusive space of meditation, reflection and mindfulness on campus to one that better meets the needs of its students.
This space has been relocated from the Student Activities Center to the second floor of the Eshleman Library in building "B." The airy and window-walled space is bigger and brighter than the previous space.
According to Katrina Minnis, member of the HFC Operations Council, "HFC is always seeking to provide a full and safe campus experience for our students, our community and our employees. Moving the location of the meditation room is just one example of our continuous effort to fulfill that intent."
Minnis explains, "The new location for the meditation room came about because of both concerns and complaints that were made known to the Operations Council (a group of faculty and staff representatives that make sure that the operations of the college are student centered, student focused and effective) regarding the former location. This was a collaborative effort of both Operations Council and Coordinating Councils. Operations Council considered all of the issues and it was decided the best way to resolve them was to move the meditation Room to a larger location which could actually be considered a room and that fully met the original intention of HFC when we decided to include a meditation room as part of our campus."
Director of Marketing and Communications Rhonda Davis states, "At Henry Ford College, there's a uniquely affirmative intentional aspect around student success, while students are here and after they leave." She added, "Everyone here, that I've worked with cares really deeply about students: you see it on campus, you feel it in the way we communicate and connect. We love to hear from students what your real, on the day to day ground experience is because that helps us figure out how we need to grow as a college and do a better job."
Davis continued enthusiastically, "I love the diversity of humanity you find here, everything from racial diversity to ethnic to religious to age to ability to gender orientation. There's every kind of human diversity here and some of our work in the future is to turn that diversity into a more cohesive community because diversity by itself without equity and inclusion doesn't really accomplish anything except make pictures look nice."
According to World Religions Professor Adam Hazlett, "The use of sacred space on a college campus is a practice widely used. In some places it is a chapel, some a prayer room, ours a meditation room. My guess is that 'meditation' was probably used to indicate that this was not just a space for religious people who pray. Not all religions pray. However, quiet, reflective space is nice for introspection, mindfulness and calm. And I know that our library staff is working hard to integrate themselves into campus rather than just being a destination for books."
Davis observes, "They are people who are not religious who want a quiet place to reflect or to kind of settle themselves and find some peace from the hustle and bustle of daily lives. There are lounges and places for students to be and sit and to engage in whatever activities they want, but before the Quiet Reflection Room there wasn't really a room dedicated to that sort of reflectiveness. I mean you can go to the library but its not quite the same space and it didn't have that purposefulness to it."
Hazlett sees another reason of having a meditation room: "It is here because some students cannot make it off campus for their daily prayers and student activities thought it best to give them some space."
Hazlett continues, "As we are public, it needed to be a space for all, not just one religion or one set like the Abrahamic faiths. The advantages are vast. In a diverse college like ours, mediation rooms can be avenues of religious exploration without the social pressure of going to a synagogue, mosque, or church. Some practitioners of various faiths do not even like to go to their houses of worship due to the public spectacle. Public colleges cannot privilege one religion over another as well as they cannot discriminate against any religions."
Besides being small and congested, there was a multitude of concerns with the previous reflection room. According to Minnis, one vital concern was students would leave their belongings like backpacks, purses and shoes outside the room, which was a busy hallway. Minnis continued, "there were concerns for the safety of those visiting HFC, using that entryway to patronize the Fifty-One-O-One Restaurant, because of student belongings...being left in the footpath of that hallway."
Moreover, Minnis saw various limitations with the previous reflection room including, "complaints about long lines of students waiting to gain access to the room due to the limited space available, and the perceived intrusion of staff who had to physically step into the room in order to ensure it was being used properly. Other concerns of safety included the inside of the room not being easily visible, having a door that could be closed even when it was supposed to remain open, and the need for staff to monitor the room to discourage improper behavior: sleeping, doing homework, socializing, etc."
Davis saw that the previous room was "noisy because the Student Center is tiled floors" and "a lot of traffic went by." Also, one of Davis's "colleagues whose office was right nearby was constantly getting asked for things; she kind of became the de-facto Quiet Reflection Room person and she didn't want to do that. And it wasn't her job to do anyway."
With the new location, Minnis expressed her genuine satisfaction with the change, stating, "I believe the new location is much better than the previous one, since it is larger and is not in an entryway. It is still in a central area of campus making it easily accessible, and it is on a second floor as opposed to being in the foot traffic of a busy access entryway. I do not think the previous location could honestly be considered a "room" based on its size. This location has glass walls, and a glass door, an area for belongings that will not impede any foot traffic, and I truly felt it would remedy the concerns and complaints that were brought forth."
Muslim Student Association and Honors Program student, Malak Amasnaah, shared how welcome and thankful she felt knowing that her and "many other students' religious needs are accommodated on campus." To her, "it shows a symbol of commitment to religious diversity and dedication to affirming the values of students." Amasnaah also expressed delight regarding the location, saying, "it's much more convenient being located in the library; it's in a student centered environment; making it easier for students to carry out religious practices. Because I, like many other students, spend a great deal of time at the library, I found myself praying in corners and other secluded parts of the library. Now, I can take a prayer break in comfort, without worrying about disturbing others' space or distracting any students and easily get back to work."
When asked how she uses the room, Amasnaah replied," Before my academic education comes my religion. Because it is such a priority to me, I make sure I fulfill its obligations, even if it means being late to class or leaving early. Having a meditation room central to my campus gives me ample time to get around, thus fulfilling my religious and academic duties."
Amasnaah did, however, add that the room is glassed-in on three sides and feels at times "less of a reflection room when you're able to see people pass by or stare as you try to take a moment to yourself."
Amasnaah says, "We, students are grateful for the space that this institute has offered us; however, we shouldn't settle for the bare minimum. The meditation room can use some refurnishing. The carpet is quite old and unsanitary for students to be prostrating on. There are no prayer rugs, hangers, or shelves in the room. The institute should be able to invest in these items for the sake of their students' experience and its correlation to students' academic success."
Davis is pleased so far with the outcome of the relocated Reflection room. Davis observes that it "has been used pretty regularly" and that they have received positive feedback and "will continue to evaluate" how well the Quiet Reflection Room is working and "whether it is meeting the needs of students." Some of the improvements asked by students actually push the room towards "a direction of either to the religious or secular," however, as Davis points out, it is vital at a public college to not have a "religious kind of framing for the room," which is why it is called the Quiet Reflection Room and not a prayer room, as everyone is welcome in "our facilities, spaces, and amenities."
Hazlett says, "A quiet place can be hard to find around here. And quiet, calm reflection is never a negative thing. But yes, in my professional opinion as a religious studies educator, the meditation room is both needed and a good thing. Our First Amendment protects all religions from government intrusion and our college looks to foster conversation, fellowship and understanding amongst our diverse community. A meditation room is the perfect place for the individual to start that journey."
Share it now!