Pedaling the D
Gallery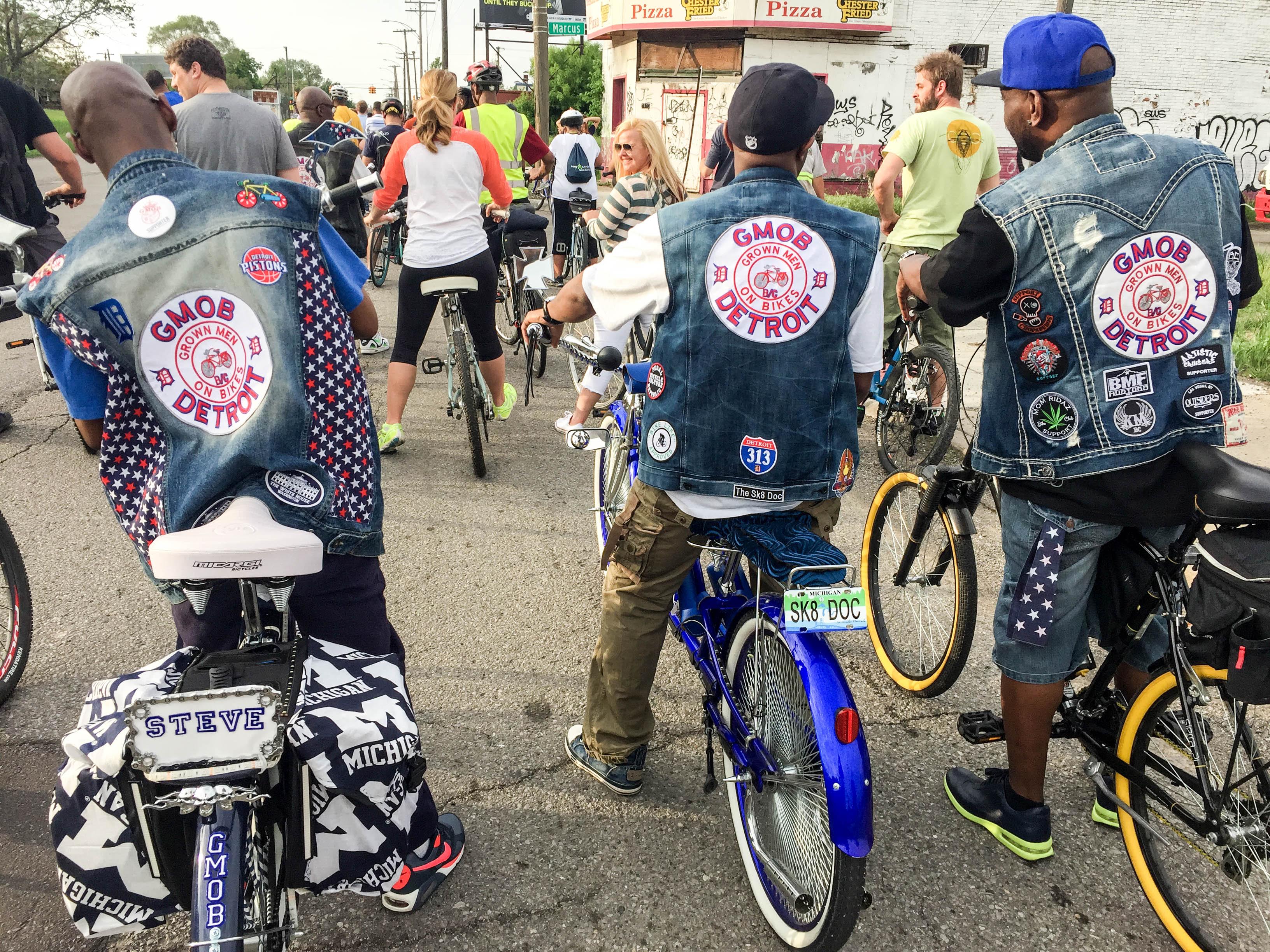 Detroit has held many monikers throughout the decades like Motown, Motor City, Hockeytown, and now, Detroit Bike City. The beautiful city has rapidly become a hub for cyclists and cyclists' activities. Drawing diverse groups of people from all walks of life to select neighborhoods and downtown by a common interest: cycling.
"Detroit is just a really nice place to ride," Calvin Hughes Jr., Vice President of the Wolverine Sports Club, told Cassandra Spratling of the Detroit Free Press. "People wave and smile at us. And the city's roads are nice and wide. They were built for heavy traffic. But now that the population is down, the sheer volume of motorized traffic is not high."
Detroit has focused on improving conditions for cycling. Bike lanes have grown rapidly since 2015 going from fifty miles to over two-hundred and fifty miles of bike lanes. Bike and scooter rental areas have been installed throughout the downtown area and there are free self-service bike repair stations along bike paths. Bike lanes have been added to streets.
Not everyone loves the bike enthusiast surge though. Popular cycling events can clog up the streets for motorized commuters traveling home from work, a sporting event, or concert. The sheer mass of these events has caused friction in driver and cyclists' relations.
"My 15-minute drive from downtown to Hamtramck took me 45 minutes. It's a goddamn nightmare. Their smug faces, smiling and waving. I was fucking two minutes from grinding them into the pavement." A frustrated driver told Michael Jackman of the Metro Times.
The way some of the bike lanes have been constructed is also a bit of a kerfuffle among city motorized vehicle commuters. The bicycle lane is created against the curb, allowing for the cyclist safety, then a lane dedicated to roadside parking, an essential for local businesses, and finally the vehicle driving lanes. The arrangement is causing drivers to worry for their safety when opening their door and stepping out into traffic.
The concerns are not completely unfounded, however, as Detroit has one of the highest pedestrian fatality rates in the country. Detroit has the highest per capita pedestrian death rate of 34.5 per one hundred thousand residents, and sports a 46 percent hit and run rate compared to the national average of 18 percent. "It may take time, but drivers will get used to the changes," Todd Scott, executive director of Detroit Greenways, told Nancy Derringer of the Detroit Journalism Cooperative. Detroit Greenways is a nonprofit group that promotes cycling and pedestrian safety.
Another downside is the argument that the bike paths are contributing to gentrification. A study from McGill University and the University of Quebec in Montreal points bias toward increasing cycling infrastructure in wealthier areas of Chicago and Portland, both cities considered to be a model for Detroit's progression. Aside from driver frustrations, the bicycle craze rolls a significant amount of good to the communities of Detroit. Bike shops are bursting into existence all around the city. The Detroit Bike factory opened in 2011 and sold one thousand bikes and in 2015, they sold more than five thousand bikes, all of which brings money and jobs into Detroit.
The cycling surge is a relatively inexpensive and vastly healthy hobby. It is not just healthy for the body but also the community. As clubs and groups of people sharing in the interest continue to pop up to ride together they are finding ways to better the neighborhoods they ride in.
One such club is the East Side Riders, a custom bicycle club that gathers on an undisclosed street deep in the inner-city. This club specializes in taking trashed items and turning that trash into glitz and glamour for their bikes and even into actual bicycles. As the group started gathering at their temporary clubhouse on a nearly empty street to fix their bikes and prepare for their rides the children from the neighborhood took notice.
Dywayne Neeley, president and founder of East Side Riders, along with his brother Mike would watch as the children from the area would ride up on raggedy bikes with rusted chains, flat or missing tires, missing seats and no brakes. It only seemed natural to the club to assist the children in fixing up their bikes. Now, the club has grown so much that they wrote bylaws, created a Facebook page to disseminate information and implemented dues to buy bicycling-related items and host club events. With the size of their club growing, so has their ability to help the local kids. The children have come to expect and look forward to the weekly visits from the East Side Riders and look to members as role models.
Another outcome of the cycling movement in Detroit is the events. Bike riding events have popped up all over Detroit, one for each night of the week. Including a Tuesday night "Phat Kid Ride" where participants ride by, and eat at, various exciting food spots throughout the neighborhood. Wednesday is a ride out of the Hub and Thursday out of Palmer Park. Friday night is a ride for more serious spandex-clad riders in Royal Oak that starts at the public library. Saturday night rides are posted on the Biking Belle Isle Facebook page.
The most prolific community bike ride is the famous Slow Roll Detroit. The Slow Roll attracts nearly five thousand riders every Monday night from March through October, weather permitting. The meeting time is 5:30 p.m. and ride time is 6:30 p.m. with the start points announced on their Facebook page. While the Slow Roll welcomes riders of all skill levels, it is important to know that this is not a fast-paced workout as much as it is slow jaunt focused on enjoying the surrounding area. The Slow Roll features many types of bikes and people that ride them. There are low-riding bikes that feature sparkling paint, shining chrome, and huge u-shaped handle bars. A group of riders come dressed as clowns. There are fancy bikes that twinkle with LED lights and bikes dressed up in crochet. I have seen a bright yellow bike complete with a costumed Tweety bird riding it as well as basic bikes with street-clothed riders. The Slow Roll is as much a moving art exhibit as a fun ride.
The Slow Roll was co-founded by Jason Hall and Mike MacKool in 2010. The Slow Roll has exploded with success and interest. The ride has inspired similar style rides in Chicago, Buffalo, Malmo, Sweden and Berlin. Jason Hall has had success from the event as well. Hall is featured in an Apple commercial where he demonstrates how the iPad helps him organize and run the Slow Roll and Levi sponsors him to wear their athletic gear. Hall has also become a frequent guest speaker on WDIV Channel 4 "Live in the D" where he talks about community events and activism.
Though Jason Hall retired, from the Slow Roll, in May of this year the legacy he created is not going anywhere. The Slow Roll has grown so quickly that riders are required to join the club at different levels; free, a $15 membership and a $60 VIP membership. The fees are used to pay for insurance and help get police escorts. When the club was smaller the streets were closed off by volunteers.
The Slow Roll attracts people from within the city and families from the suburbs, all coming together to enjoy a bike ride that also offers a glimpse into the beauty and small businesses of different Detroit neighborhoods.
"Detroit is an amazing melting pot," Jason Hall told Cassandra Spratling of the Detroit Free Press. "You have Dearborn. You have southwest Detroit. All these places exist. People want to see the diversity. When you create something where people can come together, that energy is infectious —the ability to meet new people and diversify your crowd. And the ability to see Detroit in a different light."
When considering the resurgence of bicycling in Detroit it may be important to have patience. The Slow Roll and other bike rides may hinder traffic and cause frustration for commuters but the upside of things include local business interest, jobs, a healthy community, and bringing together suburban folks with Detroit residents. So, keep peddling, Detroit, because the future is getting brighter.