Noname's "Room 25" is a Dreamy Journey of Self-Discovery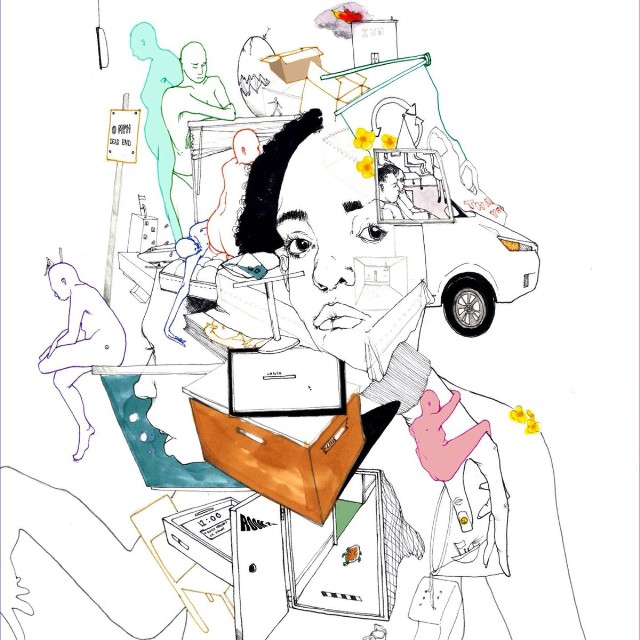 On Sept. 14, Fatimah Warner, under the moniker "Noname," released her highly anticipated debut album, "Room 25."
A follow-up to the rapper's 2016 mixtape, "Telefone," the album was released after only about a month of work. Noname explains in a September interview with Fader that the creation of the album came out of financial necessity: "It came to a point where it was, like, I needed to make an album because I need to pay my rent." Such a hastily put-together album definitely runs the risk of sounding rushed and unfinished, but Noname delivers with an album that sounds polished and thoughtful.
"Room 25" includes features from singers Adam Ness, Phoelix (who produced the album as well), Smino, and rappers Saba and Benjamin Earl Turner.
Noname developed her unique style of rapping after discovering slam poetry in high school. To Fader, she says, "I started watching a lot of old Def Poetry Jam videos on YouTube and got really obsessed with it." She then began researching youth poetry in Chicago and discovered YOUmedia - a library and studio space at Chicago Public Library, where teens can work with mentors on video, design, and music projects.
She also explains in a 2016 interview with Fader how she came up with her pen name: "For me, not having a name expands my creativity. I'm able to do anything. Noname could potentially be a nurse, Noname could be a screenwriter. I'm not limited to any one category of art or other existence, on a more existential level."
In "Self," the opening track of "Room 25," the 27-year-old Chicago native sets the tone for the album. She softly raps, "Maybe this the album you listen to in your car / when you driving home late at night / questioning every god" and the album accomplishes just that: the dreamy, minimal instrumentals juxtaposed with Noname's soothing vocal work make it easy to get lost in thought while listening to this album.
The rest of the album explores various themes, ranging from universal topics such as love and heartbreak, more racially-charged subjects like police brutality and gentrification, to personal insights into Noname's life and legacy. "Prayer Song," one of the highlights of the album, takes a political stance. In it, Noname raps a verse from the perspective of a corrupt policeman: "I seen a cellphone on the dash, could've sworn it's a gun / I ain't seen a toddler in the back after firing seven shots." To contrast, Montego Bae has a more easy-going, carefree feel. On it, Ravyn Lenae sings in a playful manner: "How's it feel to be on my mind? / I can't believe I found you in time." Lenae's bouncy, light hearted vocals paired with Noname's sexually-charged, quick-witted rapping makes it easily one of the best tracks on the albums. And in "Don't Forget About Me," Noname muses, "I know everyone goes someday / I know my body's fragile, know it's made from clay / but if I have to go, I pray my soul is still eternal / and my momma don't forget about me."
Despite her pleas not to forget about her, Noname doesn't want you to put her on a pedestal. To Fader, she explains, "Maybe this project will show some of those people who think that I am this very, like, conscious female rapper, that I'm just as regular and normal as everybody." This desire to perceived as "normal" is fairly evident throughout the album; Noname outlines her own hypocrisy in "Blaxploitation" ("Eating Chick-Fil-A in the shadows / that tastes like hypocrite"), her relative anonymity in "Window" (Everybody think they know me / don't nobody really know me) and her relatability in "Don't Forget About Me ("Tell 'em Noname still don't got no money / tell 'em Noname almost passed out drinking").
"Room 25," though often political, feels focused on self-reflection and discovery. To Fader, Noname states that she wanted to represent "[the] wide-eyed, bushy tailed feeling that I have of, like, I'm entering this new world, but I also wanted to showcase the sadness underneath it."
And Noname undeniably succeeds in contrasting that feeling of discovery with despondency. Though the album is still sonically very similar to "Telefone," Noname traded in her upbeat production and vocals for a slightly more solemn, controlled style. While "Telefone" felt like a boisterous observation of her external world, "Room 25" often feels more like a wistful exploration of self.
Although "Room 25" feels like a natural progression for Noname, it lacks the variation in vocal work and production that was prevalent throughout "Telefone." That lack leads to a slightly monotonous listen, with "Montego Bae" and "Blaxploitation" providing the few exceptions to this. The album could use a few more breaks from the somber, minimal sound. Though the project does not really surpass "Telefone," it holds its own and is worth a spot in your collection.
Still, Noname has shown a massive amount of growth since "Telefone"; it is clear that the rapper is working toward finding her own voice. The sparse, jazzy instrumentals combined with her more restrained, airy vocals makes for a charming, dreamy listen. With "Room 25," she definitely puts herself in the running for one of the best albums of 2018.
Share it now!