Henry Ford College Presents: "The Laramie Project"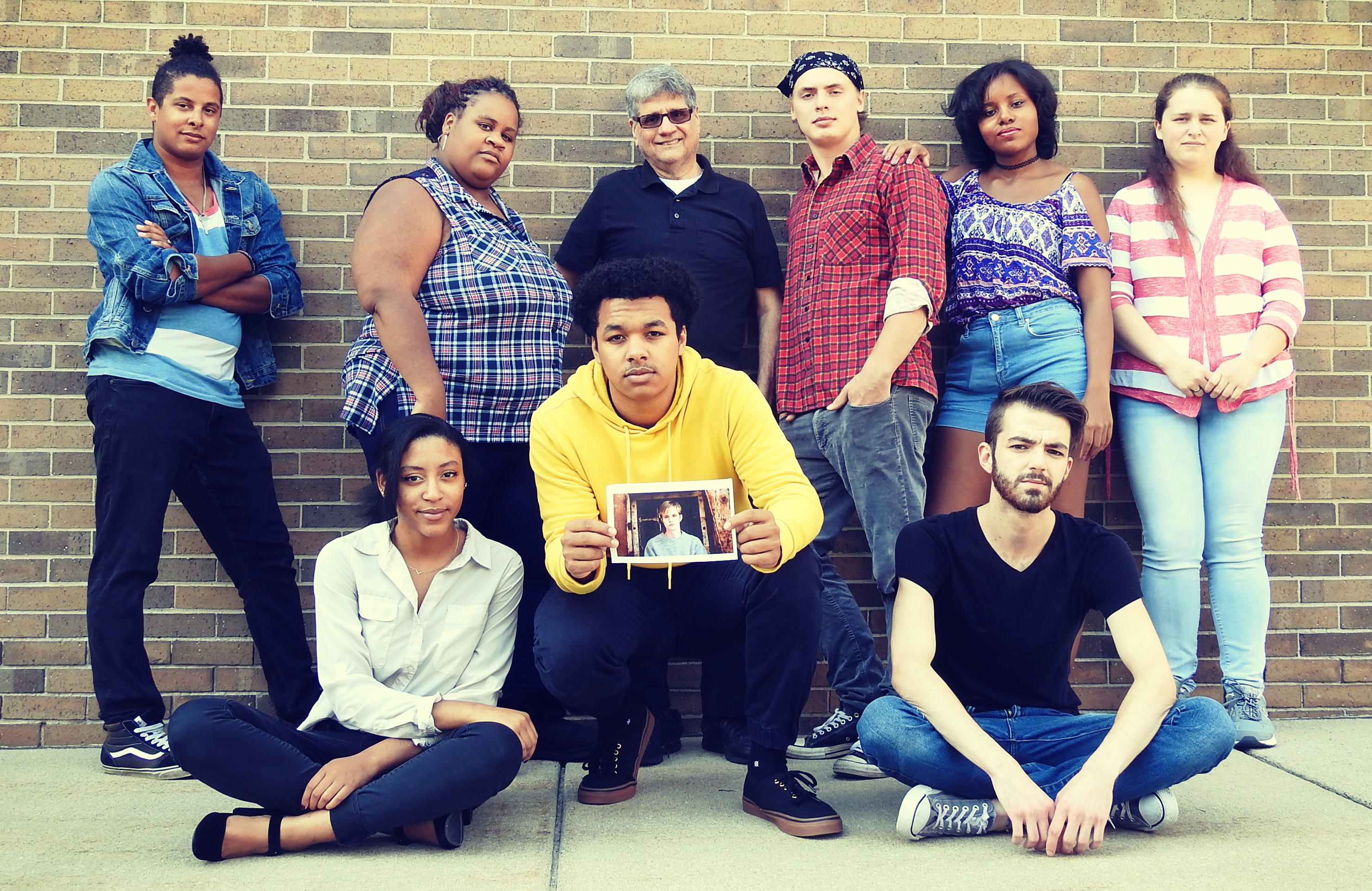 The cast of "The Laramie Project."
In 1998, the story of Matthew Shepard began to unfold before the nation.
Matthew Shepard was a 21 year-old University of Wyoming student who was beaten, robbed, tied to a fence and left to die after being picked up at the Fireside bar on Oct. 6,1998, by perpetrators Aaron Mckinny and Russel Henderson. Shepard was found 18 hours later by Laramie resident, Aaron Kreifels, who was biking through the mountains. With a six-inch fracture to his skull, Shepard's battle for his life ended six days later on Oct. 12. As a member of the LGBTQIA+ community, the murder of Matthew Shepard made international news and raised awareness of hate crimes against LGBTQIA+ people throughout the United States.
This year is the 20th anniversary of Shepard's death, and theater companies across the nation are performing "The Laramie Project" in honor of him. The story, the crime and the loss of life this play portrays has become a staple in LGBTQIA+ history. Albert Williams of the Chicago Reader reports, "But the play speaks to more than LGBTQ+ issues. It addresses fundamental questions that are more relevant than ever in our divided, angry nation. Will we allow ourselves to be shaped by hate or compassion? Cruelty or kindness? Fear or hope?"
"The Laramie Project" is more than a play, it's a documentary. Members of the TecTonic Theatre Project began conducting interviews with residents of Laramie to better understand the crime, the town and who Matthew Shepard was. The script was written using real interviews, journal entries from members of the company and other found texts. It's a show with a message, it's a show about people, it's a show about Matthew Shepard and how the little town of Laramie changed the future.
Henry Ford College's production of "The Laramie Project" is unique in that actors will portray multiple characters. There is a total of 58 different characters who make an appearance throughout the the three act show. While some may only have a few lines, others have pages worth of monologues. "The Laramie Project" is truly an ensemble piece, with a cast of 10 people, who all have to work together and rely on each other in order to be successful.
In a 2013 public service announcement by the Human Rights Campaign, Dennis Shepard, Matthew's father, stated: "You know, my biggest regret after walking into the hospital and seeing him was that I didn't tell him enough as a father that I loved him. The thing that I've learned the most is that your son is your son, your daughter is your daughter, regardless of whether they're straight or gay."
"The Laramie Project" will be directed by faculty member Sarah Moan, who is relatively new to HFC. Moan is "originally from Indiana. I'm a local actor, director and teacher, and have been a theatre professional for over 12 years. I wound up in Michigan because I got my MFA at Wayne State University, and I stuck around because I love the energy and the people of Detroit." Moan continues, "Since moving here, I have acted and directed at several local theaters including Tipping Point Theatre, Outvisible Theatre, the Matrix Theatre and Open Book Theatre, where I most recently played Ada Lovelace in 'Ada and the Engine.'"
The inspiration behind choosing "The Laramie Project" as the fall show comes from Moan's previous experience with the production. "I first came into contact with the show when I was in undergrad, and through the process I learned that theatre could be more than just musicals – it could stand for something and make an impact," says Moan. "So I swore to myself if I ever directed a college production it would be 'The Laramie Project.' Fast forward to last year when I was asked to direct for HFC and I knew I had to do this show. I knew it was important for the students to see theatre as a method of social justice. And even though the last time I did this show was 14 years ago, the message of tolerance and acceptance is still relevant, if not more so. I hope this production helps to give HFC students a voice in this movement."
"The Laramie Project" is still as important today as it was when it first opened. Moan explains: "Matthew Shepard has become a symbol for the gay rights movement, and although one could argue that progress has been made, there is still a lot of work to do. Living in such a divisive time, I find that theatre becomes so monumentally important because it asks you to look at people who you may not normally interact with, and that helps develop empathy. Matthew Shepard's story is unfortunately not uncommon, there is still a lot of hatred and violence towards the LGBTQIA+ community. I hope our production can inspire conversation and introspection among audience members and cast and crew alike."
What Moan hopes the audience takes away from the show is its realism, and most importantly, its message. "The story centers around real people dealing with a real tragedy, and being forced into the public eye because of the nature of the incident," Moan said. "It could be any of us on that stage. I'm hopeful the audience will take this opportunity to start a conversation about how we treat those different than us in our own communities, and become allies of those who are fighting for basic human rights in this country."
Moan says some performances will be followed by reflective conversation. "This show deals with some heavy subject matter. There will be a talkback led by myself and Chelsea Lonsdale of SAGA after each Sunday matinee for those who would like to reflect on what they saw." Lonsdale is the faculty advisor for the Sexuality and Gender Acceptance club.
Sophmore Bethany Lowhorn, 20, is taking the stage for the first time at HFC with plans to continue pursuing theater. What Lowhorn finds to be the most challenging aspect of this production so far is "not so much the lines, but rather the different characters." She explains, "One minute I have to be Romaine who is more a tough girl, but then the next I have to become Catherine who is more mature and mild mannered." Every character is important to the story in their own way, and while some are more tolerant and represent compassion, understanding and the will to change, there are others that express the exact opposite. "I like the play because it showcases different and opposing views," says Lowhorn, "and this is a safe place to show them. I just hope the audience leaves trying to understand both."
Making his HFC debut, freshman, Nathaniel Wilhelm, 18, is working to "portray real people with respect and genuity to their character." Sharing similar views to Lowhorn, Wilhelm shares what he wants the audience to learn from this experience: "I hope the audience takes away the message of tolerance and acceptance for other people's lifestyles."
"The Laramie Project" opens Nov. 8 and will run until Nov. 18. Thursday, Friday, and Saturday shows begin at 8:00 p.m., and there will be a Sunday matinee starting at 2:00 p.m. Before the Saturday, Nov. 10 show, there will be a special performance by the HFC choir, who will be performing a piece dedicated to Matthew Shepard. Tickets will cost $15 for the general public and $12 for HFC faculty and students. Seating will be limited and tickets can be purchased online ahead of time at www.hfcc.edu/campus-life/theatre.