Hawks Wrestling Making Strides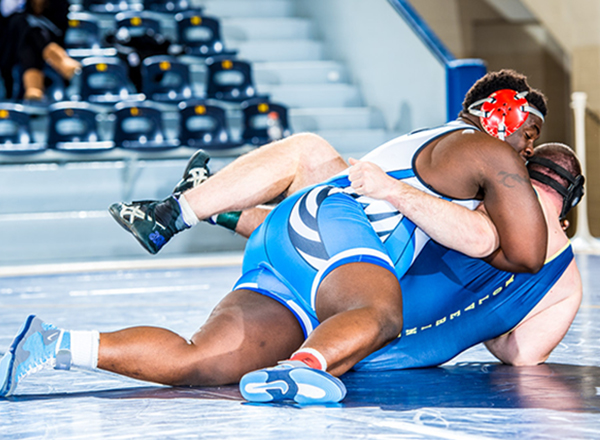 Placing fifth last year in the North Central District standings, the Henry Ford College wrestling team is looking to make a big impact this season. The squad is welcoming back six wrestlers as well as sixteen new faces.
The team has been making strides to progress upwards since its first season in 2013-2014. In 2017, the team officially became varsity status and is now looking to pursue a Great Lakes and National championship.
There were a few wrestlers that had great achievements last year. Darian Holmes took first place in the 285 lbs weight division. Austin Koehler and Jordan Haggerty took second place in their respective weight classes. Jeremy Nelson took fifth in his class and Tyler Bridge took the wildcard spot. The Hawks had a very successful run in the National Collegiate Wrestling Association, Great Lakes Conference.
The team is led by Coach Grant MacKenzie. Coach MacKenzie has been officially on staff since 2016, but he ran the Wrestling Club three years prior. He has earned "Coach of the Year" in the Great Lakes Conference.
Recruiting is ongoing for upcoming seasons as Coach MacKenzie looks for wrestlers that are passionate about their future careers, grateful for a second chance to wrestle besides high school and are willing to work to become the best.
The squad's first competition is a triple dual meet hosted at the University of Akron, with Slippery Rock University, on Saturday, Oct. 27. Their first hosted tournament this season will be the Whizzer Open on Sunday, Nov. 11.
For more information about upcoming competitions, please visit: athletics.hfcc.edu/varsity/wrestling.