Grab a Vegan Burger at Unburger Grill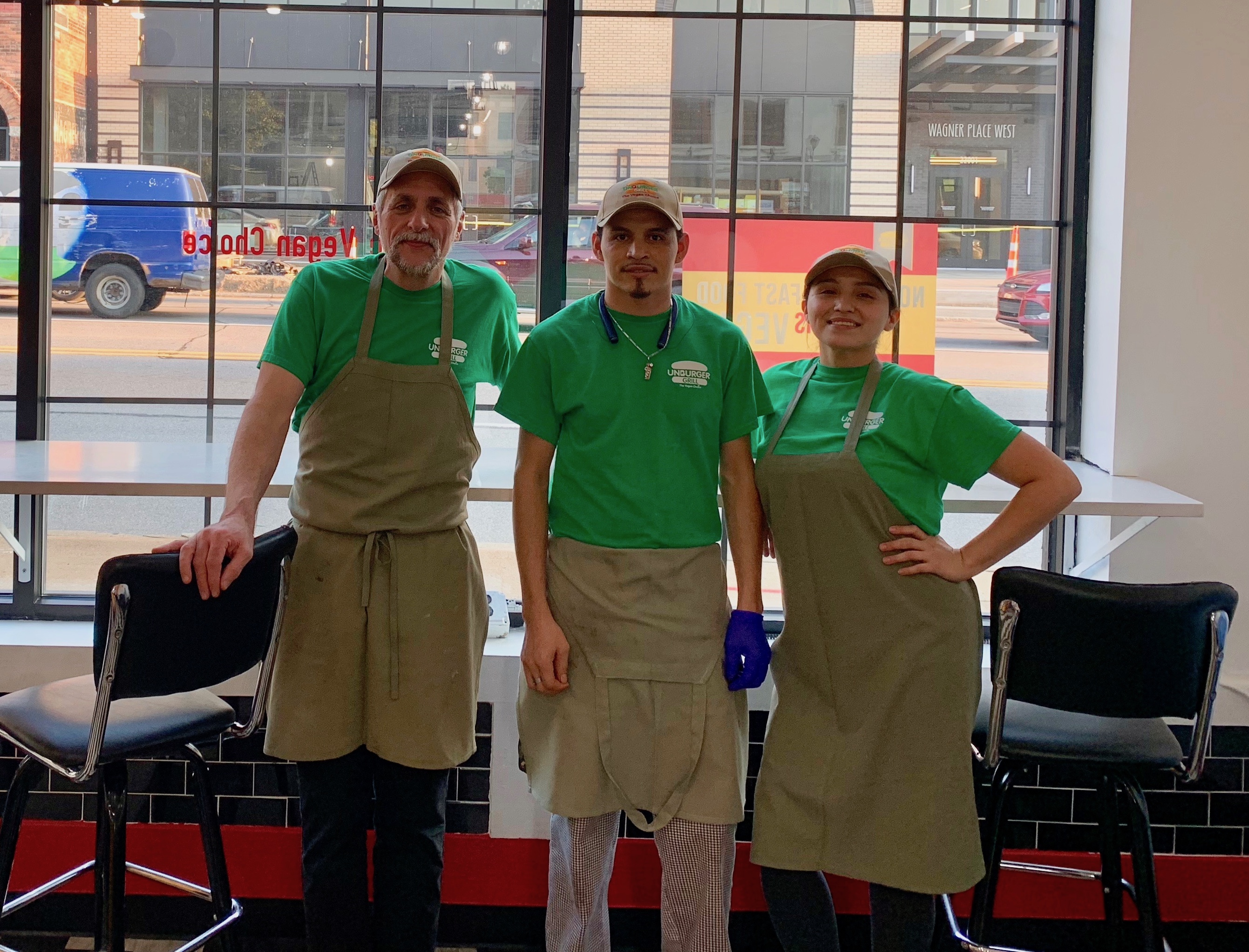 Left to Right: Christopher Oliver, Adan Estrada, and Bianca Nuñez. Photo by Jesse Mattox.
On Aug. 24, the start-up business, Unburger Grill, opened its doors for the first time. The co-owners, Jane Beckwith and Christopher Oliver, have created a restaurant where every item featured on their menu is completely vegan.
Located at 22018 Michigan Avenue, this small restaurant is the first of its kind in Dearborn. Unburger Grill is "committed to serving fresh quality food free of animal products or by products" and to "providing consumers who are pursuing a plant-based diet all the convenience and pleasure they would find in a quality food establishment." After receiving five stars on Yelp, I had to see if Unburger Grill lives up to the hype.
Walking through a little hidden patio square and into the back entrance of Unburger Grill, I was greeted with a very pleasing simple, vintage, diner. The man working the front counter was one of the owners, Christopher Oliver. Excited that this was my first visit, Oliver enthusiastically went over his menu with me. I decided to go with the "Sweet BBQ," a sweet potato and quinoa burger with bbq sauce, grilled onions, and slaw (which I got on the side), and I added a side of fries. The food is made fresh, and I was impressed that my order was delivered to my table in less than 10 minutes.
The food was very flavorful, but not overly filling. I cleaned my plate entirely, and I still had room for dessert. I ordered one dark chocolate and one blondie brownie. The blondie was just out of the oven and still warm. Nothing beats a fresh baked good.
Oliver shared how Unburger Grill got started: "So it starts with extremely poor health on my part, diabetes and two cancers, and as I transitioned into better living – better eating – my health improved. I became very passionate about what was happening to me, and to my thinking, the natural thing was to pair this new passion with what has been a 30-year work experience with food." Oliver continues, "I've been in the fast-food, deli business for 30 years, and I was frustrated that vegans, mostly myself at the time, that I couldn't dine out...Or like my competition that offers a vegan burger cooked right alongside the cow flesh on the griddle, and the burger person doesn't differentiate between the gloves, it's just a mess." Oliver's frustration over eating out led to creating his own dining experience. "So I said there's got to be another way and the Unburger Grill is a product of that inspiration."
The Unburger Grill has had a following since before they opened, receiving support on KickStarter from both members of the community and people around the world. When asked how it felt to have the community come together and help support them, Oliver stated: "It is very hard to put into words. Kickstarter is, in a lot of ways, the very best of social media. In that here is a platform that is intended to bring a global community together to the support of one person – amazing. It was almost so surreal in a way that you can't fully appreciate what happens. When someone from Indonesia donates 5 dollars, it is just very hard to fully appreciate what happened with that experience, they'll never get to experience what happened here, so it was amazing." Oliver continues, "I would say that the greatest value would be the number of people who come in here and say, that's how I first found you… I had one gentlemen, bless his heart, said that, 'I followed your whole story, I followed you on Facebook.' I was just flattered."
"What I try to tell everybody," says Oliver, "is you don't have to be a vegan to enjoy good tasting food. Yes I promote Unburger Grill as a vegan restaurant of course; but quite frankly, I see Unburger Grill as this melting pot, as this unique diversity place." Oliver adds, "The unique thing about food throughout human history is it is the platform that has drawn us together despite our religions, our colors, our races, whatever it may be, food is the common denominator and that's what I want to be for everyone."
Whether you're looking for a healthy alternative, or just to try something different, Unburger Grill is the perfect spot for both. From sweet treats, to soups and vegan burgers, this new little Dearborn diner is sure to have something even non-vegans will enjoy.
Share it now!