Remembering Senator John McCain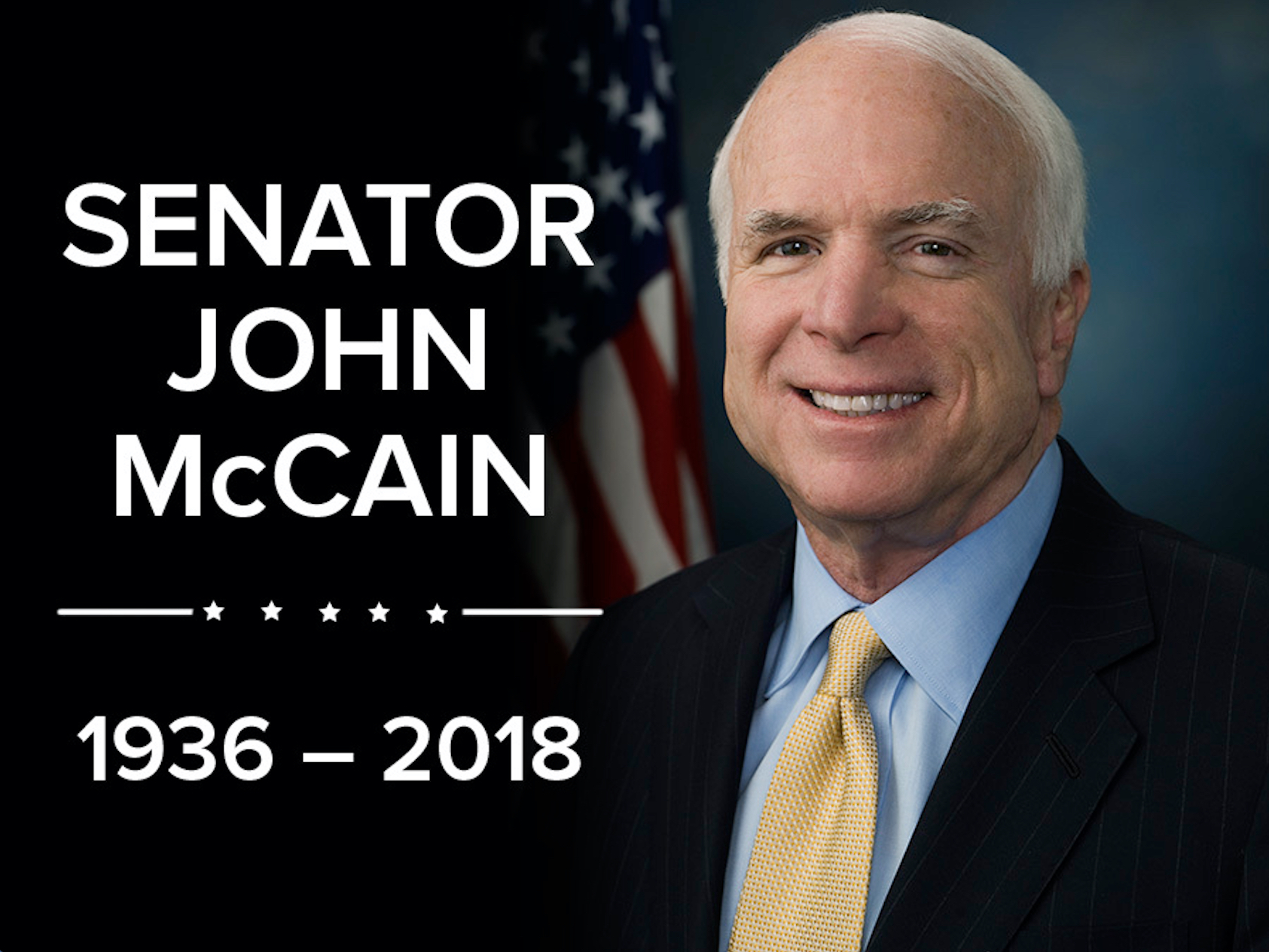 On Aug. 25, Senator John McCain passed away at 81 due to a malignant brain tumor, a day after ceasing treatment. McCain had been fighting cancer since last year, undergoing extensive treated with chemotherapy and radiation since its discovery.
The Arizona senator had experienced more than his fair share of challenges prior to his diagnosis. During the Vietnam war, McCain was captured after his plane was shot down, and was held as a prisoner of war for over 5 years. Despite brutal torturing, resulting in life-long crippling and muscle damage, when given the opportunity to be released early, McCain refused, upholding military code ordering soldiers to accept release in the order at which they were captured. McCain turned down a chance at freedom, so that his fellow soldiers could return home.
As senator, McCain pushed against his fellow Republicans and spoke openly against harsh interrogation methods used by the CIA, sighting his own time imprisoned by the Vietcong.
McCain was never one to fall in line, vote against his beliefs, or simply vote down party lines. From shocking the country with a dramatic thumbs down, slowing down the Republican effort to repeal the Affordable Care Act, to working with Democrats on climate change and bipartisan immigration reform. McCain was often an outspoken proponent of bipartisan compromise.
McCain's unbreakable spirit and near unwavering support for what he believed in earned him the title "Maverick."
McCain's former opponents in his two bids for the White House, Presidents Obama and Bush, were asked to attend and speak at McCain's funeral. President Obama highlighted McCain's spirit for democracy, and his willingness to speak his mind, criticizing and complementing his political opponents and peers alike. President Bush reflected upon his relationship with the late senator, and its transition from rivalry to strong friendship. McCain held a fervent respect for freedom and justice, and disdain towards those who would seek to corrupt them. While he may have made a number of mistakes in his life, McCain tried to strive toward a better future for our country, pushing against what he believed was not indicative of the America he loved. President Bush echoed this sentiment in his tribute to the senator, "We are better than this, America is better than this."
When asked how he wanted to be remembered, McCain opted for, "He served his country, and not always right, made a lot of mistakes, made a lot of errors, but served his country. And I hope we could add honorably." In today's era of partisan polarization, McCain's willingness to reach across the aisle to work for what he believed to be the benefit of this country, will remain a shining example for a better future. Senator McCain, you will be missed.