In Memory of the Queen of Soul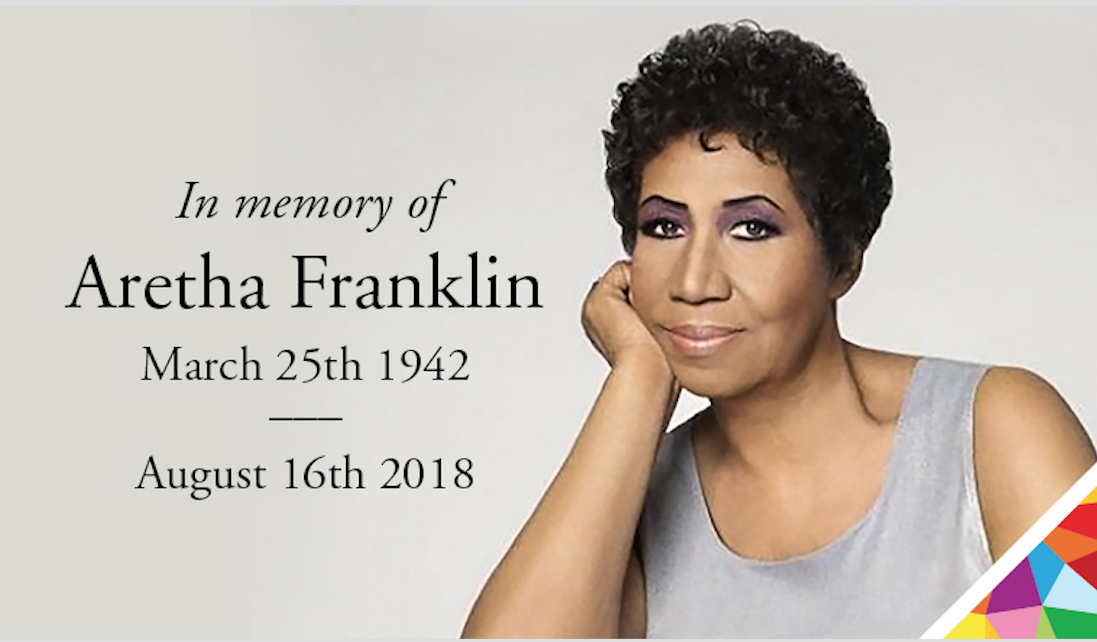 On Aug. 16, the world lost a legend, an icon, a pioneer and a beautiful soul. Aretha Louise Franklin, the Queen of Soul, passed away due to pancreatic cancer in her home in Detroit, the city where it all began.
Aretha Louise Franklin was a pioneer and icon of the music industry, who's passion, power, and love resonated with listeners for decades.
Born Mar. 25, 1942, as the daughter of Barbara Franklin, a gospel singer and pianist, and Rev. C.L. Franklin, who presided over the New Bethel Baptist Church of Detroit, Aretha Franklin was surrounded by music growing up. Traveling with her father to major cities throughout the country to sing as a member of his his gospel choir, Franklin was quickly gaining recognition as a musical prodigy. At 14, she released her first album "The Gospel Sound of Aretha Franklin."
Beginning as a gospel and blues singer, Franklin's music evolved over time incorporating elements of Motown and R&B into her work by the mid 60s. It was around this time that Franklin used her music to support the Civil Rights Movement. Encyclopedia Britannica states: "Franklin refined a style associated with Ray Charles—a rousing mixture of gospel and rhythm and blues—and raised it to new heights. As a civil-rights-minded nation lent greater support to black urban music, Franklin was crowned the 'Queen of Soul.' 'Respect,' her 1967 cover of Otis Redding's spirited composition, became an anthem operating on personal, sexual, and racial levels." As music trends shifted towards disco and more upbeat rhythms at the start of the 80s, so did Franklin.
Releasing hits such as, "Jump to It" and "Freeway of Love," Franklin became the first female to be inducted into the Rock and Roll Hall of Fame in 1987. As time went on, her album sales couldn't contend with the modern music of the 90's and 2000's; however, she never lost her ambition or her love for music. In 2009, the Queen of Soul captivated the country with her performance of "My Country 'Tis of Thee" at Barack Obama's Presidential Inauguration. By the end of her 60-year music career, Franklin had won 18 Grammys and sold over 75 million records.
Aside from her fame in the music industry, Franklin lived a philanthropic life supporting 11 different charities such as: the Barbara Davis Center for Childhood Diabetes, Feeding America, MusiCares, NAACP, Special Olympics, The Rainforest Foundation and the United Service Organization. Franklin was named MusiCares Person of the Year in 2008 for her charitable work. Mayor of Detroit, Mike Duggan, commented on her passing saying, "From the time her father gave Aretha her start in the New Bethel choir, it was clear to everyone how special she was. She was a performer without peers. Throughout her extraordinary life and career, she earned the love – and yes, the respect – of millions of people, not just for herself and for women everywhere, but for the city she loved so dearly and called home."
The city of Detroit loved Franklin as much as she loved Detroit. In a quote from "Aretha: From These Roots," she said, "Detroiters realize how deeply I appreciate the city in which I was raised, "And it is in Detroit that I continue to cultivate my career; it is to Detroit that I direct most of my charitable activities; and it is from Detroit that I receive much love and support, which I reciprocate."
Share it now!