"BoJack Horseman" Perfectly Blends Tragedy with Comedy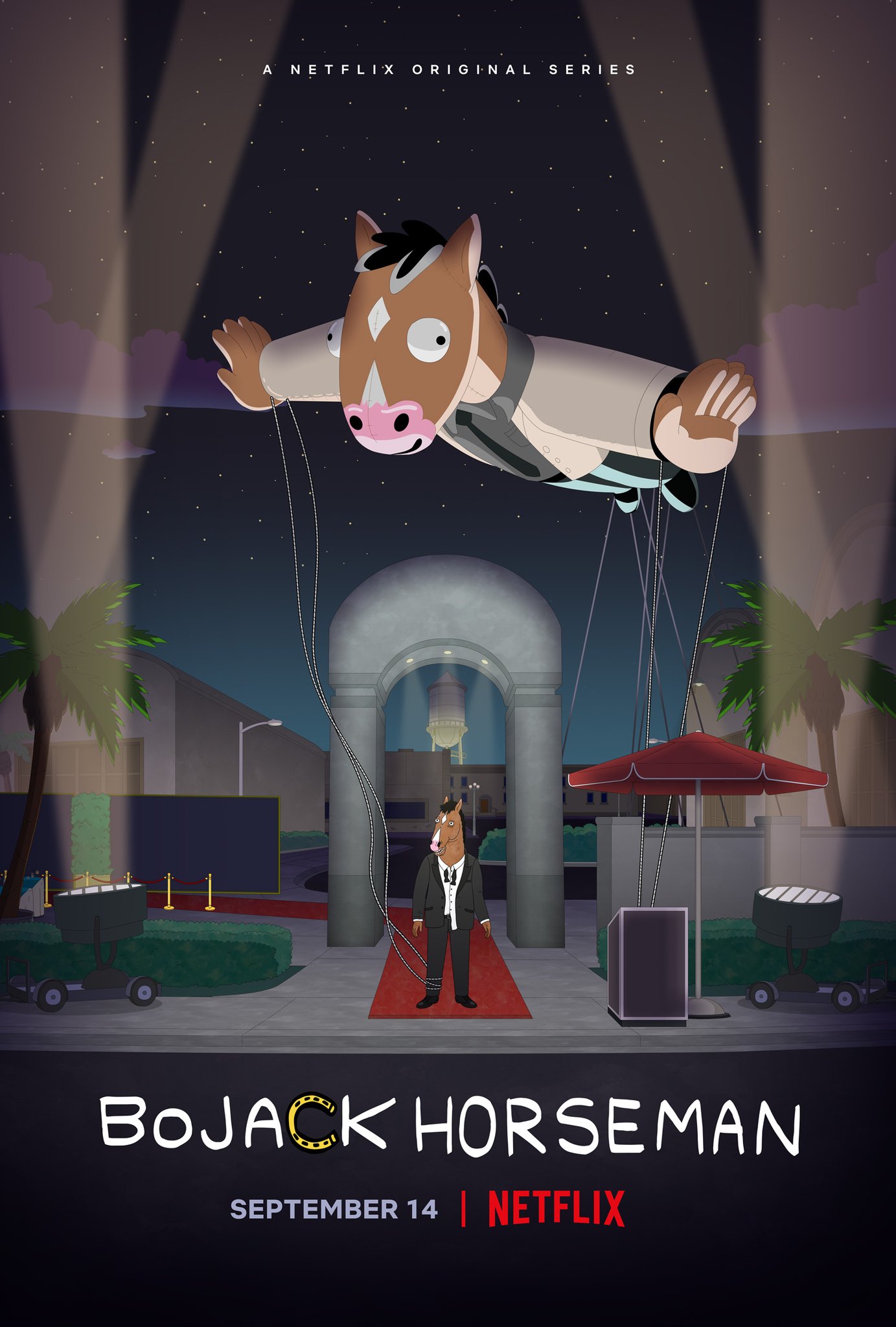 Poster Courtesy of Netflix.
Season five of Bob Waksberg's critically acclaimed popular adult animated series, "Bojack Horseman," was released on Sept. 14 on Netflix.
Season five follows the title character taking on his new role as "Philbert" – an alcoholic, troubled detective who is eerily like BoJack (voiced by Will Arnett) himself – while managing his alcoholism and drug addiction. BoJack devises a system of reducing his alcohol intake by marking a bottle of vodka with days of the week – allowing himself to only drink a certain amount daily. At first, everything seems to be going well for BoJack - he has the starring role in a new television show, begins a healthy relationship with his co-star, Gina (Stephanie Beatriz), and seems to be reducing his dependence on alcohol.
Unfortunately, a stunt accident on the set of "Philbert" dramatically inhibits his recovery. He develops a reliance on prescription painkillers, which eventually spirals out of control. After watching a relatively stable and well-adjusted BoJack in the first half of the season, it is difficult to witness him slip back into his old ways. It is especially painful to watch BoJack desperately search for a source of painkillers – all while lying to his half-sister, Hollyhock (Aparna Nancherla) about how much pain he is in.
Meanwhile, Diane's (Alison Brie) reaction to her recent divorce from Mr. Peanutbutter is explored in depth. After witnessing her ex-husband with another woman, she immediately leaves on a trip to Vietnam to "find herself." During her trip, she expects to feel a connection to her ancestry, but ultimately ends up completely unable to relate. Her monologue toward the end of the episode after realizing that she feels more alone than ever is especially heartbreaking, though she eventually proclaims: "You learn that you can survive being alone."
Additionally, the show's #MeToo arc is relevant and well-handled; it manages to make a serious issue more light-hearted without being offensive. In episode four, BoJack makes an appearance on a talk show – originally to defend his new co-star, Vance Waggoner (Bobby Cannavale) – but ends up accidentally denouncing his behavior by simply stating that choking women is "not good." This statement leads to a hilarious, yet frustrating montage, as the public has now proclaimed BoJack to be a "male feminist," where he continues to make talk show appearances while he merely mimics Diane's earlier ideas and opinions.
Still, it is incredibly frustrating to see BoJack's continued lack of growth and self-awareness. Following his conversation with Diane in episode ten, it becomes clear that his previous moment of feminist "wokeness" was nothing more than posturing. BoJack avoids accepting responsibility for his actions, while refusing to recognize the impact they have had on those in his life, claiming they likely don't remember anyway; he's the one who has to live with his own guilt.
Overall, "BoJack Horseman" continues to develop a poignant and relatable portrayal of mental illness, drug addiction, and self-destructive tendencies. Though season five depicts BoJack at perhaps his worst, it provides even more insight to the character's self-destructive behavior. Although the series is a comedy, the constant self-destructive behavior and struggles with mental illness are not treated lightly.
Share it now!