Henry Ford College Presents "The Flick"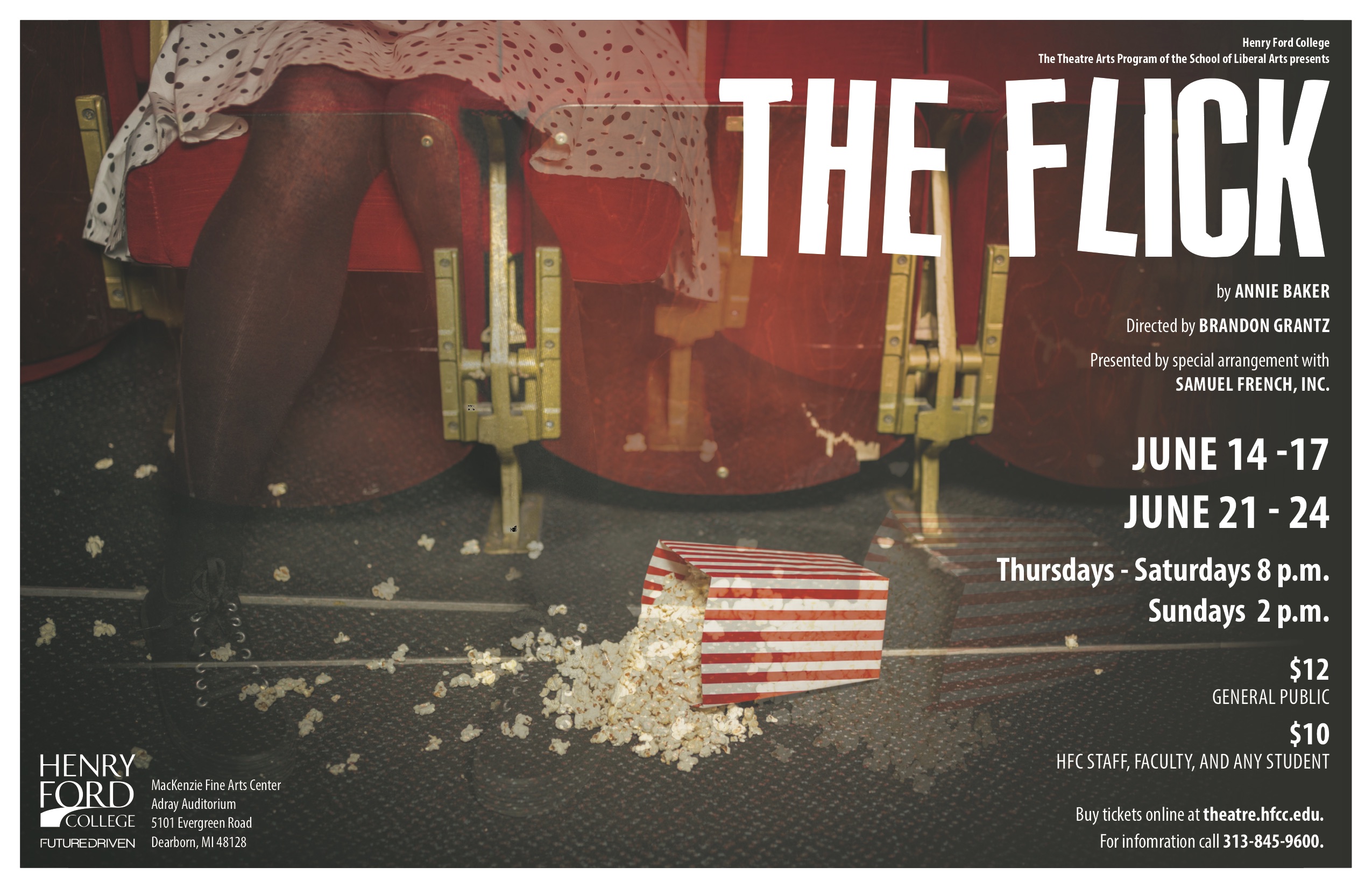 Courtesy of HFC Theater Department
Annie Baker's "The Flick," opened June 14, in the Adray Auditorium. Winner of the 2013 OBIE Award for Playwriting, the 2013 Susan Smith Blackburn Prize and the 2014 Pulitzer, "The Flick" showcases the struggle of remaining authentic in an ever-changing world.
The play focuses on three movie theater employees, Sam, Avery and Rose, as they tend to one of the last 35 millimeter film projector theaters in the state. The seemingly carefree trio attempt to make their mundane routine of cleaning the theater and preparing for the next show interesting through conversation, or playing games with one another, and as relationships build and bonds are broken, each of the character's lives, personal battles and secrets are revealed.
Brandon Grantz, director of "The Flick," shares his background in theatre, which started here at HFC. "I started acting at Henry Ford in 2006, where my love for acting began," he says. "We used to take trips to the Stratford Festival in Canada and I knew that I wanted to be an actor/director. I transferred to Eastern Michigan University where I received my bachelor's in theatre. After finishing, I wanted to continue my training further and I was able to receive a full ride to get my Masters in Fine Arts in Acting from Wayne State University. While studying at Wayne State, I got the opportunity to train at the Moscow Art Theatre school in Russia for a month straight. It was one of the most influential experiences in my theatre career. After graduation I moved to New York to pursue my career." He continues, "The pursuit was very short due to the fact my wife became pregnant six days before we moved, with a show under my wings and multiple jobs, we decided to move back home to Michigan to raise our daughter. I was then blessed to be able to be an adjunct professor at Henry Ford College and see my story come around full circle."
The decision behind Grantz choosing "The Flick" as the spring show was due to the lasting impression it left on him while he was still studying as a graduate student. "After reading 'The Flick' in grad school, I fell in love with the play—the writing, the topic, the subject, and I love movies. I always wanted to either be in the show or direct the show someday, so when I got the opportunity to direct at Henry Ford College I could not think of any other play to do." For the second time this year, HFC is bringing the audience on stage using platforms and risers; however, the cast won't be joining them. The audience will be looking out into the house of the theatre which will serve as the set for "The Flick." Grantz discusses the inspiration behind this decision: "Since I love the space so much, I thought what about using the actual theatre as the set. It's such an old theatre and it has this beautiful history that I believe Annie Baker was capturing in her play when she wrote it and is what the theatre means to me with all of my history." Grantz continues, "So we are trying a concept which has never been done before in this space, and I'm excited to see what everybody thinks."
Stepping out onto HFC's stage for the fifth time, I will be playing the role of Sam. I fell in love with this character while reading the show. He's sarcastic, insecure and a little vulgar. Sam is down on his luck and works a crappy dead-end job just to survive in the world. Sam is the most realistic character I've played so far, which is actually my favorite part of "The Flick" – its realism. This show has captured the humor and heartbreak of everyday life in a way that I have never seen portrayed on stage before.
The role of Avery will be played by freshman and theatre major, Corey Travis. "Avery is a giant movie buff and lives for movie related things," says Travis. "He's very shy and introverted, which may be due to his depression, but he tries his best all the time." He continues, "I like him because he reminds me a lot of myself and how despite everything he refuses to back down from what he thinks is right." Travis closes with, "I think people should see the show because it's about everyday situations that everyone can relate too. There's no overly dramatic moments or big spectacles which sets this play apart and makes it more appealing."
Sophomores, Sasha Johnson and Kaylin Reed, will be making their HFC debut as Rose. "I would describe my character Rose as someone who is witty, free spirited, insecure, fickle but very caring about her friends," says Johnson. "Rose has a constant sense of humor even through rough times which reminds me of myself." Reed shares a similar likeness for Rose saying, "I like that my character is a bit on the rough side, she's edgy and goes for what she wants." Reed says, "I'm excited to perform the show and hear feedback from the audience by their reactions while watching the show and afterwards.". As a message to the audience, Johnson had this to say: "To all of you, and by you, I mean the audience, I want to share with you this one thing: "The Flick" will be nothing like any other play you have seen. This award winning play written by Annie Baker is a contemporary, heart-wrenching, 'dramedy' that expresses everyday anxieties, feelings, thoughts and experiences in a natural way."
John Jakupco and Christian Matthews will be alternating the roles of Dreaming Man and Skylar on performance nights. The Dreaming Man is a hilarious scene stealer. "I get one line and an opportunity to do some slapstick," says Jakupco. "I'm mostly excited for my slapstick opportunity. I haven't gotten to do anything similar since my high school production of 'Bye Bye Birdie.'" In his second year, and majoring in animation, this is Jakupco's first production at HFC. "The Flick" will be held in the Adray Auditorium, located in the Mackenzie Fine Arts Building, on June 21 - 24. Thursday, Friday and Saturday shows start at 8:00 PM. The Sunday matinee begins at 2:00 PM. General admission is $12 for the public and $10 for HFC faculty, staff and students.
Share it now!