Detroit Movie Theaters Emphasize Community
Gallery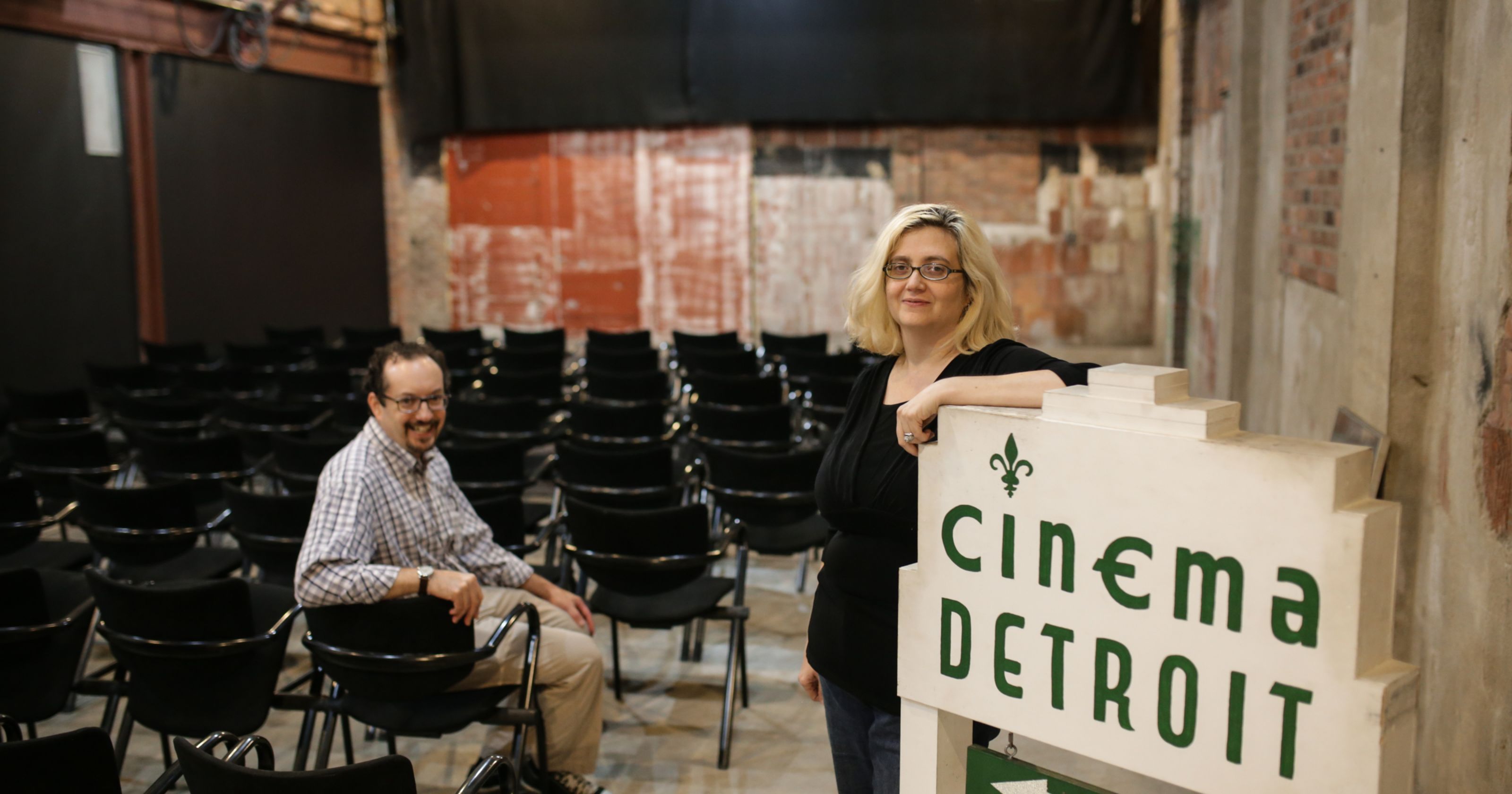 Photo by Ryan Garza, Detroit Free Press
As part of the revitalization of the city, Detroit is witnessing a resurgence of local community-based movie houses. The Senate, The Alger, and Cinema Detroit are making a strong impact on Detroit's neighborhoods.
Cinema Detroit Celebrates Diversity
Located on Third Street in Midtown Detroit, Cinema Detroit, owned by Paula and Tim Guthat, boasts the only "independently-owned, seven-day-a-week" movie theater in Greater Downtown.
Paula Guthat said the beginnings of Cinema Detroit developed at a coffee shop "pop-up" – a temporary retail space – in West Village: "We got to know the owner and around Christmas time I thought, 'why don't we do a pop-up with Christmas movies?' So we were like a pop-up within a pop-up." The ability to do this, Paula Guthat said, helped her and her husband discover if their idea was viable and to establish how they wanted to operate.
Paula Guthat states that in 2013, a regular customer from the coffee shop pop-up tweeted her an article that a landlord was leasing space at the former Burton International School building on Cass Avenue. The school had an auditorium that could be used as a theater. In 2015, they decided not to renew their lease due to a desire to increase handicap-accessibility – the theater rooms and lobby were separated by difficult-to-navigate stairways – and moved into the current one-level location on Third Street in October 2015. Paula Guthat explains the importance of offering accessibility to the community: "The reason why we're doing it is access to all – giving access to film to everyone here who didn't have it." The theater has two theater rooms - one that seats about 90 and the other, primarily for held-over films, holds about 20.
Paula Guthat said that the mission of Cinema Detroit is to "build a community around film." They do so by hosting panel discussions and events: "One of the things we love to do is show a film and then have a conversation about it, or bring in filmmakers," Paula Guthat said. For the June 15 showing of "Boom for Real," which follows the early life of street artist Jean-Michel Basquiat, the theater hosted a discussion with producer Rachel Dengiz, and critic and curator Carlo McCormick, who is featured in the film. Paula Guthat also spoke of a successful dog-friendly screening of Wes Anderson's "Isle of Dogs." Movie-goers could bring their dogs to watch the film with them. Photos of the dogs being given the red-carpet treatment can be found on their Faceook page.
Diversity in film is essential to Cinema Detroit's mission as well. Paula Guthat spoke passionately about a film the theater recently showed called "The Judge," directed by Erika Cohn, that follows the challenges faced by Kholoud Al-Faqih, the first female Sharia judge in the Middle East. Guthat explains why she felt the film was important to show. "To me, that's an underrepresented voice. If I see anything like that, I'll try to get it, and I'll try to make it work." The theater also recently presented "RBG," about Supreme Court Justice Ruth Bader Ginsburg and "Grace Jones: Bloodlight and Bami," following the eponymous musician and supermodel.
Upcoming shows include "Boom for Real" and "The Misandrists," a comedy focusing on a male leftist being hidden by a member of a radical feminist terrorist group. Paula Guthat said that Cinema Detroit wants to "represent underrepresented voices." Guthat continues, "There's a whole bunch of people who are making things that are not being seen as much and we want to represent those voices. We want to bring those to a larger audience."
This emphasis on diversity is evident in the theater's everyday programming and their festival line-up. In addition to being included in the Detroit Freep Film Festival and Cinetopia, Cinema Detroit hosts a few film festivals of their own. They will host the SheTown Film Festival from Sept. 13-16, which places an emphasis on "female-driven independent cinema and video in performances, stories and key filmmaking production positions." The second annual Trans Stellar Film Festival in September, which "encourages diversity and queer agency in art by promoting the exhibition of films created by queer people," and Cine Mexico, which will run every Wednesday and Sunday starting Sept. 23 until Oct. 28, which "includes films that bring to life a rich portrait of the Mexican experience." Cinema Detroit also hosts the Short Film Block Party, a one-night Festival focused on Detroit- and Michigan-based filmmakers that takes place four times a year. Paula Guthat explains that by offering a wide selection of diverse films and films created by people from all backgrounds, she wants "to bring those [films] to a larger audience. We're always trying to bring in more underrepresented people – people of color, queer people, women."
Senate Theater Branches Out
The historic Senate Theater, located on Michigan Avenue, originally opened in 1926 and began as a local movie theater. The Detroit Theater Organ Society purchased it in 1963.
According to Lance Luce, president of The Detroit Theater Organ Society, The Senate hosted what was initially member-only organ performances for The Detroit Theater Organ Club: "All they did here for decades was organ concerts." Starting in 1989 when membership began to decline and the seats for the organ concerts were not as full, they transformed from a club into the Detroit Theater Organ Society and opened up to the public.
Luce began attending the club when his father joined in 1972: "I used to sit in the front row and I'd watch the organists." He says the first time he played the organ at The Senate was when he was 14 and has been a professional theater organist ever since. He has been a church organist for 42 years and has played at Radio City Music Hall. When I spoke with him, Luce was going to perform an organ concert in Canada. In addition to performing internationally, Luce is the official organist for the Detroit Red Wings at Little Caesars Arena.
Luce shared his passion for the organ by playing a short tune on the theater's prized Wurlitzer Organ, the eighth largest in the world. The organ debuted at The Fisher Theatre in 1928. Luce explains that the organ was custom-ordered by the Fisher brothers to match the Mayan design of the theater: "The organ is one-of-a-kind." Additionally, the Wurlitzer is largely unchanged from its original design - only the chamber layouts have been changed in order to accommodate the organ's move from The Fisher. The organ's tremendous pipes, ranging in size from about a pencil to 16 ft. long, take up six chambers behnd the stage, which required a renovation that reduced the seating in the theater from about 1,200 to 800.
Luce mentioned that the Senate is following a similar business model as The Redford Theatre, which began about 20 years ago showing films in addition to organ concerts. The Redford, which opened in 1928, and was initially a neighborhood movie house similar to The Alger, was purchased by the Motor City Theatre Organ Society in 1985. The Redford Theatre's historic Barton Organ is used for organ concerts and to provide overtures for classic film showings as well as an accompaniment to silent films.
The Senate theater has been making steady progress and slowly raising funds for ongoing maintenance and renovations. Luce states that the theater is "having more impact now than we have for decades." Luce claims that only in the last five years have they started to host events other than organ concerts, like movies and rentals to local businesses. According to Luce, this increase in programming has had a positive effect on the community: "Now that we're open for movies and events, we get people coming in from the neighborhood and around the city."
Luce continues, "We have quite a few people in the community that rent us," and spoke of a ballet troupe that recently began renting out the space for dance recitals. Luce says that opening up the theater for rentals has helped increase their income to allow them to focus more on renovating and fundraising. The Senate has expanded the diversity of its film showings. About four times a year, the theater hosts a silent film accompanied by a live organ performance – the next being "Faust" on Sept. 8. The Senate also hosts themed showings such as its "Spanish Language Film Festival" beginning with "The Queen of Spain" on June 22, which Luce mentioned is meant to appeal to the local community in southwest Detroit. Earlier this year, the Senate held a "Super Soul Weekend" featuring movies like "Shaft" and "Superfly," and a "Hitchcock Weekend," showcasing films by Alfred Hitchcock.
Alger Theater Makes Comeback
The Alger Theater, located on East Warren Avenue in the "MorningSide" neighborhood on Detroit's east side originally opened in 1935 as a neighborhood movie theater. According to Melissa Bunker, vice president of the non-profit organization "Friends of the Alger Theater," there were about 117 neighborhood movie theaters in 1943 - now The Alger is one of only three remaining neighborhood theaters in Detroit. It ended up being a place of respite for many neighborhood people due in large part to its air conditioning, which was largely unheard of at the time.
The theater has changed ownership many times. In the 1970s, the theater began hosting live performances and showing movies, and in the '80s, it began showing B-movies – low-budget, often campy films – and gore films. It eventually closed in 1985 and the organization "Friends of the Alger Theater," a non-profit, community-based organization, formed in the early '80s and purchased the building in December 1986. They have been making improvements ever since. Though it may look like the building hasn't improved much in the 32 years the Friends have owned it, Bunker clarifies that everything is done "a dollar at a time" – they have done asbestos removal, ensuring compliance with fire code, and multiple other renovations that "you can't see."
Bunker explains that the Friends have "raised more money in the last 18 months than we did in the previous 30 years." One of the most recent and most visible renovations by The Alger is a new rooftop patio. The patio has a placard stating that it is dedicated to former Friends chairman and co-founder Edward "Geoff" Gowman, who "devoted his life to the preservation of the Alger Theater."
Another major renovation the Alger plans is to reinvigorate the building attached to the theater, which the Friends also own, into a thriving retail space, as it once was. There is already some interest in the retail spaces – Bunker says they have a few businesses interested, such as a coffee shop, and an ice cream parlor owned by Chris Reilly. Reilly Craft Creamery, sold throughout metro Detroit, is expected to open next spring. In an interview with Michigan Radio, Reilly explains why he wanted to open a location in the MorningSide neighborhood: "I really see the seeds of a real turn-around and renaissance."
Though the process of renovation has been long, it has been an important one for the "Friends." Their vision is "to become a neighborhood catalyst driving new commercial, social and cultural development to advance a vibrant community." This was made clear by Bunker, who emphasized that they are not renovating just for nostalgia: "We believe this neighborhood needs a place to have a vital meeting space to share ideas."
However, Bunker says the programming at the Alger will ideally not be done primarily by them: "We want to be a neighborhood resource for what the neighborhood needs." She continues, "It will be a mix of original and outside programming – mostly outside." She says their future vision is to renovate The Alger into a "multi-use facility" in which others can host their events. Bunker emphasizes the importance of cultivating a space where the community can come together: "We want to create and facilitate community conversations."
The Friends have recently been putting more attention on fundraising over programming in order to concentrate on completing renovations. They do so by hosting events, renting their outside marquee to local businesses for advertisements and partnering with grant-matching programs such as Patronicity and Motor City Match. Bunker mentioned a recent "Dating Game" event in collaboration with Design Core Detroit, in which they matched small businesses with designers: "The business owner would pick the designer and the designer donated design services to the business."
To raise awareness about the history and progress of the Alger, the Friends host free community tours every second Saturday at noon. The next tour will be July 14.
Share it now!