The Fly Trap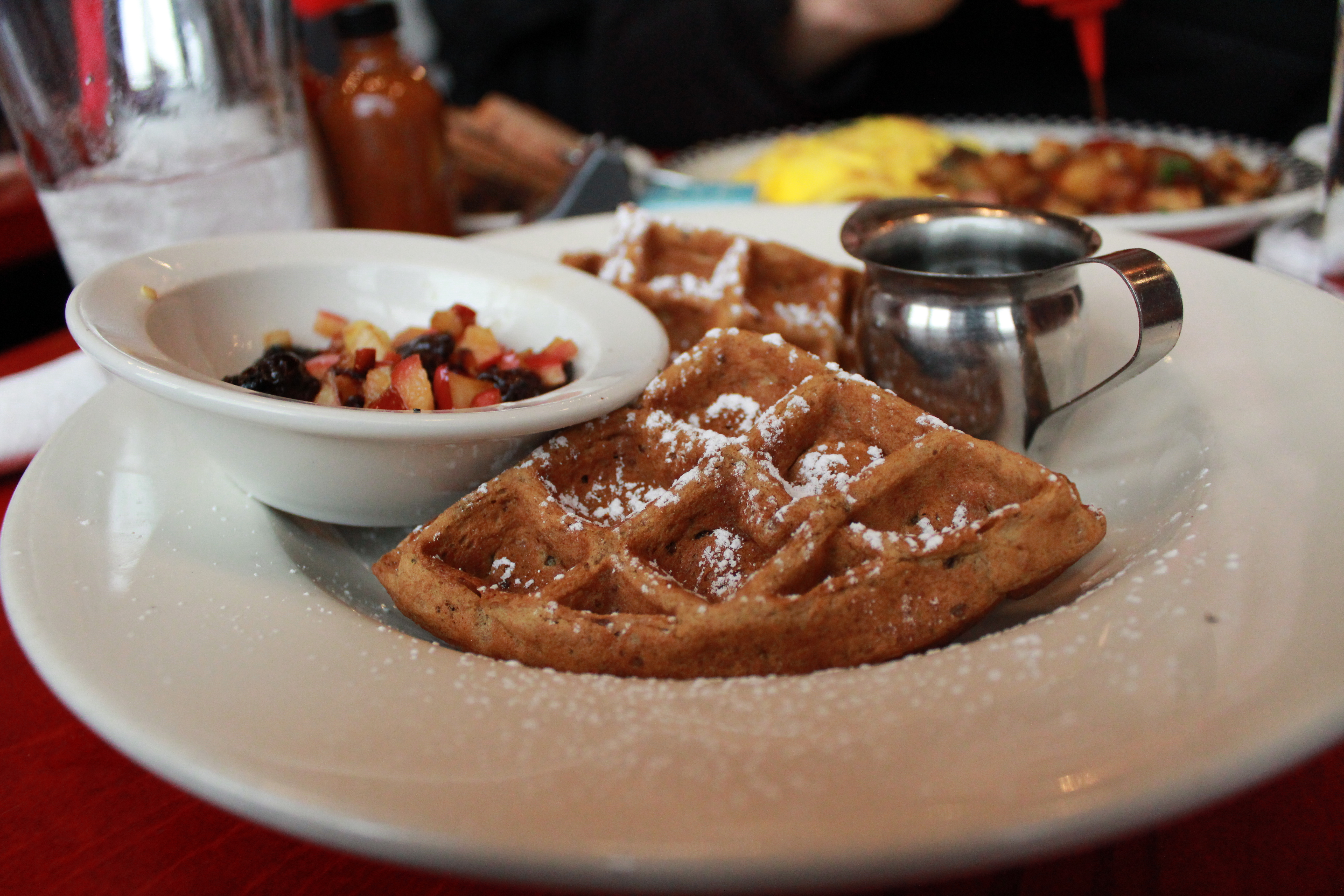 Gingerbread waffles at The Fly Trap | Photos by Abby Massucci
Despite the name, once you have had a taste of their B-L-A-T+C, you won't be able to resist The Fly Trap.
The Fly Trap cozily sits in a strip on Woodward Avenue in Ferndale and has expanded since opening in 2004. The diner then sat very few patrons. In 2008, The Fly Trap attracted the attention of Food Network's "Diners, Drive-Ins, and Dives" when Guy Fieri raved about co-owner Chef Gaven McMillian's Asian inspired salmon burger. In 2015, the diner expanded to the building next door and obtained a liquor license. The expansion has only slightly helped reduce the wait time of the increasingly popular foodie hotspot, but that hasn't changed the high quality eats or the quirky fly-themed decor.
The waitstaff is quick and precise, joking and laughing with patrons of all ages.
One unique element that maybe reveals the interests of co-owner Kara McMillian is how each table has its own fun ceramic salt and pepper shakers, from cats to a fish bowl to llama heads.
The Flytrap has an extensive drink menu, which includes colorful cocktails, teas and delicious hot chocolate. The coffee is a special house blend.
If you are into sweets, you definitely have to try their gingerbread waffles. The dough is mixed with gingerbread, resulting in gooey deliciousness. Topped with sauteed apples and cherries, which you can opt to have on the side, with cinnamon syrup filling each pocket in the waffle, each bite is heavenly. The B.L.A.T+C is an omelette filled with pepper bacon, spinach, avocado, tomato and cheese, and served with toast and smashed garlic potatoes. The garlic potatoes, savory flavor of the bacon, and sweet avocado complement the fluffy omelette perfectly.
The Fly Trap menu is highlighted by clever and eclectic dishes including "Ensalada de Basura," a hearty salad filled with black beans, tomatoes, avocado, cheddar, greens, tortilla, sour cream and Guajillo dressing. "The Cheapsteak" is a flank steak sandwich with swiss cheese, balsamic onions and a grainy mustard. Even oatmeal has the surprising twist of vanilla ice cream. The Fly Trap is open from 8 a.m. until 9 p.m. Tuesday through Friday and from 8 a.m. until 5 p.m. Saturday and Sunday.
Share it now!