Tiny Homes Make Big Difference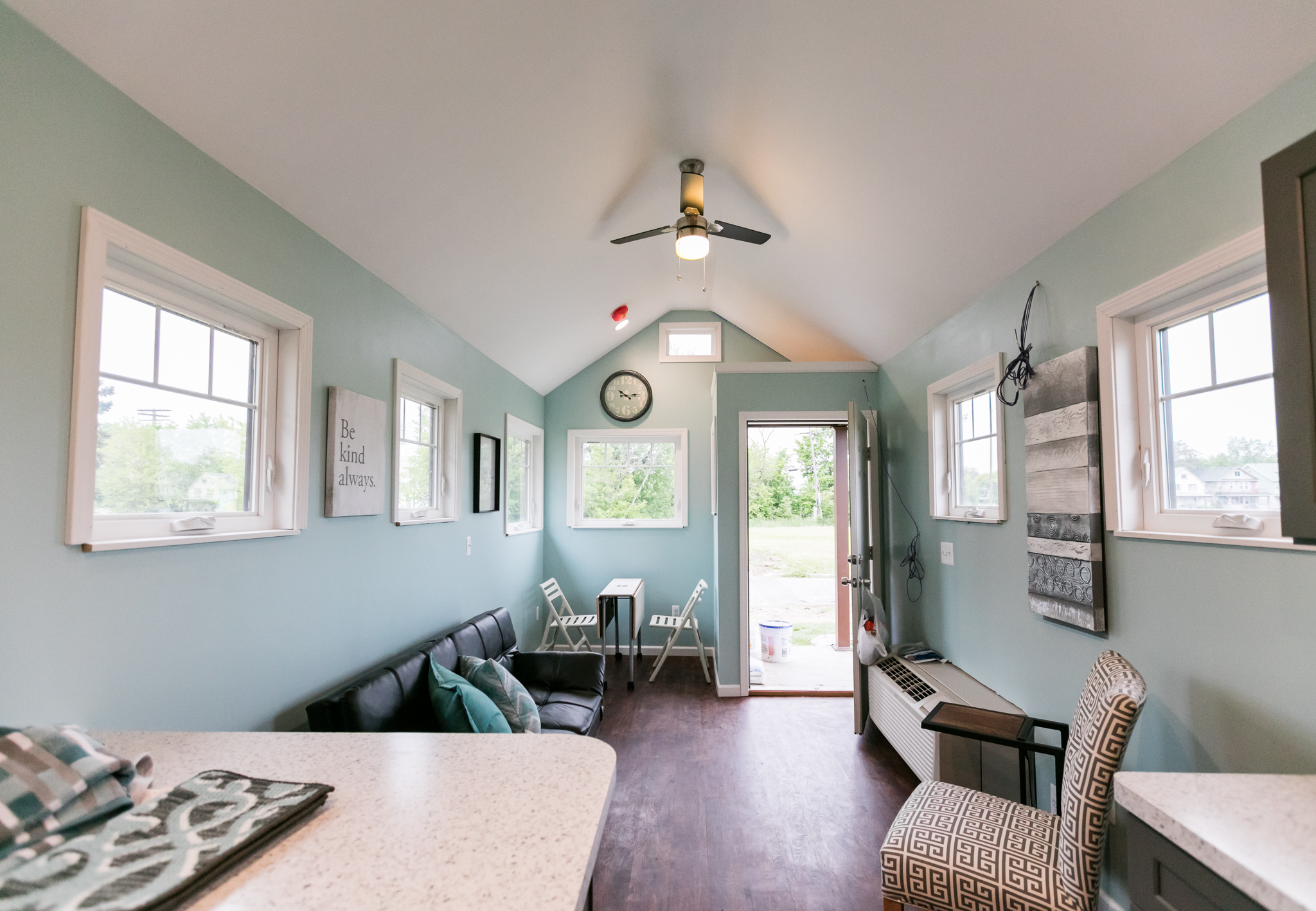 Cass Community Social Services Tiny Homes | Photos by Michelle and Chris Gerard
The city of Detroit has made big strides with neighborhood enrichment in recent years. Of all the big deals, big buildings, and big businesses making splashes, it could be the smallest establishments bringing the largest impact.
Cass Community Social Services (CCSS) built hope in the fall of 2016 when it began constructing tiny homes for low-income residents. The $1.5 million project has twelve homes already completed and more in construction. The program will build 25 unique tiny homes between the John C. Lodge Freeway and Woodrow Wilson Street. Cass Community Social Services is a Detroit nonprofit that combats poverty by providing food, health care, housing, and an employment program that repurposes used tires into sandals.
The executive director of Cass Community Social Services is Reverend Faith Fowler. Rev. Fowler is a community activist with strong roots in Detroit. She is an advisory board member of the Detroit Area Agency on Aging and is a member of the board for the Cass Corridor Neighborhood Development Corporation.
Rev. Fowler graduated Phi Beta Kappa from Albion College, NY, received her Masters of Divinity from the Boston University School of Theology, and a Masters of Public Administration from the University of Michigan–Dearborn. She also serves as an adjunct professor for the University of Michigan–Dearborn.
Rev. Fowler's dedication and selfless work has garnered accolades including but not limited to: the Michigan Women's Hall of Fame in 2016, the Shining Light Award in 2016, the Alpha Kappa Alpha Global Poverty Award, Michiganian of the Year, Volvo for Life finalist, and her passion for the environment led her to the Detroit Free Press Michigan Green Leader Award in 2012. No stranger to hard work and endurance, Rev. Fowler has also finished the Boston Marathon four times. She is anything but a typical pastor. What she preaches, she puts into practice.
The tiny home trend has been on the upswing for the past few years among millennials, minimalists, and hipsters for their financial advantages and environmentally responsible design. The Cass Community Social Services' tiny homes are all unique and built for comfort, style and efficiency. Each home features a kitchen, living room, washer/dryer combo, a bathroom and several have a separate bedroom in approximately 350 to 450 square feet. Some of the homes have large front porches, some have decks or patios in the back, and all have a nice yard for entertainment or pets.
The homes are being constructed by professional tradespeople under the supervision of a general contractor and volunteer teams. The volunteer teams manage the finishing jobs of tiling, drywalling, painting, gardening, and building decks and fences.
There are high hopes for this to be a new model for low-income housing around the nation. Residents make an average of $998 monthly and each must pass a rigorous vetting process that includes financial history, criminal background, and housing records. Each home is exclusive in its design to encourage renters to take pride in their home. Each lease is a rent-to-own program that brings a level of ownership to each resident.
Gladys Ferguson, a 63-year-old resident, told Maureen Feighan of the Detroit News, "In and out it was built for me. I never had anything of my own (before). I always took care of other people."
The entire community is built where abandoned houses once stood, and rent is based on $1 per square foot. The houses reflect that being low-income does not mean low quality or lacking style. Over 100 people have applied and over 900 have expressed interest.
The community is diverse and includes a student at Wayne County Community College, a minister in his late 50s that lost his job due to health problems, a young man who aged out of foster care, a disabled man who lost his home, and another man released from prison with no family to return to. Many of the applicants were previously homeless and are encouraged to volunteer and attend various classes that once completed will qualify them to own their home.
In a world where houses get larger and families get smaller, a tiny home is accomplishing something that large homes never could, giving low-income and homeless individuals four walls and a roof. Not only does Rev. Fowler's program house people in need, but it also is giving a slice of belonging to the disenfranchised.
If you find yourself motivated to help, you can learn more about the project or make a monetary donation. Contact Rev. Fowler at ffowler@casscommunity.org.
If you have interest in volunteering your time, contact Sue Pethoud at spethoud@casscommunity.org.
If you would like to donate building materials like bricks, paint, countertops, reach out to Stacy Conwell-Leigh at sleigh@casscommunity.org.